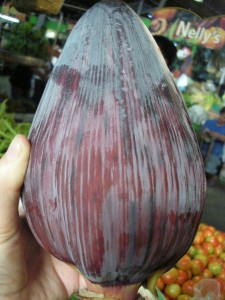 The first time I visited the Farmer's Market in Cubao, Quezon City, I went too late in the morning and I thought I would keel over and die from heat exhaustion. Since then I have learned to drop in early – no later than 9am – and the experience has been far less ennervating.
The Farmers Market is located just off EDSA, on General Macarthur Avenue, and if the traffic is not too thick, you can do it from Makati in 20-30 minutes. The car park is cheap (30 pesos for 2 hours) and accessible from EDSA. Don't forget your Esky, and crushed ice is available from vendors with huge ice chests behind the fish stalls. Shopping trolleys are free of charge, but they do require ID, and they can be collected and returned by the pedestrian crossing at the front entrance of the market, opposite the car park.
Practicalities sorted. Now let's move on to the fun part. The Farmers Market is an enormous warehouse on two levels. The top level is choc-a-block with flowers, fruit and vegetables, while down below in the wet market there is a huge variety of freshly butchered meat and fish.
There is plenty of competition for your business, which keeps the prices down and means shopping here is definitely cheaper than Rustan's or SM and the quality is so much better. Confronted with a myriad stalls, it is sometimes hard to know where to start, but prices are much the same wherever you go – at least until you develop a relationship with a favourite stallholder or suki. Choose any one you want and keep going back there. Eventually you will notice that prices drop for a regular customer.
I often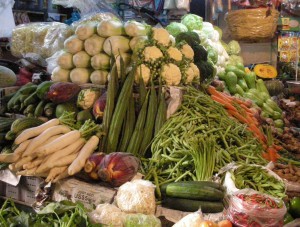 experiment with various unfamiliar fruits and vegetables, and stallholders are usually happy to let you taste before you buy, which is great. Today I came home with an ampalaya,  or bitter gourd. It looks like a very wrinkly cucumber. The small version is more bitter, but peeled, sliced and salted, the larger one can work in salads much like a cucumber. I am testing it out tonight, so I will get back to you on how it tastes. We also found a crinkly pear-shaped vegetable known, amongst other things, as a chayote or choko. It originated in Mexico and is another type of gourd. I would guess it was introduced to the Philippines by the Spanish during the Galleon Trade in the eighteenth century. Apparently, it can be cooked al dente to retain a crispy texture, or eaten raw, marinated in lime juice and used in salsas or salad.
Local greens are, for me, still largely an unknown quantity, and, it would seem, many modern Filipinos are almost as ignorant as I am. At a recent Filipino food workshop I attended, quite a number of locals failed to recognize many weed-like samples of native greens. So I started asking at the market. "What is this? How is it used?" Inevitably they answered "in sinigang"!
According to renowned Filipina restaurateur and food writer Amy Besa 'sourness is at the heart of sinigang'. It is a light broth soured with anything from tamarind or tomatoes to green mango or kalamansi, (a tiny but very juicy native lime, excellent with gin) and containing almost any seasonal vegetables, and any meat, except chicken.  With all sorts of variations across South East Asia, including Thai tom yum, it is more representative of Filipino taste than the overworked adobo. It is also easily adapted to all tastes, budgets, and seasonal availability.
Malunggay is a leafy local horseradish which makes a really healthy tea full of protein, iron and Vitamins A and C. It also encourages milk production for breast feeding mothers. A friend used malunggay to make made me a delicious pesto, with loads of garlic. You will find that garlic comes in cloves or ready peeled in plastic bags . Just be careful what you order.  I wrote '2 x garlic cloves' on my shopping list, which our driver Gerry translated, in his infinite wisdom, as TWO KILOS! Anyone need garlic?! Also, Aussies take note: if you wanted minced beef, ask for it to be ground or it arrives cubed and may not be what you had in mind for that meatloaf or spaghetti bolognese!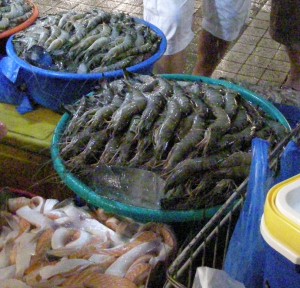 I usually visit the wet market last. While Gerry goes off to collect ice for the Esky, I rummage amongst the dripping fish stalls, the aisles awash with bloody water and pieces of discarded fish (another good reason to come in early as this can become rather gruesome later in the day). If you are expecting the sterility of a Coles or Woolworths refrigerator section, forget it! This is real life. No cling film. No Styrofoam. Just tubs of gasping fish and twitching crabs to choose from. I usually ask to have the fish gutted and descaled, and they will even fillet it for you, but don't be surprised if it is not very thoroughly done – Filipinos think you are quite mad throwing away some of the best parts of the fish, and will often leave you with heart and lungs still attached, in the fear that they have misunderstood you. But it is definitely fresh!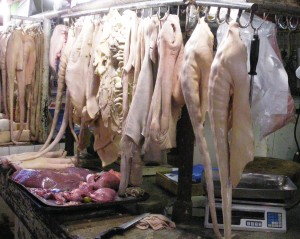 The meat section is also a  fascinating arena. After fish, the favoured meat in the Philippines is pork, of which every part is eaten bar the squeak.  In the wet markets, tongues and trotters, intestines and stomach lining, ears, snouts and sometimes whole faces hang beside more familiar, if rather fatty cuts of meat.  Spit-roasted suckling pig – lechon de leche – is the meat of choice for entertaining and celebrating, and is ideally cooked to the point where it can be cut with a saucer. Guests are offered the first bite, and it helps to know that etiquette requires you to pluck a piece of flesh from behind the ears or tail with your fingers before the animal is carved up for everyone else.
I took my thirteen year old son there earlier this year. He was a little thrown by this exposure to the reality of butchery, but I was very proud of him. While he was not so keen to think about eating the offal displayed at eye level, he was highly amused by the sight of the hogs rump and tail hanging from a hook like that slab of armadillo grooms cake in the 1989 film Steel Magnolias.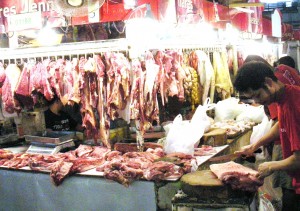 I was regularly taken aback by the lack of flies hovering around this freshly slaughtered, open-air display. Then one day I took a photograph and perceived thin blue bars across the camera screen – apparently some kind of ultraviolet light that keeps unwanted visitors at bay. I have examined the shed regularly since, but am yet to discover the source of this mysterious but effective magic trick!