PART ONE: THE LAKE DISTRICT NATIONAL PARK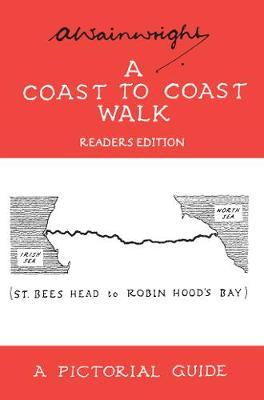 London, 1991. It is the week before Easter. We squeeze sideways onto the commuter train to Euston with heavy rucksacks, trying hard not to look smug. 'There, but for the grace of God, go we!' Instead, are heading north to the Lake District, to walk Wainwright's Coast to Coast path from Saint Bees Head to Robin Hood's Bay, one hundred and ninety miles across Cumbria and North Yorkshire. No more office-bound job for me, tied to a desk, never seeing daylight, but off we go, in search of fresh, Spring air, invigorating treks across mountains and moors and, inevitably, blisters.
*
The Coast to Coast Walk, devised by Albert Wainwright, was first published in 1973. The pocket-sized book contains Wainwright's original text and his hand-drawn black-and-white maps. Quite simply, he strung together a series of public footpaths to create a long-distance walk. The book would be updated in 1992, but we have the original version and follow it zealously for twelve days. Apart from the odd, misguided detour!
*
We stand on the beach at St. Bee's Head and pocket a small pebble, borrowed from the Irish Sea, to toss into the North Sea at the far end. Our first day consists of a fourteen mile hike to Ennerdale Bridge. As we set out, we look ahead to the lighthouse on St. Bee's Head, surrounded by cows. For the first four miles we trudge north along red sandstone cliffs dotted with nesting gulls and hanging gardens of wildflowers in blue and pink and purple, the footpath narrow and precarious with occasional dips and detours down onto stony beaches, before it clambers back up the cliff. The fields to our right are full of spring lambs and boisterous calves. As we stroll through a daisy-strewn paddock, a huge bull looms – or is it just an exceptionally large cow? We don't wait to confirm it either way, but somersault, at speed, over a stile.
For a dose of modern-day reality amid all this natural beauty, we spot the Sellafield nuclear power station to the south, puffing white clouds of vapour into the sky, like a chain smoker. To the north, the Workington Chemical Plant is enmeshed in massive power lines. Yet we are about to enter the Lake District National Park, famous for its lakes, forests and mountains and its association with William Wordsworth, John Rusklin and Beatrix Potter. The National Park was established in 1951 and covers an area of just under a thousand square miles. In 2017 it was designated a UNESCO World Heritage Site.
Five miles on, and we reach Sandwith, a small and remarkably pretty town above the sea. A quick pitstop for a glass of lemonade at the pub unexpectedly turns into a social occasion with the locals. Harry, serious and cross-eyed, is quick to enlighten us about the gaps Wainwright has left in his description of the country's favourite long-distance walk. A hefty, gum chewing mud-wrestler glares at us through piggy eyes, the lids heavily painted in blue eye-shadow. Yet she is the only one who fails to welcome us into the fold. Re-hydrated and relaxed, we don our rucksacks and leave to a chorus of "See ya darlin'!" "Bye sweetheart!" "Ta-ra lovie!"
Having dallied in Sandwith, we must step up the pace if we are to reach our destination before dark. Or is it the call of beer pushing us on? The next lap involves a steep hill climb past a myriad new-born lambs and stray hikers, pot-bellied and gasping. Once over Dent Hill, we turn west, leaving the coastline behind us. We cross marshy fells and trudge through cool, dark pine plantations before descending steeply into a narrow valley below Raven's Crag. The path leads past ponies, wildflowers, more lambs and a friendly, white bull calf, who had not yet learned to distrust humans. Eventually we land in Ennerdale Bridge, in time for tea.
*
Day Two is a beautiful, clear day. We begin by strolling along the eastern bank of Ennerdale Water, smooth as glass. Loose slate covering the path makes the going a bit tricky, but what a stunning landscape. The trail is full of weekend hikers today, walking single file like pilgrims en route to some distant grotto.
After three miles of Forestry Commission pine forest, with its broad, shaded paths, we stop for lunch at a farm that provides sandwiches and drinks for foot-sore walkers, before moving on to a stretch of ancient glacier. The drumlin – an egg shaped hill created by the glacier – is strewn with shale and boulders, which makes for cautious walking. As I swap my new hiking boots for sandshoes to deter blisters, we watch the sky change from turquoise to a charcoal grey, a distant rumble warning of storms to come. We clamber up and over Loft Beck – 700 feet of bleak, rocky outcrops, gravelly shale and mud – where we join the Great Gable track. This takes us down onto a disused tramline that once transported slate from the mine. Then, it's a long downhill slither to Honister Pass and the old toll road, which provides a much kinder descent, returning us gently to the main road in Seatoller, among a softer landscape of oaks, water meadows and burbling streams.
Luckily, the storm never reaches us. We arrive, dry but tired, at Thorneythwaite Farm, with it's beautiful old stone farm house and the welcome luxury of a deep, claw-footed bathtub. Suitably refreshed, we head out to Rosthwaite and the Scafell Hotel for dinner. A late evening, star-strewn stroll home, past fields full of those ubiquitous sheep that includes half a dozen pregnant ewes and a clutch of new-born lambs.
*
Day 3 begins with a delicious and sociable breakfast with four other guests, two of whom have just returned from a year's teaching in Western Australia. Then it's up Stonethwaite Beck and Greenup Gill to Eagle Crag. It is a slog, but well worth the effort. The beck is full of deep, clear waterholes, and the final view over Borrowdale reminds me of Beatrix Potter's illustration of Mrs Tiggywinkle and Lucy on the stile. In fact, it really could be the one she painted.
At this point, I manage to persuade my reluctant One & Only to detour from the Wainwright Bible, to avoid a dogleg to Grasmere. Instead, I assure him, we can take a short cut along Wyth Burn to the foot of Thirlmere and across to Grisedale Tarn. How was I to know that the path to the tarn would force us several hundred feet up the side of a vertical waterfall? The One & Only is decidedly peeved, but there is no turning back, and we eventually make it, hot and sweaty, to the top… only to discover that the long, steep descent to Ullswater is even more precipitous!
Blistered, weary and ravenously hungry, we find a B&B in Glenridding. Babs Studdens is 'eighty-four not out,' and gave up running a B&B years ago. Luckily for us, she occasionally takes in a guest or two "if I feel like it." She brings us tea and biscuits and recommends a pub in the village. The Traveller's Rest is hidden away from the tourist stops, down beside the lake. Armed with a fabulous view, and a delicious moussaka, we watch the sun set over Plaice Fell, before staggering home to bed as our poor, abused muscles start seizing up.
*
Day four is eleven miles from Patterdale to Shap. Babs burns the toast, as she predicted she would, and the alarm buzzes for an age. I set out with thick bandages over my blisters, feeling crippled, more by my rucksack than my feet, which has not proved a great success for hiking. We have slept in, so the One & Only insists on a brisk pace, barely allowing a pause to appreciate the glorious landscape.
We reach the end of the Lake District mountains at Haweswater, in glorious sunshine. Lying on mossy grass beneath a shady oak, beside a cold, clear waterfall, we munch on ham and salad sandwiches. Twenty minutes is all the time allowed, but it is twenty minutes of bliss. The trek today is testing, but the scenery is a stunning distraction from my poor, suffering feet. Gorse bushes bloom in joyful gold, waterfalls cross the path every quarter of a mile, and orchards brim with blossom. We stroll through a shady bluebell wood and clamber over rocky outcrops covered in daisies. A clear, shallow river splashes and swirls down a stepped waterfall. It is absolutely enchanting. I look for fairies.
The last few miles are full of stiles, our weary legs lacking the necessary bounce to get over them with any grace. We pass Shap Abbey at a flagging pace,and stagger up the final hill into town. Shap is an ancient parish on a windy ridge in Cumbria that lies along the A6, once the main road north. Until the early 19th century, it was a busy market town, trading largely in fleeces. A short decline ended with the opening of the railway in 1846. The market began to thrive again. Several quarries were mined for granite, limestone and slate. A steel factory opened. In 1958, however, the newly built M6 by-passed the town. By 1970, the Shap railway station was closed, and Shap began to fade into the background, becoming what it is today: a secluded rural village, off the tourist track, but still popular with hikers. We have booked a night at the Crown Inn, where we are greeted like old friends by Mavis and her fiancé, Steve. We find our bunk in the bunkhouse out the back, and a hot shower. Dinner is fish and chips, salad and gooseberry pie. We feel infinitely better, and even manage a stroll around town before calling it a day.