I must confess, I had never heard of the Russian Tea Room until last December. My initial plan was to organize afternoon tea at the Plaza, but unfortunately for us, Eloise, the Plaza's most significant resident, had got in first and the Palm Room had long been fully booked for her private tea party.
My sister-in-law recommended The Russian Tea Room as a suitable alternative. With half a dozen girlfriends on stand-by, I took the plunge and booked the venue.
Tucked away between 6th and 7th Avenue, on West 57th Street, the RTR has an interesting history. Founded by former members of the Russian Imperial Ballet in 1927, it became a second home for Russian expatriates, the intellectual elite of New York and the entertainment industry. Over 85 years, the Russian Tea Room has maintained a modernist Russian style decor, and continues to host New York's elite.
It has also featured in several movies such as Tootsie, When Harry Met Sally and Woody Allen's Manhattan. Madonna worked here as a coat check chick before she threw the coats aside to bare all – well almost – in her music videos.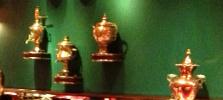 Today, the Russian Tea Room claims a reputation for continental fine dining, the finest selection of vodkas and an elegant high tea.
First, I have a bone to pick with this title. It is a bone I often chew on, but I was truly surprised to find the misnomer attached to such a reputedly high class establishment, and can't resist commenting.
There are, according to food historian Colin Spencer, two types of tea: afternoon tea and high tea. Almost the only thing they have in common is the beverage: tea.
Historically, High Tea, for all the elegance of its name, is, not about delicate china and morsels of cake served on tiered plates. High Tea, an expression of British origin coined in the early nineteenth century, was, ironically, a far more substantial affair, eaten by the working classes at around 6 o'clock in the evening. It consisted of pies, stews, cold cuts, cakes and bread – a wholesome meal for the labourers and miners returning home from a hard day's work.
Afternoon tea, on the other hand, was a dainty snack for the ladies, a light meal that filled a gap between midday luncheon and a late, eight o'clock dinner, originating in England in the late 18th century. Tea, then recently introduced to Europeans, was the drink of the wealthy. Highly taxed, tea was a luxury item, a sign of affluence and respectability, unaffordable to the lower classes. Traditionally, a cup of tea was accompanied by tiny sandwiches filled with cucumber, egg and cress or smoked salmon. Scones, served with jam and clotted cream, and tiny cakes and pastries provided a sweet alternative.
Yet I have recently read that since the 1950s, and in the RTR's defence, the meaning has altered, particularly outside the UK, where High Tea was thought to have a more elegant and formal tone than afternoon tea. Subsequently, High Tea has become a popular form of afternoon entertainment in luxury hotels, often served with optional Champagne.
So enough of the history lecture, let's move on to the tea. Five girlfriends, and two teenage daughters had landed in New York for Christmas. The boys had come along too, but they were elsewhere, playing basketball, watching basketball, drinking beer. It seemed only fair to have a bit of girl-time too.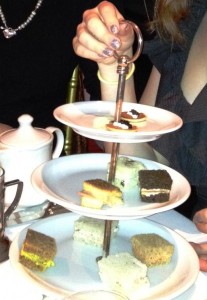 The Russian Tea Room offers what I would deem an afternoon tea: morsels of cake and petites fours; snippets of sandwiches; a wide selection of teas, and an optional glass of bubbly, served between 2.30 and 4pm. Undeniably, the sandwiches are significantly superior to a Subway's offering, if not as filling. Putting semantic snobbery aside, perhaps the term High Tea is more fitting after all, and bear in mind these are sandwich fillings:
 Curried chicken salad with raisins and pecans; shrimp salad with rémoulade (a spicy, tartar sauce-like mayonnaise); Smoked Scottish salmon with chive cream cheese and cucumber; artichokes with red pepper and a sun-dried tomato goat's cheese; smoked ham and turkey with truffle; croque monsieur(a miniature toasted cheese sandwich); N.Y smoked sturgeon with dill and sour cream; Roquefort and pear with walnuts, and a soupçon of two American caviars on Blinis (a plateful would have been better, they were delicious!).
Sadly, the menu doesn't list the sweet items individually, and by then a few Australian bubbles had passed my lips, so I have only vague recollections of some rather tasty truffles, some neat and tiny cupcakes or friands?… Amelia? Help?
 The list of available loose teas was positively daunting, for a single-minded drinker of English Breakfast tea. Ceylon,Darjeeling, Chamomile and Peppermint were familiar, but Formosa Oolong and Mint Verbena, not to mention Rooibos Chai (apparently a South African red bush with Indian spices) left me gasping. I am now quite inspired to become a tea connoisseur. And I loved the descriptions. Try and match them together with the tea: brisk; delicate sweet notes….
On a chilly winter's afternoon, the plush red furnishings were just right, if a little overbearing for my taste. The service was very friendly and welcoming, although we were all a tad put out at being interrupted by our young Eastern European waitress asking us to sort out the bill mid-way through the tea so they could balance the till. Our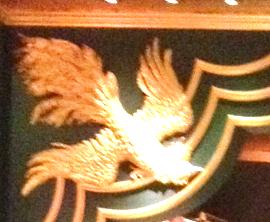 sommelier, however, more than made up for this slight faux-pas. A lovely, enthusiastic New Yorker, she was delighted to find a table full of Aussies, as she had studied in Australia ten years earlier. And she had studied not only in Australia, but in my home town, Adelaide. Aaaaand… wait for it… she had studied for her Masters in Gastronomy, of which there is a mere handful of graduates world wide – and of which I am also one! The reunion was full of inappropriate shrieks of delight, distraction and discovery. (It also distracted me momentarily from the enormous service charges and taxes Americans like to add to any restaurant bill. Aussies Beware! And Be Prepared!).
Still, we got all we could have wanted in the way of a self-indulgent afternoon of lady-like chat, cake and champagne. There was a three-tiered cake plate. And the Russian flavour of the High Tea actually made an interesting change from the usual colonial English Afternoon Tea taste… although I did miss the clotted cream.