While current news reports still place covid at the top of the list, in South Australia we have been – dare I say it? – corona free for many weeks. Although we are currently keeping the Victorians at bay, visitors arriving from Queensland, the Northern Territory, Tasmania or Western Australia are even permitted to enter South Australia without having to self-quarantine. Travel within the state is now largely unrestricted, and we are being actively encouraged to explore South Australia as a good way to support our regional communities.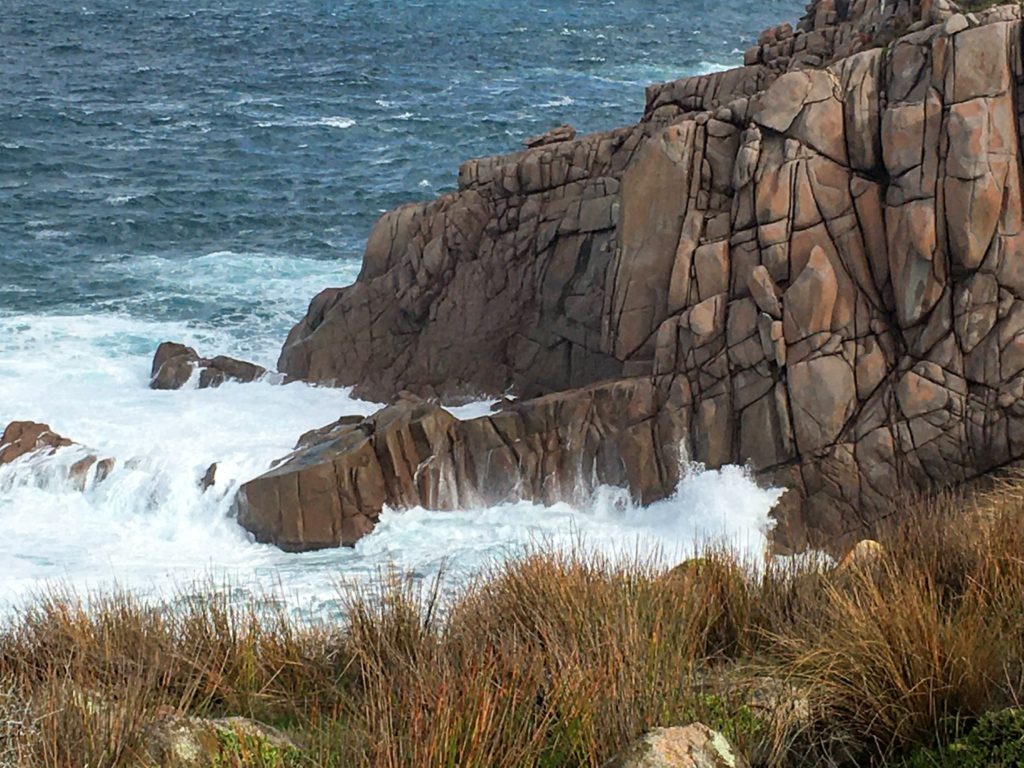 So, life is gradually returning to normal. All the warning signs are still in place, but aged care facilities have cautiously re-opened their doors to visitors. Social distancing is still recommended, but among close friends and family members it seems to be a matter for personal discretion. Restrictions to restaurants and cafes have been lifted since early June and while individual establishments might choose to remain closed for the time being, many are back in action, and will even serve alcohol to their guests.
So, with the blessings of the State Commissioner, we took advantage of the lifting curfew and made a short trip to Kangaroo Island.
Kangaroo Island is a large, rocky island that hangs off the toe of the Fleurieu Peninsula almost, but not quite like an Aussie Rules football.
Rising sea levels separated it from the mainland thousands of years ago. It became known to the indigenous people on the mainland as Karta, Island of the Dead. Stone tools and shell middens suggest that Aboriginal people once lived here too, but early European settlers found no sign of recent habitation.
Kangaroo Island was mapped by Baudin and Flinders at the beginning of the 19th century – note the plethora of French names along the south coast to guess who took which route – and it quickly became a popular base for European sealers and whalers. By 1836, Kangaroo Island had been incorporated into the British colony of South Australia.
Although Australia's third largest island, K.I. – as it is commonly known – has a population of less than 5,000, scattered through farmland and four small towns: Kingscote, Penneshaw, Parndana and American River. One hundred and forty five kilometres long, from Cape Willoughby in the east to Vennachar Point at the western end, it covers an area of 4,405 km2. About 50% of the island was gutted by bushfires earlier this year, most of that area within the Flinders Chase National Park. Forty million animals are estimated to have perished in the fires, including thousands of sheep and half the island's population of koalas. Yet, a wet winter is already beginning to restore at least some semblance of green.
We stayed in Penneshaw, on the Dudley Peninsula, where it's only a hop, skip and a forty-minute ferry from Cape Jervis, the closest mainland town to the island. From our prime position above Hog Bay, it is hard to believe that so much of the island has been largely denuded of wildlife, its foliage razed to the ground, when all around us, the hills are green and lush, dotted with wallabies, winter lambs, calves, and, believe it or not, a huge flock of black swans we discovered sharing a paddock with a lake and a hundred ewes and their small, eager offspring.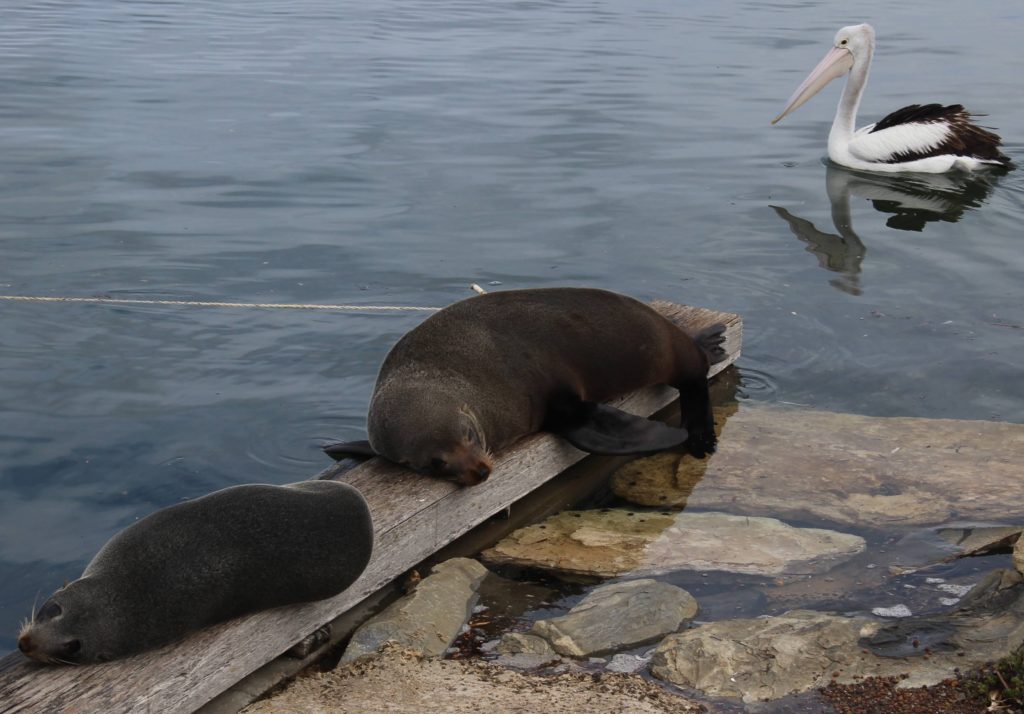 We followed the Chapman River to the sea, where we hardly saw another footprint on the long stretch of pristine sand at Antechamber Bay. (In warmer weather, this is a glorious place to camp, with options to swim in the sea or kayak down the river.)
Wandering up to the Penneshaw pub one blustery night for dinner, we disturbed a handful of small tamar wallabies, who had gathered on the lawns near the ferry port. Instead of bounding away, they stood as still as statues as we walked past, like small children who believe we won't see them if they just close their eyes.
Down at American River for lunch, we spot buxom pelicans balancing precariously on the tall lights beside the marina, while a pair of seals showed off their synchronized swimming routine beside the fishing boats. Penguins at Penneshaw may now be legend, but not so long ago, after a day's fishing, they marched in single file from the sea, up the beach, past the shacks on the sandhills to their nests high in the dunes, and apparently there are still a few small colonies around the island. And of course, most famously, those roly-poly, sleek and glossy seals clutter their eponymous beach on the southern coast. There is a company that runs boat tours from Christmas Cove, but we will save that for a week of warmer weather, when swimming with the seals and dolphins won't cause frostbite.
Sadly, our week on KI was punctuated with numerous heavy showers, battering on the tin roof and forcing us to don raincoats whenever we left the house. Yet we still managed to squeeze in a few adventures between storms. And when the sun set, we snuggled up by a wood fire, cooked simple dinners, enjoyed the local wine and watched the rain sweep over the sea.
In retrospect, we managed a lot, despite the temperamental weather. We visited friends in Emu Bay, Penneshaw and Kingscote. We walked out on the cliffs at Cape Willoughby, where the surf is abandoned and ebullient as it boils around the rocks at the foot of the lighthouse. We climbed up Prospect Hill, once known rather poetically as Mount Thisby, although little more than a giant sand hill. Everest it may not be, but there is still a certain satisfaction in climbing the four hundred odd steps to the top, where we had a marvellous panoramic view over Pelican Lagoon and Pennington Bay, before the clouds rolled in again.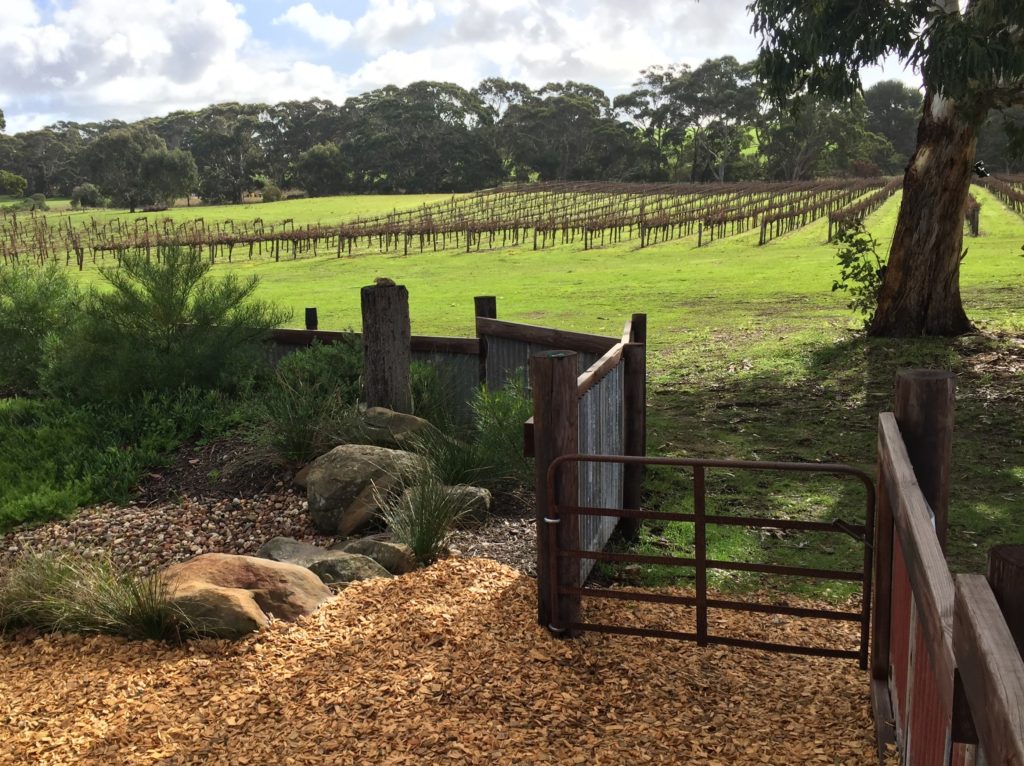 Then there was the False Cape Winery, a joyful discovery on a remote dirt road in the south east corner of the island. Named after a nearby coastal landmark, False Cape vineyard was established in 1999 on the banks of the Willson River, which apparently provides an ideal combination of soil, sun and limestone for producing top quality fruit.
The cellar door is a new addition to the vineyard and it is a gloriously tactile blend of textures and light: huge glass bifold doors; recycled wood and jetty timbers; locally made red bricks with a kangaroo imprint, and rough limestone sourced from the property. And lots of corrugated iron. Sitting on a slight rise, the views from the stone terrace take in the vines, the river, and the impressive stands of gum trees – and were just as fabulous from the leather sofa beside the fire inside. Speaking with owner Julie Helyar, while we sipped our wine, I told her that I would very happily live in this beautiful space. She admitted that she could too; that it is in much better shape than the old stone cottage they live in across the road. The Helyar's wine maker – and Julie's brother – is Greg Follett of Lake Breeze Wines at Langhorne Creek. Julie & Jamie's son Coby is also getting in on the act, as he studies viticulture and wine making. The family work hard at sustainability, and the whole farm runs on solar power. Apparently, there is even a rafter of turkeys roaming through the vines to keep pests under control, although unfortunately we didn't meet any.
Meanwhile, I tried a flight of four wines. (On an empty stomach, just before lunch, that was enough, though not all they had to offer.) Montebello is a bright, summery, pinot grigio with a hint of limestone, rose petals and crispy pear that only needed some grilled whiting to improve the lingering finish. (The Montebello was a three masted steel barque that came a cropper on the south coast in 1906.) The False Cape Chardonnay – 'The Captain' after Matthew Flinders – is brimming with tropical fruit and a subtle hint of oak. The 'Unknown Sailor' is a Bordeaux blend of 80% Cabernet Sauvignon and 20% Merlot, and a tribute to the men who braved the rough South Australian seas. My favourite was the 'Ship's Graveyard' Shiraz, its name a nod to the rugged coastline that has claimed so many ships over the past 200 years.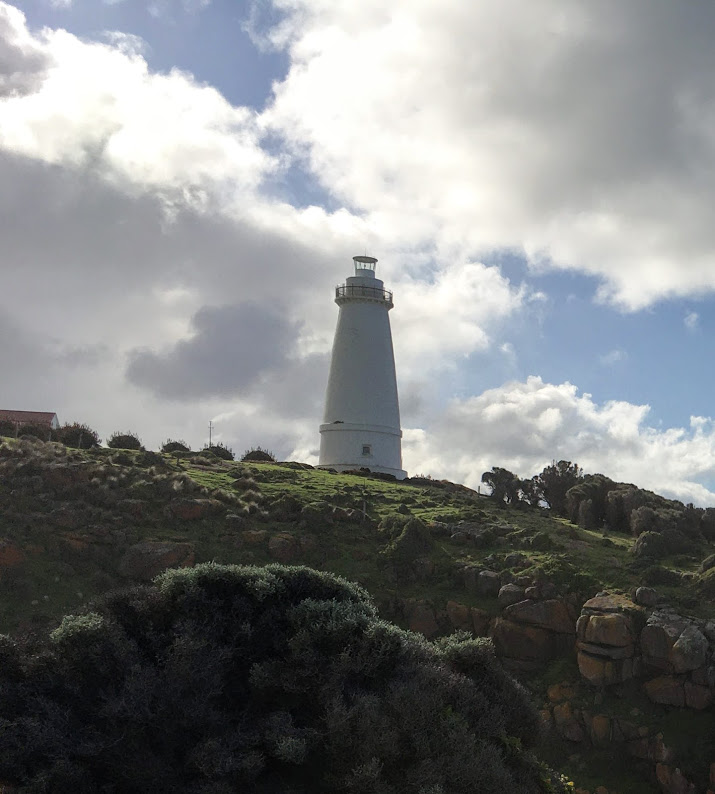 So, all in all, it was not a bad week! We took home several bottles of False Cape Wines, a sample of island honey and a souvenir from the KIS distillery: a bottle of Wild Gin that had come highly recommended by friends in the know. Oh, and I almost forgot to mention the delicious seafood chowder I could have eaten every night at the Penneshaw Pub, rich, spicy and chock-a-block with fish and shellfish. We might not have got the heavenly views over Backstairs Passage that stormy evening, but the soup was divine. Perfect for a chilly, and decidedly damp winter night on a windblown island in the Southern Ocean.