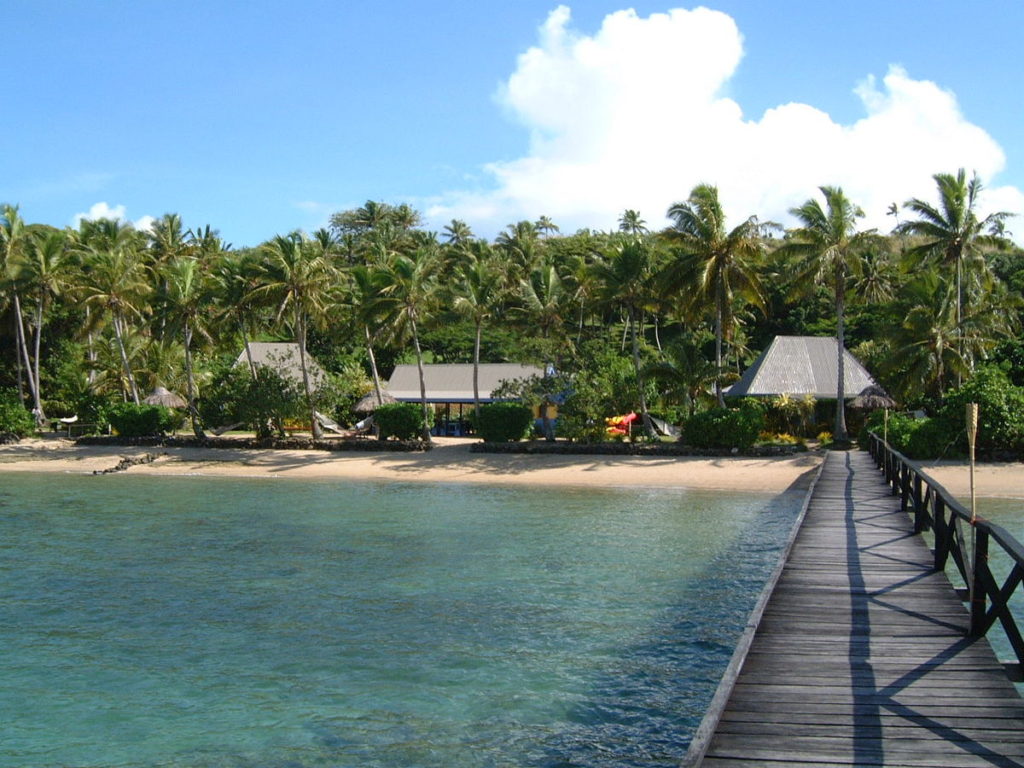 Earlier this year there was a plan afoot to join a friend in Fiji for a significant birthday in June. Then life got in the way: hunting for a new home; moving in; Covid 19 – and like so many people, our chance to travel anywhere flew out the window. We were sad to miss the party, but also sad to miss the chance to revisit Fiji. Luckily, I still have clear memories of that glorious month back in the early 1990s…
Fiji. A crumbling biscuit in the middle of the Pacific. I had spent several years listening to the One & Only waxing lyrical about its warm and hospitable people, its beautiful beaches and azure seas, its palm trees and tropical forests. He had first travelled there as a fourteen-year-old Boy Scout, returning again and again through the eighties, as Fiji's quaking political structure caused coup after coup and cheap flights for the brave. Fed up with his on-going, long-distance love affair, I finally persuaded him to introduce me.
In the summer of 1993, heading back to Australia after three years in Europe, we landed in Suva armed with a two-man tent, a five-month-old baby and a pocket full of coins, which was all that remained of our savings. We had no plan, but plenty of time: a full month to dwell in Paradise. I had never been to the tropics and had only met humidity in the tropical conservatory at the Botanic Gardens in dry-as-a-bone Adelaide. Fiji was another world.
We spent three days recovering from jetlag in a quiet little guest house swathed in hibiscus. Then, a garrulous taxi driver offered to show us the perfect place to stay, and drove us eagerly over bumpy roads, to the north coast of Viti Levu. Pointing across the water, he introduced us to a tiny, family owned island, where there was a youth hostel, and simple, but tasty meals provided by the host family.
Nananu-i-ra sits about two miles out to sea, a short motorboat ride from Raki Raki. It is a pocket-sized island shaped like a wishbone. I don't know if it has developed since, but twenty-seven years ago, the island was still largely wooded, with neither roads nor villages, just a small clutch of dwellings around the bay. We pitched our tent on a slope between the beach and the youth hostel. Every day we played on the beach, dipping our daughter in the warm sea. Every evening, we wandered down the hill to Charlie's Place, where Charlie's lovely wife, Louise, would serve up fish, straight from the sea, cooked in fresh coconut milk. Eager hands would gather up the baby and take her visiting, so we could enjoy our meal. Afterwards, we would sit for hours, chatting with fellow travellers and drinking vast mugs of incredibly sweet coffee. Our small, sociable daughter seemed perfectly happy to be carried off by her new friends, who were obviously far more entertaining than her parents would ever be.
And so, the days passed. Now and again we would summon up the energy to put the baby in her papoose and clamber through the mangroves to scalloped coves of white sand, but most of the time we were happy to hang off the wooden jetty above the reef and search for fish in water so clear and still we could spot them without goggles. When we got too hot, we would simply stagger into the sea. After three months on the road, it was a magical respite from continuous movement and a demanding schedule. The days drifted by languorously. We were operating, blissfully, on Fiji Time. The baby grew round and honey-coloured and continued to beam adoringly at everyone. We couldn't think of one good reason to leave. We had plenty of new friends at the hostel and our hosts were kind, welcoming and generous to a fault. We met up with a handful of western families who had built simple homes at the southern tip of the island, the children taking a motorboat to the mainland school. We dreamed, like them, of staying there forever…
The idyll shattered when the first summer typhoon hit the island with the viciousness of a schoolyard bully. Our fragile tentpoles were torn asunder and I nearly broke a toe, leaping tree stumps to reach our baby girl, shrieking from beneath a mound of collapsed canvas. Suddenly, urgently in need of a roof, we were offered refuge in the bunkroom of a German expatriate further down the beach, a dry sanctuary from the stormy skies and driving rain, for which we were immensely grateful.
Between the daily deluges, we continued to gather around the outdoor dining table of our hosts. As we made plans to travel on in search of new tent poles, we heard that another Australian family had arrived on the island to spend a week or so at their holiday house. Apparently, they planned to host a lovo – a Fijian beach barbecue – to celebrate the twenty first birthday of one of Charlie's sons. Like all good fairy tales, everyone on the island was invited.
Two days later, we sat on the balcony, watching the young men construct the lovo on the beach below us.  First, they dug a broad, shallow pit in the sand, which they filled with large rocks. Then they built a fire over the rocks. When the fire had died down to coals, they placed the food (chicken, fish, vegetables wrapped in tin foil or banana leaves) on top of the hot coals and covered everything with palm leaves and sand. Some time later, the food parcels are dug out and shared around. Amazing!
Our hosts, a couple from Sydney and their elderly aunts, were delighted to take turns with the baby, and she was equally happy to be handed around like a bowl of guacamole. While the barbecue sent forth sumptuous aromas, we watched the sun go down over the sea, and chatted with our hosts, who had welcomed us in like long lost family.  As it turned out, in one of those strange coincidences that so often occur when travelling, we really were related. Sort of. As the evening progressed and stories were shared, we discovered our hosts were the aunt and uncle of my second cousin. We were now more than honorary family, and as such, we were invited to spend our last days in their beautiful beach house. It was a fairytale ending to a glorious fortnight. One of these days, I hope, we will find our way back…
*With thanks to Google images for the photo, as all mine were old, wrinkled and full of babies – well, one baby in particular!