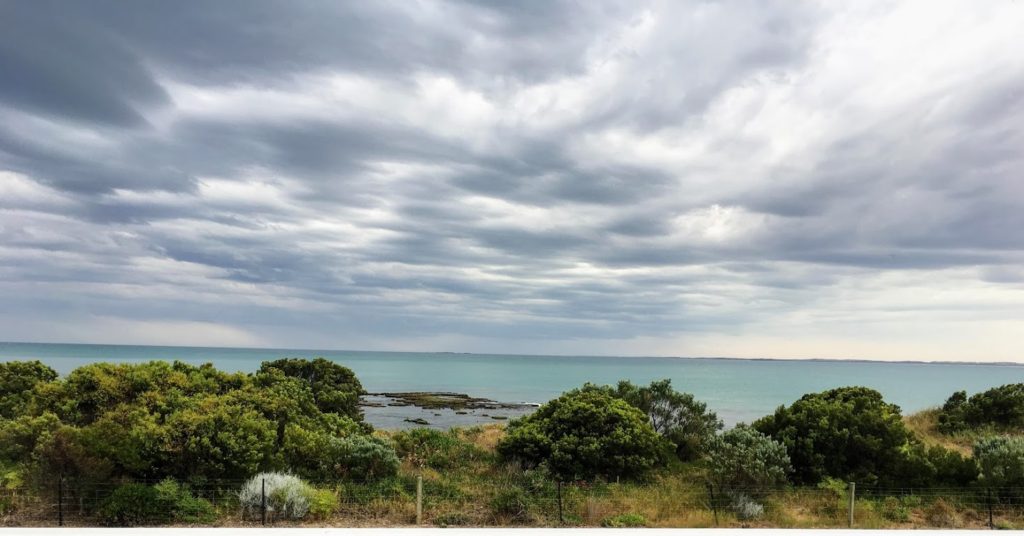 I have just returned from a road trip to Melbourne, to reacquaint myself with the Australian landscape. In my shiny new, burnt orange Toyota Corolla that I have baptized Bruce, I have chewed up the miles with glee, driving through the Adelaide Hills and across the Murray, along the Coorong to Robe and down the Glenelg Highway to Buninyong. (Isn't that a lovely, lyrical name?) Then east to Heidelberg, around Port Philip Bay to the Bellarine and back to Adelaide via Ballarat and Penola. Past paddocks and vineyards, countless gum trees, an abundance of inimitable Aussie birds and the inevitable, innumerable sheep. And I drove through a surprising amount of rain for a country that has been despairing over drought and bush fires further north. This land of immense horizons and 'boundless plains' has felt a very, very long way from England's 'clouded hills,' its 'green and pleasant lands.' And while the contrast has been startling, it has also been a wonderful re-awakening to a very different kind of beauty…
Signs to the Coorong tempt me off the highway, but I know I will pass this way again for a closer look. So, its onward to Robe – an old favourite – where I pause for a couple of days to soak up the scents of sea and saltbush, bury my toes in the sand, find an old friend, and dine on fabulous local fish. A couple of days later, I find myself drifting through Saint Kilda for a slap-up brunch with my brother and his family, where the trams brush past my elbow, and ladies dash by in high heels and fascinators, running late for a Melbourne Cup luncheon. I drop in to see a cousin's new home among the gumtrees, its high, wide windows overlooking the Yarra River in the gully below. As we nibble on onion tarts fresh from the oven, we chat of wombats at the bottom of the garden and our children's aspirations.
Before I move on from Melbourne, I grab an hour and a bowl of gnocchi with an old mate in Toorak. I long for a glass of red wine to go with it. If only I wasn't having to navigate my way across city afterwards…
A seaside town, a stone's throw from Geelong, full of stately stone buildings, churches and old-fashioned shop fronts. A morning tea by the sea that includes Portuguese tarts. Popular in Luxembourg bakeries due to a large Portuguese workforce, these custard tarts are now popular with me, too, my sweet treat of choice, whenever, wherever I can find one. Who would have thought I could find one here in Queenscliff, so many eons from the Douro or the Alzette? Yet here I sit, on a cushioned bench by the fire, with a coffee and a Portuguese tart, resenting an unseasonable cold burst that has laid waste to my light summer wardrobe, one I packed after several stifling days in Adelaide. Why am I never prepared for the unexpected weather changes? After all this practice, it beggars belief that I could pack so poorly, as yet again I amuse my One & Only with despairing tales of my chilled and coatless state.

Luckily, I can borrow extra layers from the hospitable friends who have acquiesced most cheerfully to my last-minute invasion. I have never travelled this way before, and I am taken aback, after hours weaving through city streets, suburban roads, and eight-lane highways, to discover Curlewis, an unexpected pocket of green paddocks and boutique vineyards on a quiet stretch of Port Philip Bay. I am happy to drift off the beaten track, keen to explore. Over the following days, we stroll along blustery beaches, drop into a neighbourhood winery for a bottle of bubbles, eat endlessly, and occasionally pause to snuggle up by the fire and catch up on family news and favourite books. Gazing towards the bay one afternoon, we spot a giant double rainbow, almost close enough to touch, one tiptoeing among a grove of gum trees at the far side of the paddock, the other dipping its toes in the sea.
Then it's time to head out for a light dinner at the Dunes, on the edge of Ocean Grove, a shiny new restaurant predictably perched above the beach, with polished concrete floors and a vast expanse of glass through which we squint at the setting sun, sip wine, and fill ourselves to the brim with vegetables and lamb, served on shared platters like tapas, before dashing off to book club and a realm of indigenous writers I am only now discovering after so many years abroad.
A final lunch together on the Barwon River, where we mix the cultures – seafood with an Asian twist and an affogato for dessert – and then I am heading north west towards Ballarat, past another clutch of wineries, before turning off to Buninyong and a Thai feast mixed with Aussie wines, politics and birthday candles. Did I mention I am eating way too much..?
My final stop is Penola, where I realize it has been a journey interlaced with a thousand wineries. An old school friend in Wrattonbully provides iconic Australian entertainment in the form of a balletic Kelpie and a barbecue, while a welcome G&T helps to lubricate several jolly hours of hectic, happy chatter before I turn for bed…
And then homewards, through Naracoorte and Keith, with a short break in Tintinara for a meat pie in the company of a hungry magpie, to a city whose streets are lined with jacarandas in exactly the same shade of blue as an English bluebell. As I cruise back along the Western Highway, the bleached paddocks are truly a far cry from the verdant fields of Hampshire. Yet this stark landscape has its own, elusive beauty. And it has been a joy to revive some wonderful memories of a youth spent exploring the hinterland of Victoria and the South Australian coastline. To revive old friendships, too, garnered from all over the globe. My heart, as ever, is divided between the ear-splitting shriek of cockatoos among the scented branches of the eucalyptus and the gentle twitter of wrens and robins hidden deep within brambly hedgerows; between the deep blue, painfully bright skies of inland Australia and the hazy, washed denim heavens above the Solent. How lucky am I, to know and love two such different, yet glorious countries, to keep a piece of each in my heart?
.