I arrived in Los Angeles determined not to be entirely swamped by Disney, Universal Studios or any other Hollywood theme parks. I wanted just one day to absorb a little local culture, other than the virtual reality of the movie world.
Realizing that I might not be able tempt the kids away from the theme parks with 'culture', I thought 'food' might do the trick, and found "Melting Pot Tours, Los Angeles" on the internet.  Sadly, they don't run tours in January, but their website gave me the idea of heading out to Old Pasadena and devising my own.
The subway in Los Angeles is not as extensive as it is in New York. Rumour has it that a conglomerate of motor related companies were responsible for the demise of the tramways , replacing the  intricate tramway system with buses. LA now has a car culture, and public transport is consequently under-used. However, the relatively new subway system went where we wanted to go, and the cleanliness and lack of crowds was, for us, an unexpected advantage.
Old Pasadena is located eleven miles east of downtown LA at the foot of the San Gabriel Mountains. Proud to be the second oldest city in California, Pasadena reminded us of an Australian country town, with its enormous blue skies, slow-moving residents, low level buildings and broad streets.
Once a large Mexican-owned Ranch, the name Pasadena is actually a Chippewa name meaning 'of the valley.' With its clean air and mild, dry climate, Pasadena became popular as a winter resort for wealthy Easterners. Now it is renowned for for holding  the annual Rose Bowl Football Game and the annual Tournament of Roses Parade. It is also the home of many scientific and cultural institutions, boutiques and restaurants.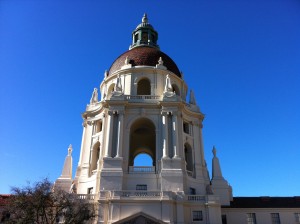 This peaceful town was a welcome relief after three weeks of New York City crowds boiling feverishly over the pavements with Christmas holiday enthusiasm. If we had arrived 2 days earlier, however, we would have struck the traditional Rose Parade, an extravagant New Year 's Day procession of flowery floats that attracts almost a million tourists each year. We arrived two days later and everything was calm and unruffled again. Wandering out of the subway station we were immediately confronted with an impressively domed building at the top of the road. It seemed like the obvious starting point.
The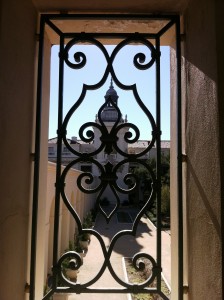 Pasadena City Hall was completed in 1927, and claimed as one of the finest examples of the Californian Mediterranean style of architecture. It is listed in the National Register of Historic Places and the architect was inspired by three other famous domes: St Paul's Cathedral in London, Les Invalides in Paris and the Basilica Santa Maria della Salute in Venice.  Graceful and imposing from the front, it secretes a serene cloistered garden behind its austere façade.  We climbed the curved staircase to the upper cloisters, and leaned over the balcony to admire the cool beauty of the neat flower beds and a central fountain burbling soothingly in the flickering sunlight between two large, shady trees.
The local resident of the information booth grudgingly handed me a brochure on the city. There is a lot to do in Pasadena, apparently, but without a car and only a day to explore, well, it was hardly worth her exerting the energy to describe the possibilities! Of course she could direct us to the older part of town, but – sighing – we would have to walk. The insinuation that it would be a good day's hike proved exaggerated, but the two short blocks became six longer ones, until we realized she had sent us the wrong way. Bad directions notwithstanding, we eventually found Old Pasadena, and Bar Celona, an unexpected culinary gem we came across as we scanned the street for lunch. Modern Spanish and tapas, we felt, was the perfect accompaniment to the Spanish flavour of the town's curved terracotta tiles and square campanile.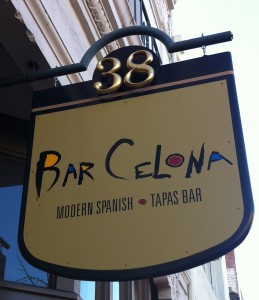 We ordered a selection of tapas and dug in. A small flatbread pizza arrived first, topped with basil and mint pesto, cheese and… grapes! The menu said figs – they must have run out – but the grapes added an interesting note of sweetness to this savoury bite. This was followed by a mixed platter of empanadas. If you haven't met one before, it usually looks like a mini pasty, with any number of possible fillings. These ones were a mix of sweet potato and slow cooked beef, but wrapped in a flaky filo pastry, instead of the heavier pastry we were used to.  A Tortilla Española – Spanish omelette filled with potatoes – was surprisingly light and airy, but a little bland. The selection of olives was quite the opposite, as the olives had been tossed in a spicy, olive oil marinade that we gobbled up, calling for bread to wipe out the bowl once the olives were all gone.
The charred lamb sausages with cannellini beans and salsa verde were superb. I could cheerfully have warded off the competition and eaten them all myself, but the boys were faster. We had the same response to the dish of moist albondigas (meatballs) stewed in saffron, allspice and tomato. That's the only problem with good tapas – there's never enough to go round more than once!
Full and sleepy, the kids headed back to the hotel, while my husband and I decided to do a circuit of this picturesque old town.
It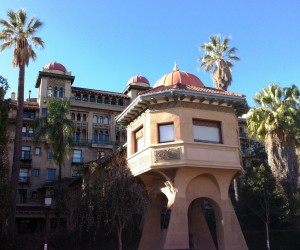 wasn't a long walk, but round the corner we found a quiet, leafy street aptly named Green Street. On the corner of Green and Raymond, stands Castle Green, a beautiful Mediterranean-style apartment block, originally part of the Green Hotel, completed in 1898. It was converted into apartments in 1924. Pretty balconies overlook shady, verdant lawns that spread across into neighbouring Central Park.
By now the tapas had settled and dessert required further thought. We were spoiled for choice. Two doors down from where we had eaten lunch, we found a small gelateria, where everyone was struggling to choose less than half a dozen flavours from a delicious display of twenty four. My coconut and lemon waffle cone was a perfect combination of zesty and creamy.
Further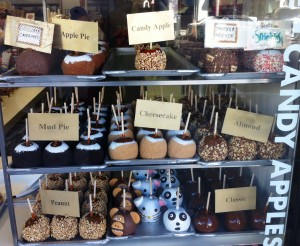 down West Colorado Boulevard was a local chocolate shop. The chocolates are made on site and in typical super-size-me tradition the truffles were huge and the slabs of chocolate fudge were bejewelled with M&Ms, Oreos, peanut brittle and other childhood favourites. The kids would have loved it.
Around the corner 'lette  macaroons had filled their windows with silver branches decorated with macaroons of pastel pink, chartreuse, lemon yellow, tangerine and raspberry. The counter held a tempting display of twelve different flavours (pistachio, chocolate, raspberry, passionfruit…) that were presented to us, beautifully boxed for the meager price of US$19.90 per dozen. (I say meager as a recent and besotted convert to macaroons who would happily pay any price, and then lock myself in the bathroom with the box to avoid sharing!)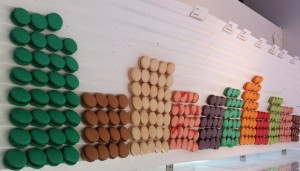 Old Pasadena is choc-a-block with restaurants, cafes and wine bars, whose buildings have all been lovingly restored over the past decade.  It also has some great boutiques, art collections and antique shops. Pasadena was a popular area with 20th century millionaires. There are several grand houses on the outskirts of town that are open to the public, built by such wealthy individuals as David Gamble, the Proctor & Gamble heir, and railroad magnate Henry Huntingdon.   I began to see why the cheerless woman in the information booth thought we should stay longer, but we were only there for the food, so by now, our hunger totally assuaged, we headed home.