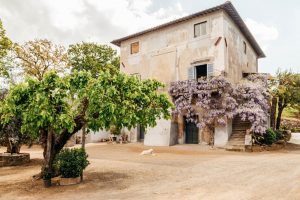 It is mid-February, and our last day in Rome. The One & Only has caught a cold and is happy to stay in bed, cuddled up with his pillow and the rugby. I leave him to it and take an early train from Roma Termini to Frascati, a hilltop town twelve miles south-east of the city, on the rim of a dormant volcano. The train sweeps through the outer burbs of Roma, following the scattered remains of an Ancient Roman aqueduct that once emptied a lake behind Frascati into the water tanks of the city.
In recent times, several international scientific laboratories have set up home here, but I'm afraid this doesn't interest me nearly as much as the town's history and the fact that Frascati produces a popular white wine of the same name.
I have booked a guided tour through Airbnb, with Dominique*. It promises to be a small group – maximum ten – which sounded a  comfortable number.  Dominique hails from California, but has been living in Italy for fifteen years. Once married to a local winemaker, she has helped build up a co-operative of three local vineyards, based at a 16th century artisan winery ten minutes out of Frascati. With an eye on the tourist industry, she has choreographed a crackerjack day out to help promote the region and its wines.
Our motley crew meet up on the platform at Frascati railway station, where our exuberant local guide is waiting for us. Massimo, or Max, is full of amusing and salacious tales, both ancient and modern, about his home town. He is also well-versed about its wines.
We follow him up the staircase from the station to the town. This staircase was once grander than the Spanish steps, until it was heavily bombed by the Americans, towards the end of World War II. Attempting to destroy German headquarters, they unfortunately did plenty of damage to the local population and its buildings, while barely scratching the Germans. Nonetheless, the Germans were eventually elbowed out by the Allies in June 1944. The town and its staircase has been substantially rebuilt since then. We clambered breathlessly to the top of the stairs. Here, looking out over a glorious vista of Rome, we encountered a large company of local 'blokes' who gather on the Viale Vittorio Veneto every day to drink coffee or wine, to gossip and, according to Max, to watch the women passing by. He suggests there is more for them to enjoy in summer when the ladies are in shorts!
Frascati, once the Beverley Hills of Rome, became a popular summer resort for Popes, Cardinals and the Roman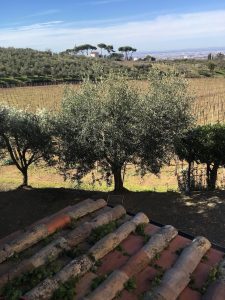 nobility from the 16th century onwards. It was here, above the sweltering city, that many illustrious citizens built a plethora of extravagant country villas around the rim of the ancient but dormant volcano. Their reward? Stunning views, cool breezes, plenty of quaffable wine.
The name Frascati, according to our guide, comes from the word 'frasche,' or branches, which could refer to a medieval trade of collecting firewood from a hillside that was once thickly forested in oak and beech. Later, wine makers would replace this forest with chestnut trees, whose wood was thought better for making wine casks: apparently it has a lighter touch and doesn't affect the flavour of the wine as heavily as oak. Thus, Frascati is now celebrated for its light, bright white wines rather than its acorn woods.
Frascati is low in alcohol and made from a blend of several local grape varieties. The core is formed by the classic central Italian white wine blend of Trebbiano and Malvasia.  These are mixed with varying degrees of Greco, Bellone and Bombino Bianco and up to 15% of local varietals. It can therefore be a bit tricky to define, but for me, it has a distinct citrusy character, and a gentle aroma of apples and almond blossom. It is not a sophisticated wine, but it is exceedingly drinkable and utterly unpretentious, and goes oh-so-well with the regional dishes. Perfect to sip, chilled, on a warm summer evening, overlooking the vineyards…
Wine making has been popular in Italy since 500B.C. Once upon a time, the grapes came from Greece, and the wines made in Frascati rapidly became popular with the Ancient Romans, who called it 'golden wine.' These wines were still a firm favourite with the Popes and Roman nobility of the Renaissance, they would inspire the poets and artists of the 18th and 19th centuries and were acclaimed by 'La Dolce Vita' generation of the 1960s. In 1966, Frascati was granted Denominazione di Origine Controllata (DOC) status, a quality assurance for Italian wines modelled on the French system, AOC. In 2011, it rose to DOCG  status, the highest quality designation in Italy, requiring producers to follow the strictest wine making regulations.
By 11am we have been given our first taste of a less illustrious local brew. Stored in a plastic gallon container, Max decants it into plastic cups at the local bakery and serves it up with 'wine biscuits' for dipping. There is not an ounce of pretension here, but an understated appreciation of the small joys in life. The locals actually prefer the time-honoured tradition of taking their own jugs to the winery and decanting it straight from the barrel, rather than buying it in bottles.
As we nibble on a selection of bakery samples, we chat with its 93-year-old owner, as creased and crunched as a bed sheet on a hot night, yet bright as a button, who still mans a stall at the Frascati market every week and touts her wares like a carnival spruiker. Afterwards, we climb into taxis waiting in the plaza to drive us around to the winery.
Our guide loves to tell apocryphal tales of his fellow Italians and their subversive behaviour. He gleefully explains Italy-according-to-Max, while assuring us we will never read these stories on Google.  He is a born story-teller, and it's hard to decipher truth from fiction. One story involved hiding the Jews in plain sight from the Germans, by burning all the Frascati birth records so that Jewish residents could not be identified.  Later, from a viewpoint on the city walls, he points out a shell-shaped dome we could see lying on the plains below Frascati. This, he claims, was a swimming pool intended for the Rome Olympics. Money garnered from the EU and the Italian government disappeared without a trace and left an empty swimming pool in its wake, so the competition was moved at the last minute to another complex and other hastily organized venues. I did find something on Google loosely related to this one, but Max's yarn, as all his yarns that day, made far more scintillating listening!
***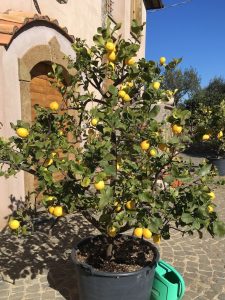 We arrive at the vineyard around midday, to find an old stone building roofed in terracotta tiles, and a courtyard dotted with lemon trees in large tubs. A future project to make limoncello or gin perhaps? This vineyard has been run by the same family for seven generations, and one of the current owners comes out to meet us, accompanied by Dominique. He is keen to share his knowledge and speaks in soft but rapid Italian, fondling the bare vines as he talks, barely giving Dominique time to translate. Nino and his brother run the vineyard together, and despite their seventy plus years, they do almost everything by hand.
While many modern vineyards are using up-to-date techniques and technology, here, wine making must rely heavily on traditional methods and hours of manual labour to qualify for the DOCG recognition, which allows neither chemical fertilizers or technology. They are even forbidden to irrigate the plants. As in olden times, the grapevines are planted in a sloping crease of the hill to catch any rain, while the vines are trellised to create a canopy of leaves, shading the grapes from the sun, and retaining as much moisture as possible. Around the edge of the vineyard there are five hundred olive trees more than four centuries old. All the pruning, of both vines and trees, is done by Nino and his brother, who jealously guard this vital role.
We wander through the sleeping winter vines, nudged by the girdle of olive groves. The soil here is well drained and largely volcanic, which makes it incredibly fertile and creates prolific harvests. The volcanic ash also makes the soil porous and rich in potassium, which gives the wine a noticeable mineral flavour. Many of the vineyards in this region, including this one, have cellars dug out of the volcanic rock, ideal for storing the wine.
Nino's wine cellars are hidden beneath the 16th century farmhouse. A narrow tunnel, dug into the porous black rock, slopes gently downwards, the temperature dropping with each step, dusty bottles stored in niches on either side. Here, the only sign of modern wine making is a large steel tank. Frascati is now made in steel tanks to reduce tannin and completely avoid any flavouring from wooden casks.  In the bowels of the earth, we discover large pottery urns and green, blown glass flagons from Venice, both used to store the wine before stainless steel was invented. Only the dessert wine gets a little time on wood. This is not the syrupy-sweet dessert wine I am familiar with, but a lighter variety, the taste drifting away like butterfly wings, sweet but not cloying. It is made from grapes dried to raisins, and then squeezed in a hand press to within an inch of their lives to garner every last drop of sugary juice.
In a dining room on the first floor, with a Juliet balcony wrapped in wisteria vines, we finally get to taste the three wines that are made here: a light, smooth white (Frascati Superiore); a mild red (Vagnolo), and a sweet wine (Cannellino di Frascati). To accompany the wine, Dominique has arranged small snacks: slices of homemade pizza and pecorino drizzled with honey. We learn that parmesan (or Parmigiano Reggiano) is made in the north from cow's milk, whereas Pecorino Romano, originating further south as its name suggests, is made from sheep's milk. (The word pecora is Italian for 'ewe.') They have a similar, hard texture, but pecorino is saltier, while parmesan has a denser flavour.
Plates and glasses emptied and shopping done, we gather in the courtyard for a final chat with Dominique,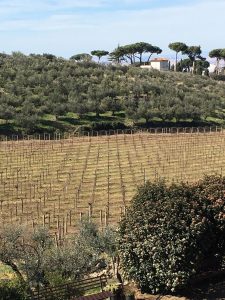 accompanied by the clinking of our treasure trove of wine and olive oil bottles. After fond farewells, we head back to town for lunch, where we feast like kings at a local cantina, on the best pepperonata I have ever tasted, mixed with diced roast potatoes. Two more platters follow: a white bean and tomato dish, and carciofe and green beans. Greedily, like Oliver Twist, we all go back for seconds, before we realize there is more to come: two different pasta sauces, one red, with beef, one white, with broccoli. And while we devour these simple but luscious dishes, Max pours the wine, first from bottles from the winery, later in carafes – doubtless from a plastic container! Anyone for dessert?
It is a merry meal, full of laughter and limoncello, as we share our own tall tales and make new friends. I cut my losses while I can still walk in a straight-ish line, and stroll through town where a pre-Lenten parade is beginning. This involves much flinging of confetti, a brass band, and half the town in costume. Among the younger participants, there is a plethora of princesses, policemen and spider men. I even spot a discombobulated lap-dog dressed as a black and yellow bumble bee. I stand on the church steps, absorbing the excitement for a while. Then, in reasonable order, I make my way through the crowds and down the long staircase to the station where a few of our number have already gathered. The ride back to the city adds a final note of jollity and chatter to a superlative day.
*https://www.oldfrascati.com/
**With thanks to Dominique's website for the photo of the wisteria in full bloom (as it wasn't in February!). The rest are my own.