The rain has driven me off the somewhat slippery cobbled streets of Prague, and I am sitting in a corner of a rather elegant coffee shop on Rybinska with a flat white coffee and 'torn pancakes with cinnamon sugar' accompanied by a bowl of whipped cream garnished with a spray of mint leaves. The latter hasn't proved a great choice – the pancakes have literally been ripped up and refried in cinnamon sugar, creating a crunchy, sugary clump of inedible ex-pancakes. The pot of canned cream does nothing to improve them. But it is warm and dry in here, and relatively peaceful considering I had to queue for a table.
For the past three days we have roamed this romantic, enchanting city with our sons, revisiting old haunts and relishing new ones. It is over sixteen years since we last visited Prague, eighteen since we lived here, when we welcomed in the new millennium from a perch above the Vltava, our pint-sized children dragged unwillingly from warm beds into the frozen night to watch the sky explode into technicolour bouquets.
Much has changed, and nothing has changed. The small primary school the children attended by the river has grown exponentially and our rather ramshackle country village is full of smart new houses. Yet the woodland paths are surprisingly familiar, the ghosts of chocolate coloured puppies and well-wrapped children dashing ahead between the trees. The city of paneláks in Prague 9 still crown the cliffs across the river and the allotments behind our house are obviously still in use. In the Old Town, the endless array of glorious buildings still makes us gasp in wonder, and the names are like faint echoes of children's nursery rhymes, whispering their once-familiar magic through our memories.
It is cold – well, it is winter after all – but not painfully so, as we wander through market squares and winding lanes. The 14th century sandstone Karlův Most (Charles Bridge) is almost as thick with tourists on this dark winter afternoon as it is in the height of summer. I am in thrall to the spires and the statues, the Art Deco and the domes, the Baroque, Renaissance and Gothic buildings. Always there is a facade to gaze upon and exclaim at, even as your feet stumble on the beautifully patterned cobblestones. I can't stop walking and yet I also want to sit in every cosy little bar or coffee shop and soak up the atmosphere.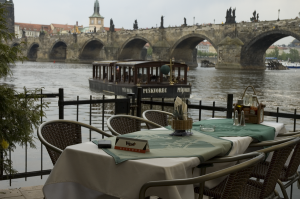 We are delighted to rediscover a tiny restaurant in Malá Strana. 'Čertovka' is reached by a staircase so narrow there is a traffic light to prevent jams. Apparently, it was an old fire lane, the only one remaining in the Lesser Town. The service here has become infamous for its shoddiness, but the view to the Charles Bridge and along a narrow canal that runs beside it, is rather special. The name of the restaurant actually comes from the name of this canal or stream, an arm of the Vltava that used to feed the many mills and tanning works along its banks. I remember the lush horse chestnuts in summer that would shade the terrace as we sipped wine and looked out over the water.  My sister-in-law once made a lovely charcoal sketch of the scene. The food is good, if a tad more expensive than some, but I am happy to pay for the view and a dose of nostalgia. Number One Son is delighted to taste a Czech dish he adored as a child: slabs of bread dumplings drowning in rich meat gravy.  International cuisine has made some headway over the intervening years, but Czech and Italian restaurants still dominate the culinary scene, as pork and pizza become our staple diet. And the One & Only was thrilled to find that the Christmas carp is still sold fresh from tubs on the side of the street.
Further down the road, on a different day, we come across a well-heated courtyard with sheepskin coverings on the
bench seats. Here we indulge in a lunchtime meat fest of extraordinary proportions: dinosaur-sized spare ribs and stonking great pigs knuckles, to the delight of the One & Only, all accompanied by buckets of Czech beer. Pilsner Urquell or Staropramen, I can't remember which, yet, notoriously disinterested in beer, I rather like these lighter Czech varieties. After gorging ourselves to bursting point, we set off uphill to walk off the calories in the fading light and find Pražský hrad (Prague Castle) at the top of the hill, with the stunningly beautiful Saint Vitus cathedral tucked behind its walls. Somewhat obscured by the castle buildings at ground level, Saint Vitus can, nonetheless, be seen clearly on its hilltop from almost anywhere else in the city. A life-sized straw nativity has been arranged to one side of the cathedral's vast entrance (I loved Mary with her straw pigtails), and the gargoyles and glorious wrought iron gates keep us glued to the spot in awe for some time.
The castle buildings represent virtually every architectural style since the 9th century, including its Gothic cathedral and the Romanesque Basilica. A UNESCO World Heritage site of almost 70,000 m²,  the castle was extensively renovated and extended during 1918-1938, to include a palace for the President of the newly created Czechoslovakia. Today it is a bustling tourist destination, even at 7 pm in late December. And the views from its walls are breath-taking, especially at night, like something from a fairy tale.
The Czech people are as curt and impatient as ever: car horns are constantly squawking; distracted pedestrians will mow you down without a second glance. Smiling is not a thing. But I love the sound of this guttural, vowel-free language, and they really are a very attractive race. And what infinite luxury to be able to take this picturesque city
for granted. I still remember catching the metro into the old town with a small son on my back, to stand under the mediaeval astronomical clock and pinch myself to think that I really lived here. This unusual clock is another popular tourist spot, and the area beneath it is often made impassable by mobs of camera-flashing admirers. First constructed in 1410, the two-faced clock is a dizzying array of dials and hands and astrological symbols on a starry night sky. Twelve apostles appear from a small door above the double face every hour and disappear through a second one, each holding the symbol that represents him. At the sides stand four more figures: an old miser with a bag of gold depicting the cardinal sin of Greed, a well-dressed figure with a hand mirror representing Vanity; the skeletal figure of Death tolls a bell and holds an hourglass to remind you that the end is inevitable, and beside him is a figure known commonly as the Turk, as the symbol of lust and earthly pleasures. Back in the 1990s there were fewer tourists in town, so it was easier to stand and gawp for as long as a small boy could sit still. Then we would move on a few steps to find ourselves hypnotized by the jazz band that frequents the Old Town Square to this day: a double bass, a clarinet, a saxophone and trumpet, a banjo and a washboard. Tonight they perform beside a giant polar bear, their old voices grown crackly and faded after so many years, almost drowned out by the carol singing students on the stage beneath the enormous Christmas tree. So much is the same, yet we instantly miss the pen of farm animals – Thelwell ponies, sheep and donkeys – that used to entertain the children near the Irish pub, 'Caffreys.'
We wander up to Václavské náměstí (Wenceslas Square) named for the patron saint of Bohemia. Wenceslas Square is more avenue than square, crowned by the elegant, neoclassical Národní Muzeum, or National Museum. All the trees are draped in tiny fairy lights, and the avenue is lined with stalls sell snacks and Christmas crafts. Here we nibble on roast vegetables, sausages and trdelník, a traditional eastern European sweet pastry that is rolled around a stick, coated in walnuts and sugar, and grilled. Some fill its hollow centre with Nutella or cream.
One evening, we meet up with my godson and his cousins in a local brewery near the square. 'Restaurace Novomestsky Pivovar' on Vodickova was a favourite while we lived here. Eighteen years ago, the owners sent over a whole suckling pig complete with trimmings (chips, sauerkraut, horseradish by the gallon) for Christmas lunch. It was a gastronomic delight and solved the problem of feeding fifteen people from my tiny oven. Today we order generous platters of Czech style antipasti, and towers of home-made beer, followed by the ubiquitous variations of pork and potatoes. The staff are friendly and helpful, and the food is immensely filling and tasty.
Christmas shopping puts in a last-minute appearance, as we dash to jewellery stores, Hamley's and the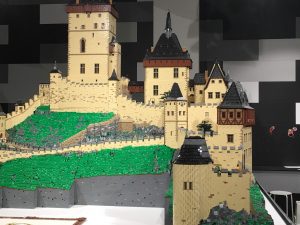 Lego Museum. A fabulous Lego exhibition in the basement of Hamley's holds us captive for ages, gazing upon the castles and cathedrals of Bohemia in intricate and spectacular detail. Meeting friends eventually takes priority over a plan to attend a Christmas concert in one of the many church venues, but the lapse simply provides an excuse to return. Number Two Son doesn't remember living here – he was not quite three when we left – but he has proved invaluable with his instinctive sense of direction, and we are rarely lost, even when memory fails us. It has been a wonderful walk down memory lane, one I would love to repeat in the spring, as the trees start to bud, the days grow longer and the chill has gone from the air.
*With my usual thanks to the One & Only for his fab photos.