We have been blessed with an Indian summer in Europe this year that did not pack its bags and head south until the middle of October. Since then, Autumn has kicked in with a vengeance (making up for lost time?) and the early morning mists and chilly damp have returned. On Tuesday, we even had the first snow for the season, although it only settled briefly on roofs and heads, melting as soon as it hit the ground.
This morning, in need of fresh air and a good walk, I head north to Echternach to stroll around the town's thirty-hectare, man-made lake. Here, the clouds are sitting low on the brow of the hill, entangled in the treetops, bleaching the colour from the leaves.
Still, the park looks beautiful in its autumn colours, and the lakeside is humming with activity. Walkers, dogs and fishermen are unusually prolific. Stripy, hand-sized fish hang suspended in the dark green water of the lake, while a brace of ducks socialize noisily on the shore. One solitary and elderly crane sits on a rock, huddled, arthritic and miserable, in dire need of winter woollies.
After a lap of the lake, I drop into the new Lakeside restaurant, where the lovely waitress remember me from a previous visit and makes me the best coffee I have found in all of Luxembourg, so hot that it melts the plastic straw that I have been given to stir it with.
Lakeside only opened this summer. Light and airy, it is perfectly located at the top end of the lake, with the fountain taking centre stage. On a warmer, sunnier day, there is a broad terrace on the foreshore. Today, I find a table near the bar. Lakeside has a touch of Scandinavia: lots of space, blond wood and simple, unfussy décor.  Apart from the back wall, it's all windows, from the polished concrete floors to the high ceilings that are strung with large onion shaped, wooden lampshades.
I love this town, and this peaceful spot in particular. It's a wonderful place to write and Echternach is so much more relaxed than Luxembourg City, the people welcoming and friendly. The second language here seems to be German more often than the French of the city, and the attitude is much more easy-going than the highly-strung atmosphere of the capital. The staff smile, chat and do what they can to make customers happy. It's a far cry from the clipped, impatient, somewhat cool customer-service one receives in the south. How can a twenty-five-minute drive make such a difference? Yet, it does.
I sip slowly through two coffees, before the morning drifts into lunchtime.  There is a very reasonably priced menu du jour or a more varied a la carte menu. Either way, many of the dishes have a Germanic influence, which is hardly surprising given that we are literally a stone's throw from the German border.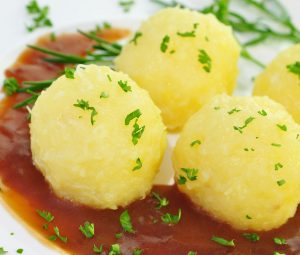 After a little help with translations, I opt for the menu du jour. A hefty slice of homemade terrine de volaille aux champignons (chicken terrine with mushrooms) followed by a wholesome noix de jus de porc braisee, knödel de pomme de terre et choucroute (braised pork, with sauerkraut and potato dumplings). I could have chosen carbonara or träipen (Luxembourgish black pudding) served with red cabbage and apple sauce, but I love the sound of pork and dumplings: plenty of meat and carbohydrates to brighten up this rather dull and heavy autumn afternoon.
Feeling rather heavy myself, after such a filling lunch, I stroll outside to chat with the friendly Egyptian geese by the lake, and dodge a couple of rather officious white geese (straight out of Beatrix Potter minus the bonnets), who make a dive for my ankles. Safely back at the car as a light drizzle sets in, I meander home through softly rolling green hills and golden woods.
*Photos care of the Lakeside Facebook page and Google Images, with thanks for better photography than mine!