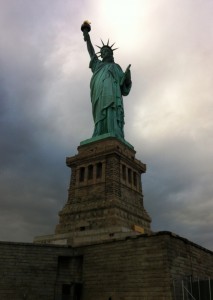 New York City: The Chrysler Building and Central Park; The Empire State and the Plaza Hotel; the Met and the New York Ballet; Fifth Avenue and Broadway; the Brooklyn Bridge and Ground Zero; Staten Island and the Statue of Liberty; Food…?
We had checked out Dean & Deluca's and the Food Hall at the Plaza. Both were terrific, very trendy and five star groceries. We had been in an Irish pub and a themed diner. We had located our favourite local coffee shop. We had eaten pizza until we couldn't eat another slice. Now it was time to head downtown and see what was happening south of Washington Square. "Ahoy New York Food Tours were offering food, fun, history and culture in a walking tour of Little Italy and Chinatown. Perfect.
I set off early with our older son to walk down Broadway from our apartment in the East Village to Lower Manhattan. The rest of the family, a little slower to rise, would take the subway and meet us there. It was too early for the shops to have opened and the pavement was strewn with rubbish from the night before. Pedestrians were few and far between. Well-known stores such as Gap, Bloomingdales, Victoria's Secrets and Forever 21 trailed behind us as we walked briskly through the chilly morning.  It was all familiarly western until we hit Canal Street, when we were suddenly thrown through a worm hole and found ourselves back in Chinatown, Manila. The pavement was full of street vendors trying to sell us handbags, watches and left-over Christmas decorations. The shop and restaurant signs were all in Chinese. White westerners were almost non-existent.
Our tour group was due to meet outside a Chinese grocery store at 10.15am. Arriving early,  and feeling somewhat obtrusive,  we wandered inside to explore shelves of Chinese snacks, dried herbs, spices and plants, herbal medicines and make-up, while cooking pots of breakfast noodles scented the air with delicious waves of flavour. Choosing some seaweed snacks for later, it felt decidedly surreal to have the woman at the check-out ask me in American English for American dollars. I realized I had been waiting to hear the amount in pesos in a heavy Filipino accent.
Alana was waiting on the pavement when we came out. Another surprise.  I had anticipated a local Chinese or Italian tour guide, and Alana was a blonde, blue-eyed migrant from upstate New York who 'lives, breaths and EATS the city'. Without further ado she marched us off across Canal Street and into Mulberry Street, the main street of Little Italy.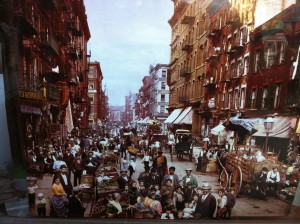 Here Italian restaurants and cafes jostled for position on the narrow street.  Alana ushered us into a small church forecourt beside a full-sized manger scene for introductions. With a maximum capacity of twelve, six of them being our family, introductions were speedily made and Alana moved on to a potted history of the area.
Now immersed in Lower Manhattan, Little Italy was originally on the outskirts of New York City, now the financial district at the tip of Manhattan Island. The largest influx of Italian migrants occurred from 1880 to 1930 and the area was a thriving Italian community until the Black Hand began to take over the streets. This mafia operated extortion racket drove many migrants to move on again, to set up in the Bronx, Brooklyn, Queens, New Jersey and beyond.
A few stayed on, however, and today some of the local businesses here have been in family hands for generations, such as the Alleva Dairy on Grand Street. A fifth generation family business,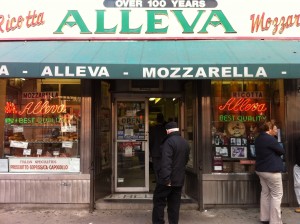 Alleva Dairy is  reputedly the oldest Italian cheese store in America. Here we were given wafer thin slices of prosciutto to taste, wrapped around wedges of creamy mozzarella. While I missed the added sweetness of the melon we usually pair with prosciutto, it was an interesting combination of salty ham and soft spongy cheese.
Plates emptied, we then crossed the road to the Ferrara Bakery and Café. We peered eagerly upon shelves of Italian pastries: Italian Napoleon (vanilla slices), torrone (nougat) and pignole (almond cookies), while Alana prepared us a tray of mini cannoli. A traditional Sicilian dessert, cannoli are crispy, fried pastry tubes filled with ricotta or sometimes mascarpone cheese, mixed with a number of possible additives: vanilla or a dash of cinnamon; chopped pistachios, chocolate chips, candied citrus peel or cherries . The name comes from the Latin, canna, meaning reed. It is a delicately flavoured snack that would have gone well with a splash of espresso coffee, but we were on the move again.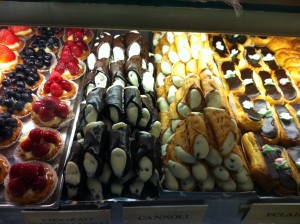 Our guide enthusiastically herded us through the neighbourhood, telling tales of mafia murders on Mulberry Street and a factory fire during which 146 women and girls of Italian and Jewish descent were trapped and died on the fifth floor of a clothing factory in 1911. It was New York's worst disaster until 9/11. The tragedy created a strong rallying point for women's rights advocates, while local unions seized the opportunity to fight for better conditions and greater safety standards.
Crossing back over Canal Street was like crossing a national border. As the scene changed suddenly from Italy to Asia, I was tempted to pull out my passport. The first Chinese migrants arrived in California in the 1790s. Within fifty years many had made their way across the country to New York. However, further migration was rapidly stymied with the introduction of the Exclusion Act in 1882, a law that prevented the wives and children of existing Chinese migrants joining them in America, and refused citizenship to any Chinese already living there. This act was not lifted until the 1960s. Since then, the Cantonese in particular have taken over the area, swallowing up large parts of Little Italy. There is also a number of other South East Asian nationalities in residence, to which the number of Indonesian, Korean and Vietnamese restaurants testify. For lunch we went to Thailand, directly opposite Columbus Park.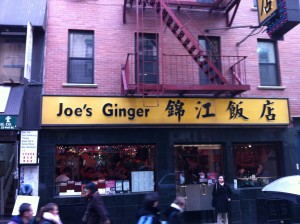 Apparently this corner of Chinatown was once a den of iniquity, a meeting place for thieves and villains immortalized in the 2002 movie Gangs of New York. There is no sign of such Dickensian grimness now. All is calm and peaceful in Columbus Park, where locals gather around checker tables, practice tai chi and kung fu, and play baseball, watched over by the benign presence of China's national hero  Lin Xe Zu. But we couldn't stop to play. Lunch beckoned.
The Pongsri Thai restaurant has apparently been in the family for 25 years. Their food is tasty, if not traditionally Thai, and we all dug in with enthusiasm to fried chicken in orange sauce, noodles, tofu and broccoli. Those who could, wielded chopsticks – although not, I should add, traditional Thai implements, but presumably there for the benefit of a largely Chinese clientele.
After friendly conversation with our fellow foodies, always part of the fun of a tour, we were encouraged back into the street by our ever-buoyant tour guide. Standing outside a nearby tenement building with its infamous iron fire escapes, Alana drew a gruesome picture of life in the tenements in the first half of the twentieth century: three interlinked rooms; no bathroom; no running water;  a communal lavatory out the back, and tightly packed family groups of up to fourteen people. I though of our airy Manila apartment rather guiltily…
Uncertain of having room for any more food, we found it surprisingly easy to squeeze in a delicious bite-sized pork dumpling dipped in soy  sauce and vinegar or chili sauce. Freshly made, lightly fried, then steamed, they were favourites for many in our group.  Tasty and healthy, they make a cheap, easy snack.
Our final stop was at Aji Ichiban – a sweet shop, now an international chain, that originated in Hong Kong. We have one in our local mall in Manila, although not as well-stocked as this one with its broad selection of dried fruits and flowers, meats and fish, all laid out for tasting, which we did with interest. The kids, of course, dived to fill bags with more familiar candies like Skittles.
It was a sweet finale to a tasty and informative tour. We met some really interesting New Yorkers, and I came away with a long list of books to read the fascinating history of this area in greater detail. Despite being a little touristy, we loved the area, with its winding, narrow, cobbled, densely packed, hustling, bustling, multi-cultural  streets. It had such a very different flavour from the more spacious, ostentatious upper reaches of Manhattan.