'The pillars of truth and the pillars of freedom – they are the pillars of society.' ~ Henrik Ibsen
Oslo in July. Boats and blue skies. A mad modern opera house, designed to look like it was rising from the sea, but looking, to me, like it had just struck an iceberg and is in the process of sinking. Copious Italian restaurants and clocks everywhere. Naked statues all over the park by prominent Norwegian sculptor Gustav Vigeland. Numerous art galleries into which the One & Only disappears for hours. Endless museums of Viking ships and traditional wooden houses, and a military museum in a medieval castle above the harbour. And the Ibsenmuseet.
I clearly remember studying Ibsen at high school, and productions by the South Australian State Theatre Company. The Doll's House and The Lady from the Sea. There have been several movies, too, not least an intensely beautiful Australian adaptation of The Wild Duck: The Daughter, with Sam Neill and Geoffrey Rush.
So, I was quite excited to rediscover Ibsen in Oslo in the flesh, so to speak. And where else would he be? Henrik Ibsen is, after all, Norwegian. Playwright, theatre director, poet, he is known as "the father of realism" and has become the most frequently performed dramatist in the world after Shakespeare.
Yet it was not always so.
(If you don't like, don't remember or don't know Ibsen's work, stop here, as the following is my own self-indulgent research of this fascinating Norwegian.)
Ibsen was born in 1828 into a wealthy shipping family, but in 1835 Ibsen's father was declared bankrupt. Young Henrik found the resulting loss of wealth and status immensely distressing. At fifteen, he had to leave school, and became an apprentice pharmacist in Grimstad, over 130km from his family. Here he began writing plays, and for many years he worked in theatre in Bergen and Christiana (later renamed Oslo). By 1864, defeated by his lack of success as both a writer and a manager, he fled to Italy with his wife Suzannah and their small son. He would not return to live in Norway for almost thirty years.
At last, in 1895, aged sixty seven, and at the height of his success as a playwright, Ibsen brought his family back to Christiana. In a large and elegant apartment just below the Royal Palace in Stottenpark, he spent the final decade of his life, and completed his last four plays: 'The Master Builder' and 'Little Eyolf,' 'John Gabriel Borkman' and 'When We Dead Awaken.' That apartment, now the centrepiece of the Ibsen museum, has been authentically recreated to look as it did at the turn of the last century, right down to the floor coverings and the colour of the paint. The Ibsen family has donated or loaned much of the original furniture to the museum.
In the apartment next door there is a fascinating exhibition, containing many of Ibsen's personal possessions, paintings, and many facts about the man and his works. However, it was thanks to the more personal touch of our guide that I came away with such a clear picture of the man behind the theatrical façade.
Ragnhild – a very traditional, very old Norwegian name, she told us – described a man shaped by the long years of poverty and failure as a playwright. A man prone to bouts of depression. A man of contrast: vulnerable but egotistical; obstinate and opinionated, yet anxious and insecure. Naturally introverted, he nonetheless craved recognition and adored the limelight. Yet he needed alcohol and an adopted persona to cope socially, hiding behind enormous mutton chop moustaches and a tall top hat. As his star rose, a Bohemian youth gave way to a groomed and polished image of a social and professional success. An honorary degree gave him the title doctor, of which he was inordinately proud.
While other writers at the time were conservative, idealistic and moralistic, much of Ibsen's writing was considered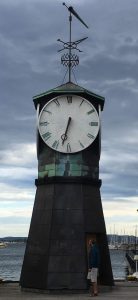 scandalous. When European theatre was expected to take the moral high ground on family life and society, Ibsen preferred to expose the hypocrisies he saw among the middle class. Critical of social and religious conventions, Ibsen was a progressive, even radical writer. He saw no grand design and claimed that man must forge his own path and make his own choices. Unfortunately, this was not the world he was living in, and these forthright opinions did not win him friends or influence in provincial Christiana. And yet, another anomaly, he still wished to find a place as close to the top of the social ladder as possible. (Ironic, considering Ragnhild described a classless society in Norway, apart from the Royal family.)
Evntually, his work at last found success in Italy and Germany.  Although still decidedly controversial, he was soon to become a renowned and respected playwright. His plays often exposed the hypocritical morality of the middle classes. His characters were often rebels, conflicted with the accepted social conventions of the day.
At last, strengthened by his success abroad, he returned to Norway, eager to make his mark in his own country. And here the tour began.
The first room we see in his apartment reflects his egoism: an enormous portrait of Ibsen himself  hangs above his desk. By comparison, his wife's cameo portrait hangs in a shadow, on a side wall, among many others. The three front rooms of the apartment are elegantly, even ostentatiously decorated. His office is heavily Germanic in its furnishings, while his two reception rooms, the Red and Blue Salons, are decorated with elaborate French and Italian furniture. He owned a Bechstein piano, but apparently it was there only for effect: Ibsen never allowed anyone to play it, and nor did he play himself.
Those three front rooms were almost like a stage set. Behind the scenes, the family rooms were much more Scandinavian, simple, almost austere. It was a fascinating reflection of the paradoxical writer: his extravagant public persona and his modest private life.
Ragnhild noted that Ibsen was a very disciplined writer and a creature of habit. He would write every morning for two hours, then walk down to the Grand Café for a beer before luncheon, and the route he took was well-known to his neighbours. (Ibsen quotes are now scattered along the path he once took.) He would then return to write in the afternoon in a small seat by the window in the drawing room, where passers-by could observe his backview at work.
Suzannah Ibsen, on the other hand, preferred to keep a low profile. She suffered from rheumatism, so she stayed in her own cosy sitting room, where she would read all day. She was, nonetheless, highly political and would gather her feminist activist friends around her to discuss the current issues of women's suffrage.
I was fascinated to know if Dr. Ibsen was as radical in his own marriage as in the one's he wrote about. Ragnhild explained that as far as anyone can tell, the Ibsens had a warm and equal marriage, and Henrik allowed his wife all the independence of speech and behaviour he allowed his female characters.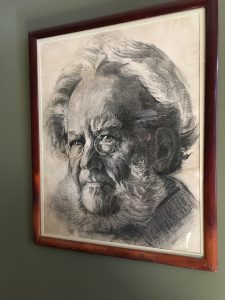 It has been said that Suzannah nannied her husband, occasionally having to force the pen into his hand. Despite her own reticence to be seen in public, she was a strong character and, Ibsen admitted more than once, his greatest support. She was also the inspiration for many of Ibsen's famous characters and was so like Mother Åse from Peer Gynt that, when Ibsen read the play to his family, his son Sigurd apparently cried out "that's Mama!"'
Only a two-minute walk from Ibsen's apartment is The National Theatre. Opened in September 1899, statues of Ibsen and Bjørnstjerne Bjørnson – another popular Norwegian writer, whose daughter would later marry Ibsen's son – stand proudly before the front entrance. Their names are also engraved in stone on the theatre's facade, in the company of Danish-Norwegian playwright Ludvig Holberg. There were three official opening performances, productions of the works of each of these three renowned writers. The theatre has staged Ibsen's plays almost every year since then, and also hosts the biennial International Ibsen Festival.
Now there's a thought for our next trip to Norway!