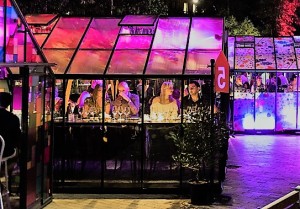 The stage was set for Tasting Australia's first Glasshouse Kitchen dinner: Town Square in the centre of Adelaide's Victoria Square; half a dozen double gabled glasshouses had been beautifully decorated with fairy lights and flowers, intimate as a private dining room, yet set in a public space; chefs had flown in from across Australia and as far afield as Chile. Prices were high, expectations were higher. The atmosphere was convivial, the staff welcoming, the mood enthusiastic. It was set to be a show stopper.
For opening night, the theme was spice. I'm not necessarily talking chilli hot, but piquant. Yet, as the dishes arrived, the menu seemed disparate and the wow factor of the food was distinctly lacking. And, of the four chefs to perform, only one seemed to have read the memo about spiciness.
Benjamin Cooper's Pork Belly and Death Sauce was served with a glass of McLaren Vale Grenache. As the second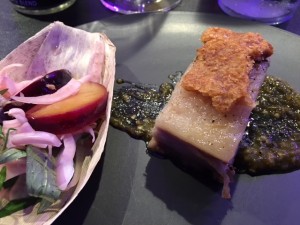 offering on the menu, it was, without doubt, the star turn. Apparently, it is also a star turn in his restaurant, Chin Chin, in Sydney's Surry Hills. And, as the only truly spicy offering, it did not suffer by comparison.
A melt-in-the mouth wedge of pork belly topped with perfectly crisped crackling had been laid on a bed of scud chilli Death Sauce. Beware dipping your finger. On its own, it's like a punch in the mouth for heat content. Yet somehow, combined with the pork belly, it reduced the near-death experience to a satisfying flash of heat and flavour.  This Asian inspired dish was accompanied by a fennel and plum pickle for a splash of crunch and vinegar to cut through the cholesterol. The presentation was simple, but the taste hit the mark. And the SC Pannell Grenache was a great co-star.
Cooper was joined by three acclaimed chefs who, together, choreographed a four-course dinner that aimed for the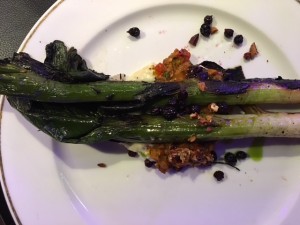 flavourful and exotic. Unfortunately, for me, their combined efforts fell far short of expectations.
Matt Breen, of Templo in Hobart, had cooked whole Ngeringa leeks in buttermilk over a fire pit and served it on a bed of creamy burrata. While the leeks were moreish and incredibly tender, the spiced salt, hazelnut and fennel mix provided texture but only made a tiny impact on the taste buds. The accompanying Unico Zelo Esoterico wine was unusual. A cloudy white wine blend of grapes that originated in Georgia, it is left on the skins, so the tannins are incredibly astringent and dry out the mouth in an instant. Best with food, it did little to enhance this delicious but modest vegetable dish.
Chilean celebrity chef Rudolfo Guzman from Borago restaurant in Vitacura, took the head of a Spencer gulf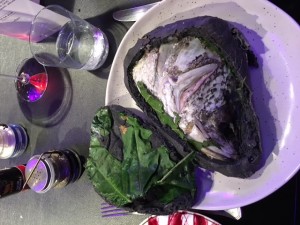 Hiramasa or yellowtail king fish to create a twist on a traditional Chilean dish. Instead of the obvious fish soup, he served the entire head in a casing of fig leaves and grey damper (cooked al rescoldo – in ash). Entirely unspiced, and containing only a teaspoon of flesh among a challenging web of cartilage, it was undercooked and uninviting. It was served with a side plate of thick-stemmed, rubbery mushroom and artichoke foam, strong on texture but light on flavour. For a modicum of lift, we were given a deeply satisfying Ashton Hills Pinot Noir.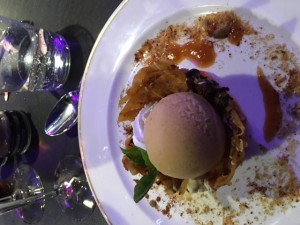 Finally, Greggory Hill, owner of Adelaide's Hispanic Mechanic, created a dessert with an interesting concept that he didn't quite pull off. Hill is fond of plantains, those fibrous, starchy bananas that are best cooked before eating. He used these to create an edible plantain and chocolate basket filled with a scoop of banana, pear and passionfruit sorbet, and a squirt of canned cream. Apparently, crushing the basket into the ice-cream would have improved the experience, but try as I might, I couldn't crack it. There was a mildly spicy sting on the tongue from the sorbet, but the overall effect was bland. Fortunately, there was a rich, 21-year old Seppeltsfield Para port to accompany it.
As an expensive showcase for Tasting Australia, the mood and atmosphere were uplifting, and we had a thoroughly entertaining evening, but the food was underwhelming, despite some big names and some big wines.
*Thanks to Google for the photo of the glasshouse. The rest are mine own!