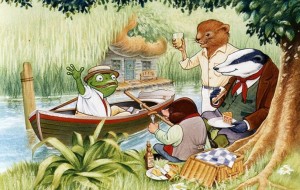 Take the adventure, heed the call, now ere the irrevocable moment passes! 'Tis but a banging of the door behind you, a blithesome step forward, and you are out of the old life and into the new! Then some day, some day long hence, jog home here if you will, when the cup has been drained and the play has been played, and sit down by your quiet river with a store of goodly memories for company. ~ Kenneth Graham, Wind in the Willows
Stuck in bed with a hacking cough and a snotty nose, the temperatures consistently squatting below zero, there is only one way to leave the apartment this week, and that is through memories. I find myself drifting back to early adventures, when it was just the two of us…
The One & Only has always liked a project and a plan. So, one similarly chilly day in the winter of 1991, he concocted the idea of a cycling trip through France. With the aid of a mountain of maps and several guide books, he plotted a course from Cherbourg to the River Cher. We had put ourselves and our bikes to the test on a previous expedition through Ireland, we had our two-man tent shaped like an armadillo (a farewell gift from Aussie mates) and a gorilla I bought on the ferry as a mascot. We christened him Graham, and he was a grumpy sod, but his invariable churlishness made me laugh, even on the steepest hills. I squashed him into my bicycle basket and we set off.
Despite some initial reservations, it was an amazing journey. We pedaled south from Cherbourg, until the last of the Channel mist and mizzle melted away and we found ourselves cycling through hedgerows littered with wildflowers and on across fields of wheat and corn, that would later transform into poppies and sunflowers.
We drifted along the coast to Mont Saint Michel where the One & Only's propensity for debilitating doses of hay fever hit an all-time high. Yet he still managed to drag himself across the causeway, a little groggy on anti-histamines, so we could gaze in awe upon this glorious tribute to God perched, somewhat foolishly, on a rocky outcrop in the middle of a tidal bay. We lunched on omelets and red wine in the lee of a stone wall overlooking the bay across to Tombelaine.
And then it was south again to towards Nantes and the Loire, along meandering country lanes, the verges thick with cow parsley and campions, dandelions and daisies, wild foxgloves and love-in-the-mist. Every village tempted us with patisseries or small markets where we loaded up with fromage, baguettes and tomates. Le Château de Vitré was our first taste of a French castle in what would soon become a daily serving: Saumur, Azay-le-Rideau, Chenonceaux, Chaumont, Chambord, Chateauneuf…
I immersed myself in every splendid castle and loved every minute of it: swans and stained glass, tapestries and turrets. Living history. Yet the one memory that stands out now was not a chateau, but a meal by a river.
It was a warm day, towards the end of June, and we had been cycling beside the Loire all morning. I was feeling cranky about the number of hills, and the lack of food. One final push up the longest hill yet found us in Saint Saturnin.  It was a Sunday, and absolutely everything was closed.
Practicing my awkward schoolgirl French on the first person we came across – a middle aged lady wrapped in a crocheted shawl, a cane basket over her arm, full of food and red checked gingham, I asked where we might find somewhere to eat. Responding in perfect English that put me to shame, she invited us to set up camp in her garden, and then advised us to cycle down the hill, where a lovely restaurant awaited us by the river. She would meet us later, as she was on her way to an English class with her 85-year-old teacher.  So, we parked our bikes beneath the apple tree in her walled garden, unloaded the paniers, and erected the tent. Then we grabbed our bikes and rolled madly – and hungrily – down, down, down the steep lane to the river, and 'Jojo's'.
There, much to our surprise, we found about half a dozen trestle tables set up on the sand and dressed in fine linen. It Felt like the Mad Hatter's Tea Party, or a scene from Wind in the Willows. It was blissful, a summer 'pop-up' restaurant long before 'pop-ups' became de rigueur. Several large families were already hoeing into their Sunday lunch, served by waiters in penguin suits – really – while the chef went to work in a small caravan.  We were shown to a wobbly round table beneath the trees and settled into a pair of white plastic chairs.
Our waiter poured a sweet but icy cold white to start. Then we feasted on mountains of calamari and tiny fried whitebait, very lightly battered, almost like tempura, served with a simple, crisp green salad. It was the first time I had ever eaten whitebait, and I was smitten.
So there we sat on the riverbank, bare toes tickling the sand, in our less-than-glamorous cycling kit, yet being treated as honoured guests. Entrecôte and crispy pommes frites followed, washed down with a local red from Anjou that, according to my journal, tasted like caramel. We finished off with homemade ice-cream and the best coffees we'd had since landing in France.
The water glistened, wide and pearly, meandering gently around the sand banks near the shore, racing swiftly down the centre. Tall, slim trees shaded our table, leaning hungrily towards our plates, the sun twinkling through the leaves, and kissing our shoulders. Children chittered away like sparrows, alternately nibbling and dancing round the chairs, their elders too busy concentrating on each other and the food to notice or care. If anybody thought the interloping Australian cyclists seemed a strange addition to the scene, they politely kept it to themselves. When we had eaten more than our fair share, we removed to a shady spot on the sand and enjoyed a siesta to the sound of a violin player, before we had to face the uphill climb to our hostess's glorious garden and our armadillo tent beneath an apple tree.