'If I were to write about the happiest days of my life, many of them would have to do with food and wine and a table full of friends.' ~ Charles Simic, poet

Luxembourg had eight hours of sunlight in December. Helsinki had zero. It's hardly surprising, then, that by February many northern Europeans have the mid-winter jitters and feel the urge to gallop south for a quick fix of blue sky and sunshine.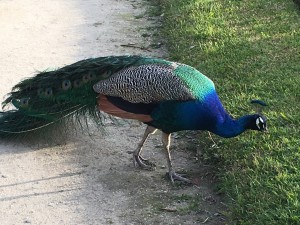 We chose Porto for our February dash to the sun. It had been on our 'to do' list for some time, and it turned out to be a magical spot for a winter mini break, and a very appealing city in which to wander without dictate or agenda. We found a pocket-sized apartment in the old part of town that provided glorious views with our morning coffee: tall, narrow houses with terracotta-tiled roofs toppling down steeply cobbled streets like old tombstones or crooked teeth; a dark river glinting in the sunlight; a score of church towers rising high above the rooftops in every direction, gift-wrapped in scaffolding. Later we would peek inside to find them replete with gold and gore: acres of gilded plasterwork and saintly statues that spout blood from stigmata, scabby knees and sword wounds.
So how best to capture it? I could write an essay on the joys of Portuguese cuisine, or maybe an article on the local wine, its history, its variety, its taste. I could provide a collage of the wonderful sights we saw in this somewhat dishevelled, but charming city, or perchance some philosophical observations on its rapacious and bloodthirsty past versus its benevolent and affable present? I think that it would be best to create a potpourri of all these things, to reflect the myriad impressions, the enchanting, kaleidoscopic perspectives from one terrace, bridge or quay to the next…
Porto, a city devoured by the Moors in the 8th century, and again by tourists in the 21st century, but swallowing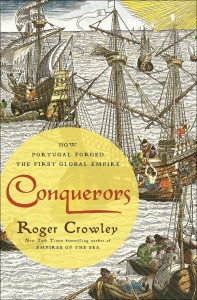 whole continents in its turn… a city that spawned a global empire, created by avaricious explorers sent far and wide to search for treasure… from South America to Macau, West Africa to Goa. Gold and glory, sugar, slaves and spices…
In the crease between the hills, the Douro River flows west from lush vineyards to the sea, spanned by five mighty bridges. The two-tiered Dom Luis I bridge, designed by Eiffel's partner Teófilo Seyrig, was built in 1886, just months before the Eiffel Tower, and has become an iconic part of the Porto landscape. Even in February, teenagers were leaping over the railing into the water to amuse the tourists and earn a few coins. And tourists are plentiful here, even in winter, but not comparable to the deluge of the summer months. On the skyline, high above the river, a baroque bell tower pierces the heavens, standing head and shoulders taller than every other building.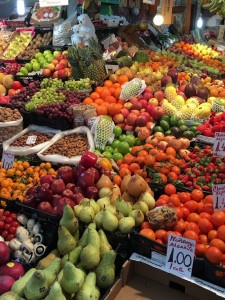 We walk everywhere, discovering a bustling market flush with a technicolour cornucopia of fruits and a railway station whose lobby is wallpapered in blue and white tiles depicting the country's complex history, and a church, Capela das Almas, where even the exterior walls are decorated with those ubiquitous blue and white tiles. We sit in a rooftop bar above the river, sipping white port and watching the seagulls swoop and glide over the Rabelo boats lying in flat-bottomed peace upon the limpid water. We catch the heritage tram to the coast and gaze upon the Atlantic, waves crashing, rough and rambunctious, over the rocks . We float above a treasure trove of warehouses housing hundreds of port barrels, in a cosy cable car that carried us down to the river bank at Gaia, where restaurants cluster along the water's edge and a string of street musicians croon and quaver along the pavements. We drift through an airy, terraced park above the river where peacocks preen and roosters strut, flaunting their glimmering colours among the weathered statues and the dusty flower beds. All this under a soft blue sky that warm our cheeks, even in February.
Porto is a town overflowing with cafés, many touting the joys of the popular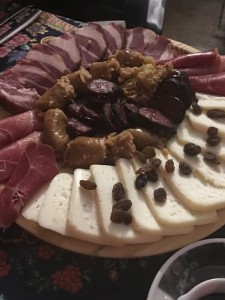 snack francesinha. This proved to be a heavy toasted cheese and ham sandwich doused in a white sauce flavoured with paprika and usually accompanied by a hearty serve of chips. A snack to induce indigestion, clogged arteries, heart burn, heart attacks. We prefer the lighter delights of the local petiscos, or Spanish tapas with a Portuguese twist.  Pimientos de Padrón, those spicy green peppers cooked on a charcoal grill, moreish and tongue-tingling; crispy, lightly battered polpo (octopus) or salada del polpo (grilled octopus doused in parsley and local olive oil); platters of chorizo and cheese; clams cooked in garlic and oil, a lighter version of moules marinière, and cod in oh-so-many different compositions. And every dish is all the better for a perfectly chilled white port, our favourite beverage for the week.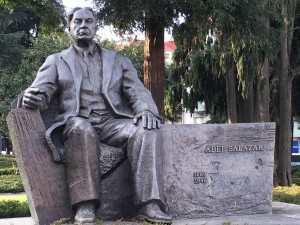 Porto has an awe-inspiring bookshop, Livraria Lello, opened in 1906 and boasting a luscious Neo-Gothic façade and glass-fronted bookshelves that soar to an ornately decorated ceiling and a 26-foot-long, stained-glass skylight. Art Deco designs decorate the walls and bronze busts of great writers watch over all who enter. The iconic red staircase curves sinuously, cello-like to the mezzanine level above. Here, JK Rowling was known to hang out in the world before Harry Potter, discovering names for her future characters such as Salazar and Mafalda. Who wouldn't be inspired to perch in a corner of this temple to literature and write an irresistibly imaginative novel?
Now we know how to get there, I am certain we will find our way back, to enjoy the simplicity of living for the moment, to indulge in a little sunshine, and to peek and poke a little further into the hidden corners of this charming, friendly city. All to be accompanied by a plentiful supply of port and pimientos de Padrón, and, undoubtedly, a table full of friends.