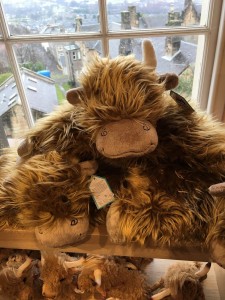 It must be thirty years since I last visited Scotland, land of lochs, Highland cattle and kilts. It was a Christmas with friends on the Isle of Skye that ended in tears when we were unceremoniously evicted on New Year's Eve, after some ridiculous misunderstanding with our landlords. We relocated at the last minute and at great expense, to celebrate Hogmanay, unexpectedly but enthusiastically, in Oban. Nonetheless, we were left feeling churlish and  hardly-done-by, about Scotland in general and the Isle of Skye in particular.
So, when we flew to Edinburgh in late January, I was hoping to rekindle my sense of romance for Scotland, sample some fresh flavours, and ensure a less melodramatic outcome. I had recently been devouring all things Scottish: a Kate Atkinson book of short stories set in Edinburgh; an intriguing play in the West End about Mary Queen of Scots, and a winter gorging on endless episodes of Outlander. I was happily anticipating a few days of ancient castles, cloak and dagger intrigue and legendary heroes in kilts. All went according to plan, including a happier ending…
First, a town to the north east of Edinburgh that had captured my imagination for a variety of reasons. Originally Scotland's capital city, Stirling is strategically placed on the River Forth, with the last bridge to cross it before the river widens into the Firth of Forth, where several rivers gather in a race to the North Sea. A gateway to the Highlands, a University town, the centre of local government, a medieval castle…
Perched high on a rocky crag, Stirling Castle has held a commanding position above the Forth River for centuries. From the ramparts today, it is a peaceful view over water meadows and a pellucid, oxbow river. Almost impossible to imagine that this placid, winding river once ran with the bodies and blood of soldiers, Scots and English, entangled in generations of conflict, combat and civil war. Within the walls, enthusiastic tour guides depict the history of a fiercely guarded fortress and a royal palace, where princes were born, crowned, murdered and died.
On the walls of the Queen's chambers, legends and love stories have been masterfully woven into huge tapestries, recreated by modern weavers, to illustrate the depth of colour and detail of those antiquated, sun-faded, originals that usually cower in shadowy corners to preserve what remains. A room-sized Lego model depicts Stirling in the Middle Ages. Below stairs, the basement kitchens have been mocked up for a royal banquet.
The Royal chapel, recently restored, contains a modern, mouth-watering altar cloth designed by one Malcolm Lochhead and lovingly stitched by the Stirling Embroiders Guild. Its nautical theme – 'Stella Maris' – is strangely at odds with its inland setting, but is nonetheless dazzling, and temptingly tactile. Apparently, it has been dedicated to the victims of the Dunblane massacre.
A twilight walk from our cosy B&B at the back end of town skirts around the base of the castle walls and winds through the trees, where a local sculptor displays a penchant for carving characters out of fallen tree trunks and stumps: dragons, deer, wolves, warriors…  and delivers us into the centre of town, and a sizeable crop of barber shops and hairdressers. An ancient talent for handling blades is resurrected in new guises, perhaps?
Across the river, a distinctive, Gothic tower soars above the summit of Abbey Crag, a mid-Victorian monument
dedicated to local hero William Wallace, who crushed the English army at the Battle of Stirling Bridge in 1297. (Remember Braveheart? Not exactly gospel truth, but absolutely riveting.) It's a steep climb through the woods to the foot of the 220-foot tower, and a breath-taking 246 steps to reach the crown, but we could pause for breath in any of the three exhibition galleries en route, before reaching the top of the world and spectacular panoramic views.
Then eastwards to the sea, meandering between the base of the Ochil Hills and the Devon River, through gently rolling farmland, until we land in time for a picnic tea and a bottle of wine in our room at the Greyfriars Inn in Saint Andrew's.
Home to both the oldest golf course in the world and the oldest university in Scotland, Saint Andrew's is a compact little town on the brink of the North Sea. Here Kate Middleton first met her Prince. Here, visitors love to pose on the small but iconic hump-backed bridge that arches stonily over the stream – sorry, burn – on the 18th green.
Majestic, medieval ruins of a long-lost cathedral and a fortified bishop's palace cling to the cliffs at the south end of town, while in the north, we discover a long, broad sandy beach that we recognize from the opening scene of Chariots of Fire. It's an ear-numbing walk across the sand dunes to where the sea has retreated towards the horizon, leaving behind acres of pock-marked, puddled white sand sprinkled in icing sugar snow. And still, my One & Only must remove his shoes and paddle in the chilly waves.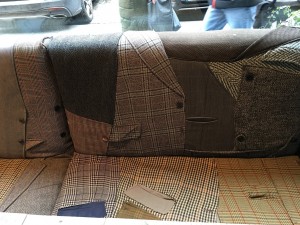 A posse of lady golfers pose on the wind-swept golf course, shivering bravely in t-shirts, bringing me out in sympathetic goose bumps. To thaw out, we duck into a character-filled coffee shop where the knives and forks are propped in a Golden Syrup tin and the bench seats under the window are upholstered in old tweed jackets. Later, we find a kilt shop where I finally locate the family tartan.
We drove out of town, past a hill above the sea, ploughed with neat rows of blue-green caravans. We find a fishing village, of narrow lanes, rocky shores. I succumb to a light afternoon tea in a tiny white cottage on the edge of a cliff. Here spindly chairs threaten to tip backwards onto a stone floor that slopes steeply away to the sea, and the front door is made for Hobbits.
All to soon we are enjoying a final dinner at a popular Italian restaurant tucked away down a narrow alley off Market Street, and rising for an early breakfast, loaded with yummy cholesterol before we head back to the airport across fields lightly iced in snow. A dégustation menu of Scotland's lowlands. I hope to get back soon to sample the full à la carte!