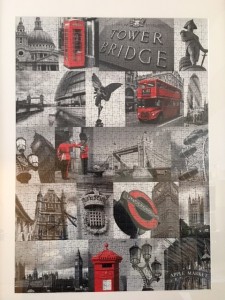 I have been mooching around London this week, while the One & Only is fully occupied being busy and important in the City.  I have wandered for hours, past Monopoly board properties – Fenchurch Street Station, Fleet Street, Piccadilly and Leicester Square – and scenes from childhood movies. I meandered through Regent's Park with Mary Poppins; popped down to visit Peter Pan in Kensington Gardens; ambled over to St Paul's Cathedral to 'feed the birds, tuppence a bag,' and sauntered into Covent Garden for a dose of 'wouldn't it be luverly?' I found neither the bird lady nor Eliza Doolittle – but I was one of very few who was not walking through London with my nose glued to my cellphone.
Covent Garden, in London's West End, is a stone's throw from London's Theatreland.  It has featured in literature and film for centuries. Rumour has it that there was a market here as far back as the Saxons.
By strange coincidence, George Hammond, in the FT Weekend wrote about Covent Garden this week, too, saying that it has been, 'at various times, the home of paupers, performers, prostitutes and the pious – it started life as a monks' vegetable patch – Covent Garden's identity has been haggled over and traded like produce at a hawker's stall.'
These days, developers have been reinventing the area, again, as an upmarket residential district. Restaurants have suddenly become more Holly Golightly than Eliza Doolittle. Only the 'Apple Market' sign hanging above my head reminds us of the market's more plebeian history. House prices have soared as the area has become increasingly gentrified. Today, Covent garden is all pristine, Victorian prettiness, bristling with expensive toy shops and kitschy tearooms: the Moomins, Sweetheart Cupcakes, Chanel and Clinique fill the once higgledy-piggledy old warehouses.   The Apple Market, once crammed with crates, baskets and haggling grocers is now lined with attractive stalls that display upmarket handicrafts. Old fruit barrows have been recreated to display tidy arrangements of potted plants at each entrance. A luxurious aroma of scented candles on the air and well-dressed tourists stroll around the elegant, pedestrianized Piazza, entertained by polished street performers, portraying none of its olden day earthiness. And yet, this is not the first makeover for Covent Garden. As in all things London, there is layer upon layer of history I find it irresistible to peel away.
Saint Paul's church looms over one end of the piazza, while the Royal Opera House lingers at the other. Once upon a time, both looked incongruously stately, juxtaposed among the raucous hustle and bustle of 'the greatest market in England for herbs, fruit and flowers'. Now they fit the bill much better. Covent Garden it is no longer the lowly fruit and flower market we knew in Pygmalion or, more famously, in its musical version, My Fair Lady. But it has worn so many different faces over the centuries.
The name, Covent Garden, is a medieval Anglo-French term for monastery or convent, reflecting its original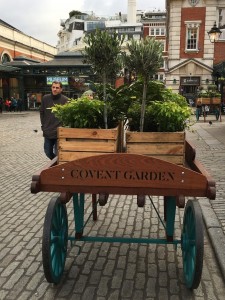 existence as an allotment for the Benedictine monks of Westminster. Henry VIII, on dissolving the Catholic monasteries in the sixteenth century, cheerfully shared out the spoils amongst family and friends. The monks veggie patch was handed over to one of his courtiers, John Russell, Earl of Bedford, who eventually built a house on the Strand and an Italian style piazza in his back yard. Its architect, Inigo Jones, also designed the neighbouring Church of Saint Paul. Bedford's plan was to gentrify this rural area on the outskirts of the City of London, and thus attract wealthy, aristocratic tenants. And his plan worked – for a time. Unfortunately for the Bedfords, the Great Plague of 1666 forced hundreds of poor refugees to flee from the diseased city. Many took root in Covent Garden, where an unofficial market soon sprouted up around the piazza. The Duke lay down two key rules: only fruit, flowers, roots and herbs could be sold there, and the market was not to extend beyond the Piazza.
Fruit and vegetable stalls quickly began to cluster around the edges of the square, and, despite Bedford's proclamation, 'bird-sellers, dealers in old iron, and large displays of crockery-ware' settled in the centre. Residents were soon complaining about the filth, the noise and the stench. ~ For heaven's sake! This uninvited rabble is seriously diminishing the value of local properties! ~ By the 18th century most of the aristocracy had been swept away and this fashionable suburb had become infamous as a dissolute and desperate area of drinking dens and gambling houses.
Peter Ackroyd wrote: 'It became the most famous market in England, and its image was reproduced in a thousand drawings and paintings… colourful and chaotic … a true symbol of thriving trade. The flourishing life of the district attracted taverns and coffee shops, gambling houses and brothels. Turkish baths also became a feature of the neighbourhood. There were pick pockets, and street musicians, among the jostling costermongers.'
In 1828, the Duke of Bedford petitioned parliament for permission to clean up the piazza and its infamous debauchery. Within twenty-five years, the old buildings had been demolished, new structures erected, and the piazza had been transformed into an industrious, modern marketplace, designed by one Charles Fowler, in the Graeco-Roman style of the period. Elegant but practical, it was widely regarded as revolutionary. The market blossomed and thrived.
By the late nineteenth century, however, foreign trade had taken off, largely due to Britain's East India Company. This introduced an even greater range of produce: 'bananas, Tasmanian apples, Californian pears, and… vegetables from Madeira, the Canaries and the Channel Islands' to name but a few. Covent Garden continued to expand, squeezing itself into every available nook and cranny, creating problems for, and hostility towards its overseers, as congestion grew worse.
At the turn of the century, the Bedfords began to sell off much of their land around the neighbourhood. Urging the council to take charge of the market had been a losing battle, so eventually, the family simply passed the buck and sold it on to another wealthy London family.
In World War II, London was heavily bombed. Yet, despite the shocking living conditions of residents, the market continued to burgeon. The congestion did too.
In 1974, after decades of debate, the market moved out to Battersea, and the Greater London Council, the developers and the urban planners moved in, with huge dreams of improving both the infrastructure and the residential area. Initially, this meant acres of demolition of buildings and businesses, memories and communities. Locals fought hard for their own survival and for that of the market buildings. There were marches and speeches and even squatting – tenants strenuously refusing to let their world to be wiped out. Architect Rob Middleton complained that the GLC plan would 'destroy an area that is diverse and varied … and replace it with a monolithic environment unsympathetic to the nurturing of the rich complexity of life… Covent Garden is not tidy. It is a teeming and complex area. Everything seems to happen there'.
Thanks to the efforts of the community, but perhaps more significantly to Geoffrey Rippon, the Secretary of State for the Environment, Covent Garden was eventually saved from demolition. Rippon ensured many of the old buildings were heritage listed, and the GLC was forced to compromise over its plans.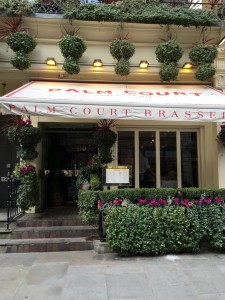 Instead, since 1980, the area has been slowly converted into a major tourist destination, which has drawn a different crowd entirely.
In its latest transfiguration, Covent Garden is clean, opulent and gentrified – practically perfect in every way, just like Mary Poppins. The 'barrow-makers and … makers of ballet shoes, pianos and scenery, their printers, book-binders, and literary agents' have largely been replaced by high end stores. Its quirkiness and character seem to have vanished in a puff of smoke. At first glance, I find it sadly lacking in soul and authenticity, and wish I could turn back the clocks to wander through the earthy, Dickensian squalor with Eliza Doolittle. Wouldn't it be luverly? And yet…
Covent garden is still a wonderful place to sit and people-watch. It may be tidy, but it is still teeming with life. Peter Ackroyd (again), comments that while 'the spirit of the place has changed since the departure of the market… it is still a centre of hustle and bustle…the sounds of the basket-sellers and flower girls have turned into those of traveling musicians; the agile feats of the costermongers, piling crates of their wares upon their heads, have turned into the contortions of the acrobats and mime artists. The atmosphere of the place lingers in the air…'
Fortunately for layer upon layer of history, I think he has a point. As I sit here scribbling, perhaps the lack of total chaos and decaying vegetables is better suited to a modern city. And there is still plenty of life and laughter in the air –  and a host of opportunities for a decent cup of coffee!