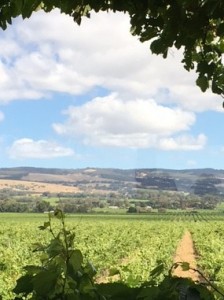 Don't you love those rare days that drift on and on, and seem to stretch like elastic? No rush, no master plan, just endless time. This close to Christmas, such a possibility seems highly unlikely, but three wonderful days in McLaren Vale last week did exactly that: stretching on effortlessly, until we felt as if we'd been away for a week. Unhurried mornings of toast and Vegemite, tea and coffee in the sunny garden of our Port Willunga beach house that flowed gently into chatty walks along the beach at Aldinga, which meandered into luxuriously long lunches with glorious views, and floated into a little wine tasting, a little sight-seeing, a farmer's market… three days of utterly blissful, utterly relaxed indulgence.
I won't take you through every minute – Christmas is looming, and none of us have the time – but I would love to recapture some of the highlights for you.
Let's start near the beginning, then, with a late lunch at Coriole. For me, the view from our table, overlooking lawn and sloping vineyards, with the grey/green hills of the Fleurieu Peninsula hemming the horizon, is quite perfect. Waterfalls of bright spring flowers splash over the rockeries that encircle the cellar door, where we lean on the bar and taste some old favourites. The delicious Dancing Fig, for example, and some wonderful Italian varieties, such as the Nero and the Sangiovese. A glass of Barbera and another of Prosecco accompany us back to our table and through a shared plate of charred brussel sprouts and warrigal greens with confit duck, as we chat with the wonderful, welcoming staff and soak up the view.  We procrastinate over more wine, but decide instead to try out a dessert: a wonderfully creamy, but strangely savoury, goats curd pannacotta sprinkled with hazelnuts and dehydrated mandarins that crunched like honeycomb, thus adding satisfying taste texture to the delicate flavour of the pannacotta. I'm not convinced about the basil oil on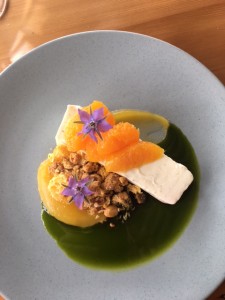 which it is served, but it certainly adds colour!
I could happily laze here all afternoon, but it seems a little early in the proceedings to take root, so we eventually wander on for a little wine tasting at nearby Mollydookers, with the irrepressible Luke, son of founders Sarah & Sparky Marquis. Here (with the bonus of another amazing view) the 'blue eyed boy' leads us enthusiastically through samples of these award-winning wines with their quirky names and offbeat labels. Only established in 2005, Mollydooker (Australian slag for a left-handed person) has already had five of their wines on the Wine Spectator's Top 100 list.
We eventually move on, holding hands with a 'The Carnival of Love,' which has made that Wine Spectator list twice. We decide to make a final pit stop at d'Arenberg, to check out the Cube, which officially opens this week.  This extraordinary building sits like a twisted, black and white Rubik's cube, juxtaposed amongst the grape vines and the more traditional d'Arry's Verandah. It is destined to be a cellar door, a restaurant and an art gallery, and it's a piece of marketing and architectural genius.
The second day truly seems to go on forever, 'in the most delightful way,' to quote Mary Poppins. We collect pretty pebbles on the beach and gleefully hop-scotch across seaweed that pops underfoot like bubble wrap. We drop into Fox Creek for a pre-luncheon tipple of my favourite GSM (Grenache Shiraz Mourvèdre) before arriving at 'Au Pear' for my (very) belated birthday lunch. From beneath those leafy pear trees, we admire another glorious backdrop: a thick hedge of lush vines and a distant skyline of huge, chalk white gum trees stretching up to pale, puffy clouds.
A skip and a jump down the road from Penny's Hill Winery, 'Au Pear' has been quietly holding court for about five years. It is set beside a vineyard – of course – and we spend several minutes discussing the best location for our lunch: inside, out on the veranda, or on the lawn beneath the pear trees? We eventually choose the shady lawn, and armed with a menu dedicated to local produce, we are spoilt for choice. I have finished a glass of local Grenache rosé and a basket of fresh sour bread served with a glorified lamb dripping before we have decided what to eat. We also enjoy a cosy chat with Chef Ryan to discuss a menu of which he is justly proud.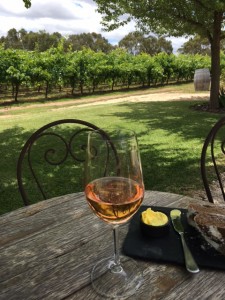 The new Summer menu includes a sophisticated gazpacho of butter seared shark bay bugs on a bed of finely diced onion and cucumber, an ideal entrée on a warm, breezy afternoon. My sister-in-law revels in an equally delicious ravioli, filled with caramelized onion and local goat's cheese. Every dish is presented with fabulous flair and eye-appeal. I note that the tiny viola flower seems to have assumed a prominent role in the South Australian dining experience since I last visited, but I am enjoying the artistry and prettiness of its ubiquitous presence on my plate.
As a main course, I fall for the slow-cooked Murray Valley pork belly with stone fruit and a green spinach sauce, with which I sip on a tasty Tempranillo rosé – well who can resist another rosé on such a day? And I am more than happy to swap forks, to try a mouthful of my companion's fresh fish.  Later, appetite sated and dusted with sunshine, I turn down dessert in favour of a glass of light, sparkling wine from Finiss River, which provide a glittering finale to a glorious lunch. We clear out to make way for a late afternoon wedding on the lawn.
And then, unwilling to call it quits, we wander over to Hugh Hamilton's to round off the afternoon with a little wine and cheese. Again, we are blessed with a magnificent view from a cellar door that hovers above a sea of vines stretching south to the ranges. Rebecca presents us with a platter of cheeses, both local and imported, and begins to pour out the wines to match. Poetically, she draws comparisons of texture between the three Black Blood Shirazes and three pieces of black fabric: denim, velvet and chiffon. It's fascinating to see which cheeses work with which wines, and, tastes being subjective, we mix and match with differing opinions. My favourite? A Satori dipped in merlot from Wisconsin, matched with The Scoundrel. We happily continue the game as the sun topples gently down the sky, the mourvèdre vines framing our window on this achingly beautiful landscape.