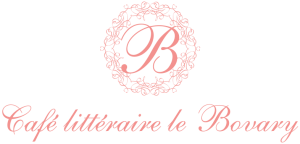 "It borrows, it steals, it assimilates what words it pleases from all points of the compass…" ~ Charles MacKay on the English language.
Bibliomaniac. Isn't it a wonderful word? I found it in a book called 'Forgotten English' by Jeffrey Kacirk that I picked up at a second-hand book shop recently. It means someone with a lunatic's passion for collecting books.
I am mad about books, and I do mean the physical kind. Elsa, in the novel 'My Grandmother Asked Me to Tell You She's Sorry' declares that 'Soup is soup, whatever bowl it's in,' and books are still books on an iPad. Like the psychotherapist, however, I prefer a physical book: one to hold, to turn the pages, to drop in the bath; the kind you can smell. I hoard them by my bed and I alphabetize them on the shelves so I can always find the one I want. Whenever we move, I try to purge, but it is usually too painful, so I have travelled round the world for years with crates and crates of paperbacks. Several friends have tried to win me around to the idea of replacing my library of real books with a Kindle. I have heard all the arguments and I get the point. Perhaps I am being stubborn, and environmentally unfriendly, but I'm just not tempted to read off a computer screen.
My mother had a cousin, a rather eccentric man, whose house was filled to overflowing with books. Almost every room, as I remember it, was lined with row upon row of old metal bookcases, the books often two or three deep on the shelves. During rare visits, I would wander, awestruck, up and down the aisles, wondering if he had them all catalogued. Did he still read them? Had he ever read them all? And how on earth did he ever find that one he wanted to read again?
Recently, in Folkestone, we came across a coffee shop on the narrow, precipitous High Street which reminded me of Cousin Ralph's mania for books. The walls of the cafe were papered with bookshelves and wherever you sat, you were in easy reach of a good read. It made my mouth water. I could have camped there for days. Later, as we unpacked the car after a month on the road, my One & Only grew despairing at the number of books I had collected in bookshops along the way.
Much to my delight, I am not the only bibliomaniac in Luxembourg. Joy of joys, at the bottom of our road is a small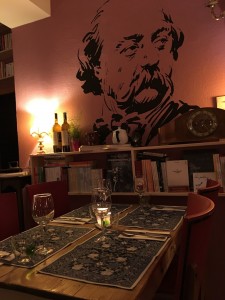 café and bar, relaxed, convivial, traditional, and totally chock-full of books. At Café Littéraire le Bovary, bookshelves line the walls, and occasional tables are piled high with paperbacks in at least three languages. Even the stairs to the basement are knee-deep in casually stacked tomes. And guests are invited to swap. The walls are awash with paintings and the window sills wallow in jugs and vases and more books. It is the first café with so much character that we have discovered in Luxembourg, where many restaurants seem uncomfortably formal and somewhat staid.
Outside, through the summer months, the cobbled terrace is scattered with pot plants and small tables, a sunny spot to enjoy the sunshine with a chilled glass of Rosé or an Aperol Spritz, and, of course, a magazine, journal or newspaper. Inside, during cooler seasons, you can wallow in a deep armchair with a coffee and a novel, hedged in by homely clutter and frippery. And according to the website, there are regular music and literary events here if you fancy a little cultural entertainment.
The name, Le Bovary, comes from the novel, Madame Bovary, creation of French writer Gustave Flaubert. This inflammatory tale of a promiscuous doctor's wife became a nineteenth century bestseller, its author posthumously famous for his novel style of writing: literary realism. Flaubert was also a 'logophile.' Another unfashionable word, it means a lover of words. Logophile comes from two Greek words: lógos meaning "word, speech, discourse" and philos meaning "loving, dear." Flaubert has been described by critics as a 'martyr of style' and 'a zealous pedant,' nonetheless, his reputation as a realist has lived on.
We have popped in to Le Bovary on many occasions for a coffee or a pre-dinner drink on the terrace, but we hadn't tested the menu till last month, when a friend invited us to dinner there. The service – as always – was friendly and welcoming, the atmosphere warm and casual. We cosied up in a corner behind the bar, from where we almost needed a shoe-horn to extricate the One & Only later in the evening! I don't believe they are used to accommodating six foot two Australians.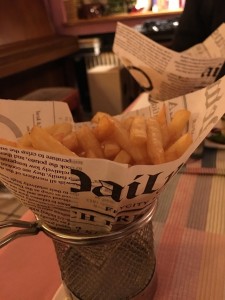 The menu at Le Bovary is short and sweet. A small blackboard lists half a dozen main courses, another tempts you to a choice of three or four desserts. So, will it be grilled chicken tortillas, homemade hamburgers, or fish 'n' chips? Most of the dishes are accompanied by chips served in a miniature metal chip strainer lined with mock newspaper. The servings – unlike the enormous and daunting helpings in many local restaurants – were sensibly sized, but filling, and tasty, reminiscent of English pub food.  I found a very pleasant Chardonnay on the wine list, and the Pinot Noir was well received by the others, although no one became 'bibulous' ("absorbent like a sponge; addicted to alcohol") from the excess quaffing of wine. It's a little pricey, but we are getting used to that in Luxembourg – and we think it worth it for the proximity to home and the lovely atmosphere.
Last weekend, I wandered down the hill with my 'Piggesnye' (a Chaucerian endearment) for a romantic dinner à deux. We were almost the first to arrive and were given a small table near the piano. Very soon, Le Bovary was humming with activity, due to the imminent arrival of a young 'glee-man' (singer; minstrel) set to serenade us with Brazilian melodies on the acoustic guitar. While I sipped on a deliciously satisfying crémant, and nibbled on my perfectly crispy battered fish, my One & Only indulged in a stein of local beer and a thick, mouth-wateringly meaty hamburger. And eventually, we were duly serenaded by Gregorio and his guitar.  It was a wonderfully relaxing evening, and a lovely way to usher in the weekend. So, sated and only slightly intoxicated, we wended our way home to bed, fortunately suffering from neither 'fotadl' ("gout") or 'tympane' ("great windiness"). And I will end there, before I am accused of 'inkhornism,' or writing a literary composition that is overworked and gratuitously intellectual!