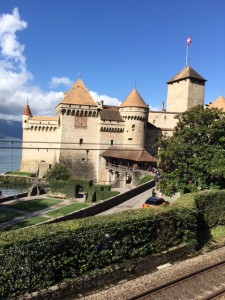 From Menton, with its glimmering sea and glittering inhabitants, we drove east along the coast and straight into Italy, where the buildings instantly lost their glamour and polish. Manicured gardens became market gardens, pencil pines were exchanged for olive trees and road rules were cast aside for much arm waving and mad driving techniques. At Ventimiglia we crossed the gravelly, flat bottomed estuary of the Roya and turned north. Somehow, we missed the uscita to the autoroute – it may have been while we were dodging the dizzy bloke weaving along on his bike, or the distraction of an irate old driver shaking his fingers furiously at us – and found ourselves on a narrow road, winding higher and higher, past derelict houses and hydro-electric power plants. The road criss-crossed back and forth from France to Italy. At one border, and despite the Schengen agreement, there were police checking car boots for refugees. On our right, the Roya River, milky blue like glacier mints, leapt feverishly from rock to rock, rushing down the mountain, while on our left, five Ferraris fled down the road, racing the river to the sea. Ancient, hilltop towns clung to the cliffs and I imagined the fate of elderly people trying to leg it up and down the almost vertical roads.
Major road works kept us waiting on a lonely bridge for twenty minutes, dipping fresh bread into the dripping gorgonzola we had bought in the Menton market that morning, and devouring a whole bag of vine ripened tomatoes, while we drank in the view. Then, an apple for dessert, which I would come to regret as the road continued to climb and wind like knotted spaghetti to the summit and down again for another hour before we finally flopped out into the Po Valley and onto a strip of straight motorway at Cuneo. It wasn't the most picturesque route at that point, but eventually we passed Torino and found ourselves climbing back into the mountains towards Aosta.
Initially uninspiring, the town gradually opened up to us, and showed off some of its prettier corners. We unexpectedly discovered Roman ruins hidden behind the main promenade, when we ducked down a tiny side street to see, more clearly, an amazing view of one of the many mountains that skirt around the rim of the valley. Its peaks were still sprinkled lightly with snow, like icing sugar on a sponge, a high wind blowing it off and up to the heavens like a willow-the-wisp, or a tiny tornedo against the deep blue sky. Dressed for the sunnier south, I was sorely tempted to spend a large amount of money on a cashmere cardigan from a boutique bearing my name.
We crept into dour churches, with dark and dismal paintings depicting the stations of the cross, urns containing bits of saints, and a wooden Saint Derek clutching his head under one arm like a motorbike helmet, while a beggar praying loudly at the door in hope of alms. A quartet of paintings on the ceiling depicted a naked Mary Magdalene, her long, strawberry blond hair loose to her waist, but not quite covering her modesty, washing Jesus' feet or posing, like Venus emerging from the waves, reminding me of the patriarchal, misogynist aspect of Christianity I have never found very appetizing.
As the sun set below the mountains, we each ordered a bowl of pasta in a quiet, dimly lit restaurant a few steps from our hotel, before we collapsed exhausted and chilled beneath seersucker duvet covers. From a dawn dip in the Mediterranean to snow on the peaks at bedtime, the whole day felt somewhat surreal.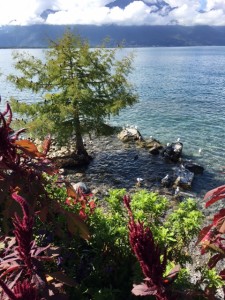 In the morning, we made an early start, and took another winding road through ever-closer mountains that were doused in frost, as the temperature crept down towards zero. A canon sprinkler, left on all night, had created a glorious display of icicles on a metal guard rail along the edge of the road. Heavy duty roof tiles – chunky slabs of rough-hewn slate – looked thick enough to bear the brunt of an avalanche, while kilometres of concrete veranda provided the same protection for the road that led us up to the San Bernardino Tunnel, and took us 6.5 kilometres under the mountain and into Switzerland, where we experienced another cultural switch to confuse the senses. Prices escalated, road signs were organized, the traffic had manners, and the coffee was dreadful. We arrived at the tip of Lake Geneva in time for lunch, and the sun shone brightly, but without much warmth, as we wandered along the banks and spotted ducks and seagulls and a small pine bedecked with sparrows like baubles on a Christmas tree. Sheepskins covered the cold plastic café seats. Coats were already in evidence. We even saw a pair of Ug boots walking across the street.
Onwards, away from the steep, rocky, overbearing southern mountains looming all round us to the lush alpine meadows of central Switzerland, where the fields looked like freshly mown lawn, and intrepid mountain goats were replaced with soporific cows.
As the sky line levelled out, we were joined by large farm tractors on the country roads, en route to clearing fields thickly forested with ripe wheat.  We passed enormous weatherboard farm houses, half barn, half house, with curling roofs, like the caps I remember on traditionally dressed Dutch dolls. Around a bend and on through beech wood and at last we landed up in a small rural town, and our B&B, Sven's Place, complete with IKEA kitchen and a spa on the back deck, just perfect for aching shoulders.
Later, we took a walk through the woods, past a small deer farm, some horse riders and six-foot-high sunflowers on their last legs. The countryside in the north of Switzerland is more domesticated, cosy, softer around the edges than the Southern Alps.
Our last day on the road took us through the hills of northern Switzerland, passing horse studs and huge mounds of wood stockpiled against the barns for winter fires. A pretty road led us up through beech woods and into pine forests before dropping down again, along a tiny stream, Cynthia SatNav having surmised correctly that we preferred to stay off the motorways. But the last leg of our drive through Switzerland put us back on the motorway, where the Swiss showed off their penchant for tunnelling, and we found ourselves driving in and out of tunnels like a sewing machine needle hemming sheets.
Then it was heads down and a mad dash for home, as the good weather dissolved into rain-spattered windscreens and heavy grey clouds. The countryside was still heavily wooded and lushly green, but the further north we went, we saw autumn colour changes creeping in around the edges.  Back home in Luxembourg, the sky has faded to a washed out denim after months of deep blue, and the mornings are shrouded in autumn mist, and our final glimpse of summer is fading into memory.