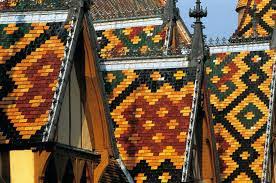 A clement, uneventful, Sunday drive out of Luxembourg, along a smooth motorway that crossed vast pastures, south to Dijon.  Here we found narrow, cobbled streets and half-timbered buildings, a handful of handsome churches and clusters of modern coffee shops that encircled town squares, centuries old. A carousel, mustard, of course, a Sunday market full of trash and treasure, a bleached Roman arch, and 'les toits bourguignons' (decorative roof tiles of green, yellow and black in geometric patterns), the town spiralling out to broader roads lined with large and elegant houses with a touch of Haussmann. Then a short drive into the countryside and along the lazy Saone to Seurre, once a busy market town, now a subdued country town of beautifully fading glory: crumbling old houses with washed-out, ramshackle facades; iron gates, rusty and battered; rickety rooftiles and shabby wooden beams; weather-beaten shutters and unkempt gardens.
Yet, to counterbalance the decay, there were occasional glimpses of stubborn pride, a determination not to be cast aside: overflowing hanging baskets strung from a rustic footbridge; polished plaques depicting a once illustrious history; an old-fashioned wooden bell tower to call the kids to school; an unexpectedly fine meal at a local restaurant offering boeuf bourguignon and homemade sushi; a marina boasting a small armada of fat-bottomed barges and perky pleasure cruisers; a well-maintained park edged with plane trees, spick and span.
We stayed overnight in a small chateau on the edge of town, with ice-cream-cornet-turrets, unpolished wooden

floors, and barn-sized bedrooms. Downstairs the owners had filled once elegant reception rooms with an assortment of refurbished arcade games. Outisde, the garden was hedged with well-established trees, including a spread-eagled weeping willow and an elegant silver birch.
South, south, south to Uzès, and the scenery slowly changed from broad, green fields, deep, languid rivers and ense, fecund woodland to dry, gravelly riverbeds and chalky white soil dotted with small, gnarly grapevines and stolid, sandstone farmhouses. Instantly familiar, this arid region of Languedoc was heartbreakingly reminiscent of our childhood state of South Australia, with its bleached, sunburnt, end-of- summer landscape, its sparse and dusty trees, its fierce blue skies. And it wasn't just the sights and smells of childhood that greeted our senses, but its flavours too, as we drove past a roadside stall laden with succulent stone fruits, chucked a u-ey and pulled up in a spray of  dust and gravel. What else could we do but fill the back seat with local wines, lavender products, citrus aperitifs, and our lascivious mouths with plums, peaches and apricots, spitting stones through the car window with a gratifying plunk onto the dry earth?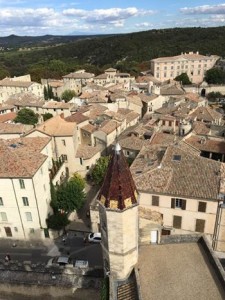 We eventually reached Uzès, an ancient town just north of the Carmargue. For centuries, it has been a bishopric and home to the first, the oldest Duchy in France. Dismantled after the French Revolution, the Chateau, hidden in the cloistered centre of the old town, has been restored to its former glory by the current Duke – the 17th – and his late grandmother. We peeked through a door in the centre of a huge, heavy gate and found a courtyard, a wall thick with Virginia creeper and an astonishing Renaissance façade. In one corner a tall, square tower rose 44 metres (and 135 steps!) above the town, providing amazing views to the distant horizon over a sea of terracotta roof tiles.  We trudged down steep steps to the wine cellar, once used to store supplies in case of a siege. Overhead, a petite, fifteenth century chapel blended a Gothic ceiling in gold and eau de nil with 17th century trompe l'oiel walls. Family history was mounted on every wall: solemn paintings of the illustrious souls who have borne the name of Clussol and Duc d' Uzès.
Later, we headed back to town for dinner, and parked the car carelessly beneath an orderly row of Plane trees. Birds chattered, frantic and furious, among the treetops, late into the night, spitefully splattering their 'petits besoins' all over the car, like sloppy painters.
Bec à Vin, a sign we passed earlier in the day, is a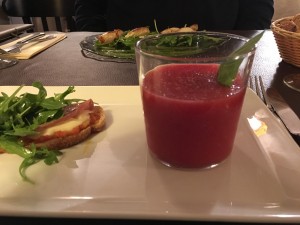 traditional restaurant that came recommended highly by our Parisian host. It was a little cool to sit in the garden, as planned, but the rustic stone interior was warm, inviting and quietly bustling. We had already drunk our fill of local wines at our B&B, so we resorted now to water, which meant we were fully focussed on our food: a light, spicy watermelon gazpacho with the best, most flavourful, crispy toasted cheese ever made – or, in more sophisticated terms: Gaspacho de pastèque et bruschetta au pistou rouge, jambon cru et mozzarella. The One and Only chose squid stuffed with vegetables and conversation became non-existent. Later, we were equally aphoristic as we immersed ourselves in Carré d'agneau Catalan au miel et romarin, risotto au pélardons et épinards (rack of Catalan lamb with honey and rosemary, risotto with pélardons and spinach) and a melt-in-the-mouth, almost-local Iberian 'Bellota' pork – the pork equivalent of wagyu beef, only better.
We returned to base through a looming guard of honour that seemed to inch ever closer to the narrow road: upright plane trees, their white bark coats ghost-like in the headlights, that lined our route up to Arpaillagues-et-Aureillac.  There we creep through the front door of a silent guest house, built eons ago in rough-hewn sandstone, the rooms dim and cool, with attractive, barrel-vaulted ceilings, the garden full of delicate laurel trees that shaded a wide stone terrace and a sparkling pool, doubtless a real haven from the heat at the height of summer. Here, in the morning, we would nibble on fresh croissants and home-made apricot jam, on crusty bread and baby goats cheese smeared with salty-sweet olive jam, and sip hot coffee, before we packed our bags and headed east…
…turning our our eyes back, once more, towards Menton, on the eastern end of the Cote D'Azur, a short stroll from Italy along the rocky Mediterranean shoreline, trimmed with a multitude of yachts and motor launches. Dinner was served high up on a blustery balcony, sipping Aperol Spritz and listening to the crack and crackle of the surf.
At dawn, I wandered down to the pebbled beach, as the glowing sun, like a peach-slice, rose swiftly over the rim of the hills, morphing first into a round blood orange and then bouncing into the sky as a luminous, dazzling white ball. Reflected on the surface of the sea, it pointed a glaring white signpost across the rippling water and cast the palms on the headland into sharp-edged silhouettes. I watched, as early bathers edged warily, painfully, across the unforgiving stones to the bracing water. Beyond their tortured feet, a steady stream of cars and motorbikes roared along the coast road, waking the day with a crotchety clatter of engines. I sipped my first coffee and gazed over the glittering sea.