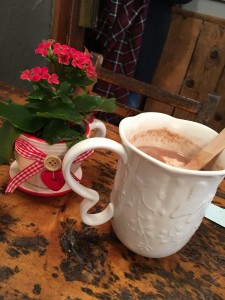 In the centre of the oldest part of city sits the picturesque, almost fairy tale palace of the Grand Dukes of Luxembourg. A stern, armed guard stands in the sentry box, upright and expressionless, occasionally stamping his feet loudly – to retrieve his circulation? – and taking a short, stomping walk down the street, below the two stone angels that guard the skies from the rooftop, before returning to his sentry box. I look around for Alice and Christopher Robin…
Opposite the Palace and the guard with his inscrutable gaze, there is a tall white building. The pavement in front of it is covered with closely packed picnic tables, the chairs scattered with red rugs and cushions.  Inside, the shop displays layer upon layer of chocolate in every imaginable shape and form. And there are more in pretty beribboned boxes, not to mention a plethora of beautifully decorated cakes, novelty chocolate gifts, ice cream…
I am in the Chocolate House, one of the oldest aristocratic houses in the city and my new hideaway. It is the place where I go to restore my wounded dignity after French classes and reward my exhausted tongue with a small, joyful, self-indulgent treat.
The menu at the Chocolate House includes some healthy juices, teas galore, a simple lunch of quiche, soup and salad, but not surprisingly, the real draw card – the real reason I have walked across town – is , of course, the hot chocolate. Or more accurately, the 'hot chocospoon,' a novel way of serving this time honoured beverage that adds sparkle and decadence.
Imagine an elegant white mug, with pretty frilly edges, embossed butterflies and a curly handle shaped like a butterfly wing. It comes to the table filled with hot milk, accompanied by a pot of whipped cream, a homemade marshmallow and a small packet containing a chunk of chocolate – like a giant chocolate ice cube – fixed onto a wooden spoon, in the flavour of your choice. Dip and twirl, and the chocolate melts into the hot milk in a seductive swirl.
The first time I tried this, I was tempted to suck the melting chocolate off the spoon. For true chocoholics, I am sure this would be both wondrous and quite irresistible. For me, the strong blast of sweetness and flavour was overwhelming, and my taste buds cringed. So I sucked in my cheeks, and waited patiently for the chocolate to evanesce slowly into the milk.
The result is a dream. Not the saccharine sweetness of those chocolate drinks of childhood, but a dreamy, gentle waft of dark chocolate through warm milk, that laps around your mouth and drifts down your throat, as soft and smooth as satin. And of course the Dairy Queen adds whipped cream liberally, and was even pushed to steal a spoonful from her son. Bad mother badge. So worth it.
The first time I came here, I had the One & Only and our younger son in tow. It was a chilly Saturday afternoon and the café was seething, so we squeezed ourselves onto a tiny outdoor table designed for two hobbits, edged as close to the heater as we could get, and wrapped the rugs over our knees. Eventually, between the rugs, the heater and the hot chocolates, we no longer noticed the cold.
Today, I have climbed the staircase to a room with tall windows overlooking the palace and a vaulted ceiling decorated with the coat of arms of the original owner. On the walls are several giant and somewhat garish paintings of Marilyn Monroe, Elvis, possibly Bob Marley and a couple of others I don't recognize. The space is filled with an eclectic collection of old schoolroom desks and heavy wooden benches. On the tables, red and white teacups have been accessorized with checked ribbon and charms and filled with pots of tiny red flowers. There is an enormous chandelier hanging from the ceiling, and the wooden chairs and benches are softened with white and bright orange cushions. It is all very cosy and inviting.
Now back to the chocolate. I need to tell you about the fabulous flavours. And there are lots. I am on a mission to try them all. The temptation is to wait till I have been through the entire list to write about them, but unfortunately, by then I will be the size of a house with sausage fingers too fat to type, so I must start now.
Chilli Chocolate is something I discovered in the Philippines in solid chocolate form, and it was just perfect on that first, freezing day, oozing a three-dimensional warmth into every corner of my temporarily frostbitten body.
Lavender was an unusual choice, a little like chewing on one of those dry and dusty lavender bags my grandmother tucked in amongst her clothes. That doesn't sound terribly appetizing, I know, and yet the flavour was beautifully floral and up-lifting. It whispered to me of the purple, lavender fields of Kent, humming with bees, creating a lovely atmosphere of sunny days and soft, scented skin. Somehow nostalgic, soothing, and utterly beguiling.
Honey and Guérande Salt was a twist on the popular salted caramel. There were those bees again. And the salt with the odd name is due to the area in southern Brittany from whence it came. This blend of sweet and salty is something that I thoroughly enjoy. Bliss.
I opted next for Raspberry Almond enveloped in dark chocolate. It tasted like those delicious freeze-dried raspberries dipped in chocolate. Moreish and mmmmmmmm. Too intoxicated to talk…
And finally, before I turn into a chocolate coated heffalump, I choose the dark chocolate infused with pear and cinnamon, a delicate combination reminiscent of the poached pears and chocolate sauce my mother used to make for dinner parties. Scrumdiddlyumptious, Mr. Wonka. I will, without a doubt, be waddling home.
There are many other flavours to choose from, if the ones I chose don't take your fancy. And they are changed regularly. They are mostly self-explanatory, but I did have to Google some names, and check with the waitress on others. So if you plan to drop by, and you are feeling adventurous, you might want to consider some very Willy-Wonka-like flavours, such as matcha (stone ground green tea powder), apfelstrudel or spekuloos. The last is apparently a traditional Christmas cookie in this neck of the woods, and a popular breakfast spread. Or perhaps the really brave amongst you will dare to try the wasabi. If you do, let me know what you think…