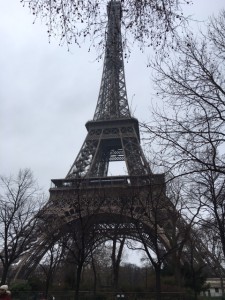 Paris is only two hours from Luxembourg on the rocket-fuelled TGV. And as our apartment in Luxembourg is 5 minutes walk to the station, we planned to take the train to Paris last weekend. I just really fancied walking out the door and across the street to the Gare Centrale and two hours later strolling out into Paris for lunch. The ticket prices, however, proved to be prohibitive, unless you are organized (and I'm not) and book six months in advance. So we drove to Paris instead. It took a little longer, but it was fun.
As we drove west, he views across the vast, scalped fields and hills of north-eastern France were largely shrouded under heavy mist, but we spotted several birds of prey – quite likely, the common buzzard – perched on the fence like milestones, watching the traffic with intense concentration, presumably hoping for a ready-made meal.
We were going to Paris with no particular goal other than to catch up with some old friends from Prague days for dinner. A weekend in Paris. Just for the adventure of it. Just because we could. So we did. To drive into Paris was almost magical. Along the Seine and up the Boulevard de la Bastille, around the Place de la Republique – even the names felt like stepping into a story book. I found myself reading every road sign like Rainman.
I had booked a room in a great little hotel in the 9th arrondisement, a stone's throw from the Palais Garnier – or the Paris Opera – and a short walk from our friend's apartment. We had discovered we could book a carpark in advance, and our trusty Google maps took us straight there. We emerged from the bowels of the earth to see L'Opera right in front of us, that sumptuous, elaborately decorated Academy of Music like an exotic island in the centre of a sea of traffic.
Tucked down a nearby side street, we found our hotel. and climbed to our attic room. Where we stood, awestruck,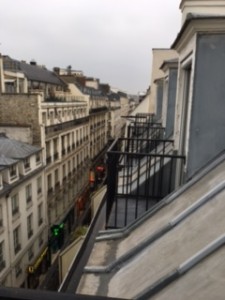 and huddling like stuffed pigeons, on the tiny balcony, looking out over the rooftops of Paris, a few stray snowflakes kissing our noses. A glimpse of a golden statue atop the Palais Garnier, another of the gilded domes on Printemps, that 19th century temple to shopping.
We soon discovered that we were within walking distance of the Louvre, the Musee d'Orsay, the Orangerie and the Eiffel Tower. And that is mostly what we did, we walked. We both have the blisters to prove it! Anyway, even in winter the queues to the art galleries were drearily long, toe-numbingly cold, and we, of course, had not had the foresight to book tickets in advance. O yes, I said that already…
Jolly cold as it was, standing still was not an option, so we strolled. Briskly. Through the Tuileries gardens with its handful of scantily clad trees, no lawn, and not a solitary flower bed. Hmph. At least that allowed for uninterrupted views, as we stood by the Obelisk and gazed about at a veritable Who's Who of Paris: Le Louvre at the foot of Les Jardins Tuileries; the Paris Eye at the other end, glaring down the Champs Elysées, to the Arc de Triomphe; the Eiffel Tower and the Petit Palais; St Marie-Madeline  and the National Assembly building.
L'église Sainte-Marie-Madeleine – or La Madeleine to her friends – was originally built in honour of Napoleon's 'Great Army' intentionally designed in the shape of a Roman temple with its fifty two Corinthian columns. After Napoleon's downfall, it would be converted into a Roman Catholic church, the site of Chopin's funeral in 1849.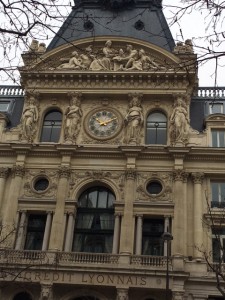 Across the river, the home of the French National Assembly – Le Palais Bourbon – was originally the country house of Louise-Françoise de Bourbon, daughter of Louis XIV. The palace was nationalised during the French Revolution, and Napoleon had Roman columns added to mirror the Madeline. In fact everywhere we turned that weekend, we found elegant spires, gilded domes, and a multitude of stunning 19th century façades on the elegant Hausmannian buildings that line the streets of Paris.
On the left bank, as promised, we walked past a myriad art galleries interspersed with restaurants and antique furniture stores. These were all decidedly more up-market than they were historically, but we loved the window shopping. And then, unexpectedly, a narrow, cobbled laneway between two elaborate antique shops that led to a tiny roofed courtyard and 'Treize,' subtitled 'Thirteen – a baker's dozen.'
Uncertain whether we had inadvertently discovered a secret and wildly expensive Parisian restaurant of Michelin proportions, we snuck our noses around the door to be greeted by a rousing welcome from three waitresses. In a flash we found ourselves squeezing into a petit café, crowded with an eclectic collection of tables and chairs, knick-knacks, jars, cakes and customers. Using a shoe horn, one friendly hostess levered us onto a bench at the back, tucked between a crate of champagne and a basket of madeleines. There would be no speedy escape,but we were happy enough to sit there and enjoy the atmosphere: hectic but homely. And eventually we were served our tea and a generous wedge cream filled orange cake topped with the best icing ever, and decorated with an orange sauce that tasted like homemade marmalade. I don't often eat cake, but this was special: as full of flavour and nostalgia as any madeleine ever nibbled by Monsieur Marcel Proust. And the café itself was a delight as long as you did not need to move anywhere in a hurry.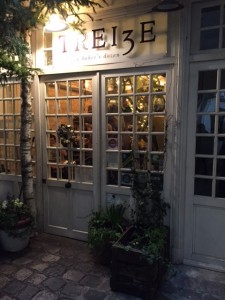 And then home to the hotel to rest our weary feet for a moment before setting out to meet our friends for dinner. And another gourmet dining experience across town.
'Le Clown Bar' is a quaint and historic little spot near Cirque d'Hiver. Again, we were a little lacking in elbow room (a common occurrence in Paris it seems) but we had a comfy nook behind the bar area. This was decorated with hand-painted tiles of those eponymous clowns and topped with an ornate domed glass ceiling. The menu is fascinating: an unusual take on modern French cuisine with a splash of Japanese – a nod to Japanese born chef Sota Atsumi. The menu read so strangely that one friend could make neither head nor tale of the ex
traordinary taste combinations, but in fact Atsumi's menu is unexpectedly magical, weaving a spell that made me temporarily oblivious to the conversation, even over the hunks of soft, oven-warm bread.
And for once, I made all the good choices, and didn't find myself gazing regretfully at someone else's plate. My steak tartare was a generous mountain of minced beef mixed with burrata, pine nuts, pickle and dried tuna heart. I'm not sure I can claim that my taste buds were sophisticated enough to pick out that final ingredient, but the whole was absolutely mouth watering. Enzo's cured pork belly was nice but a bit bland. More charcuterie than barbecue. I kindly shared my more exciting and flavourful dish. Luckily there was plenty to go around.
With only three main courses to choose from, we managed to bring all of them to the table. A bowl of whole smoked pigeons, reminiscent of a big dish of mussels (ie more mess than meat); sole and Brussel sprouts with miso (delicately tasty) and a duck and foie gras pie that was rich, succulent and absolutely mouth-watering. I wish I could feel guilty about eating foie gras, but I just can't. And this evening it tasted particularly superb. If it makes you feel any better Monsieur Oie, you died for a good cause and were enormously appreciated for your sacrifice to my stomach. Thank you, with all my heart.
There was dessert, I believe. I may even have stolen a soupçon of orange and honey ice cream, but I was far too replete to go any further. Luckily we had a good long walk home to bed. I think we may even have got momentarily lost. But I am sure it had nothing to do with the Becherovka nightcap…