So we have been four weeks in Luxembourg and already the city is feeling familiar. And we have found a house. Now we just need our furniture to arrive from the Philippines, and we can start feeling properly settled.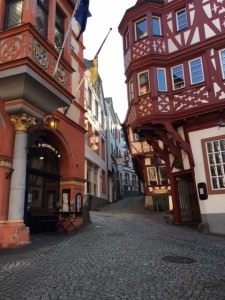 My twice-weekly French classes continue to stretch my brain and test my memory to the hilt. It is like peeling back layers of wallpaper – I see glimpses of words and phrases I remember, but struggle to grasp the big picture. I read and remember long forgotten vocabulary, but to speak fluently I need a Brillo pad to scour the rust from my brain. And I am enormously envious of our teacher, who speaks something like ten languages fluently, while I struggle with one.  And she is certainly not the only one with multi-lingual skills in this neighbourhood. It is all a little demoralizing. But I have bought Harry Potter in French – La Chambre des Secrets – and I am learning wonderful new words like l'hululument sonore de la chouette, la cicatrice and scarabee bousiers, though how I will ever weave these into a conversation over dinner is anyone's guess. I am determined to persist however, and perhaps one day the shop assistants, hearing me stagger through my questions in questionable French, will not pat my head kindly and reassure me that "it's ok Madame we speak English." One day, I pray, I will be fluent. In the meantime, everyone has been incredibly friendly and encouraging, albeit ever-so-slightly patronizing!
Nonetheless, this is a perfect place to learn languages. In Luxembourg alone, a city of barely 100,000, I daily come across people who speak every possible combination of French and German, Luxembourgish, Dutch and English, Portuguese and Italian. And geographically Germany, France and Belgium are all a mere half hour drive from our front door, as our youngest was delighted to discover when he visited last weekend.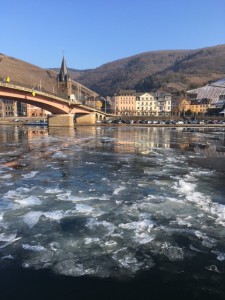 On Sunday, we drove to Bernkastel-Kues, a twin town on the Moselle River, in the heart of the wine region. Arriving late in the morning, we parked on the western bank, and wandered down to the water's edge, snow crunching underfoot, to see the frozen river. We could hear the eerie sound of the ice plates creaking and squeaking as they shifted in the current. Later, we would watch a huge, broad-bottomed barge ploughing through the ice like one of those ice-breakers in the Antarctic.
Too chilly to stand still for long, we walked up into the town. Once we had escaped the clutches of the local cemetery and a very dull building site, where we posed, giggling at our exceptional navigation skills, in front of a huge skip that warned us not to climb in, we made our way rapidly back to the river. There we discovered a lovely arched bridge, built across the river in 1874, linking the two towns, Bernkastel and Kues, that officially merged to become a pigeon pair on April 1st, 1905.
Walking across the bridge, we found ourselves on the decidedly more attractive side of town, where the medieval buildings of Bernkastel snuggle up against steep hills that are threaded with almost vertical vineyards. Perched high above the town, on top of the hill, squat the ruins of Castle Landshut, burnt out towards the end of the 17th century and never rebuilt. The dark stone clock tower lours, imposing and self-important, over the parish church of St. Michael, a landmark from almost any vantage point in the town.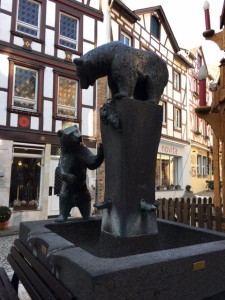 Bernkastel is a truly charming little town, with its medieval market square, cobbled lanes and quaint, timber-framed and gabled houses. It seems to have stepped straight out of the pages of a Brothers Grimm fairy tale, or from  a Walt Disney cartoon –  'Beauty & the Beast' perhaps? By now, feeling as frozen as the river, and decidedly peckish, we
wended our way through the narrow streets, past the Platz am Bärenbrunnen, with its lovely fountain depicting the town's eponymous bears. Eventually we came to a bright, cosy little restaurant in the old railway station – die alter moselbahnhof  – where they served up an excellent schnitzel with pepper sauce and crispy chips, and some local pizza-like creations known as flammkuchen , a dish from the sometimes French, sometimes German region of Alsace. Flammkuchen, like pizza, is made from a thin, bread dough base covered with white cheese or crème fraîche, thinly sliced onions and lardons. And of course the men had to finish off with the hand made apple strudel. It was a delightful lunch, after which we felt too soporific and replete to continue sightseeing. Instead, we marched briskly back to the car, through the diminishing afternoon, and home, vowing to explore further in the spring!
Inspired by our Germanic Adventure, on Monday we decided to lunch in France. Unfortunately, not so well prepared, we drove through less salubrious country side, discovering a no-man's-land of industrial smoke stacks, silos and truck yards in the wasteland that lies along the borders of Luxembourg, France & Belgium. Even the smattering of snow did little to improve the scenery. We tried to pretend the silos looked like castle turrets through the smoky air, but it was hardly convincing.
Longwy, historically, was the industrial centre of Lorraine's iron mining district. And that's probably all we need to say on the subject. Being a Monday, everything was closed, and we searched in vain for a welcoming , character-filled French restaurant. Eventually, starving hungry, we tossed up between driving on to Belgium or resorting to a double cheeseburger at Mackers. I won't dwell on the results. However, we later found a lovely spot for coffee in the town square at Arlon, where we also discovered a rather splendid church, St Martin's, whose Gothic spire stands out above the small town like a beacon. Followed by a half hour drive home.
Not the most glorious afternoon's entertainment, but we did, after all, achieve our goal to visit four countries in two days. Mission accomplished!