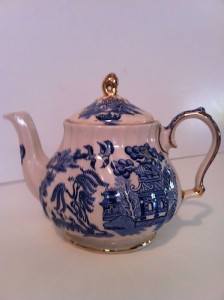 "Yes, that's it! Said the Hatter with a sigh, "it's always tea time." ` Lewis Carroll, Alice in Wonderland
Consider the teapot: a vessel with spout and handle for making and serving tea. It may be tall and silver-stately with a long spout, designed for an elegant afternoon tea on the lawn, or short and stout like the kindergarten song; it may be created from delicate blue and white porcelain or from bone china, scattered with Spring flowers like an English cottage garden. There are dimpled pewter teapots with wooden handles, or novelty collectors' items oozing kitsch and ingenuity. And there are those tinny teapots you find in tea rooms on the English seafront which invariably pour with a sloppy disregard for the cup. In Australia, we have billy tea: the tea of bushrangers, rovers and campers, made in what resembles a rusty tin bucket – a far cry from my Russian grandmother's intricately carved,  silver samovar. A teapot world of infinite variety, yet all devised for the creation of a simple cup of tea.
And then there is the World of Daniel de la Cruz, in which the utilitarian teapot is transformed into wondrous fantasy.
I have long admired the sculptures of Mr. de la Cruz. You may have seen them at St Luke's Hospital in Bonifacio Global City, in the lobby of the Raffles Hotel in Makati or at the Pinto Museum. I first came across one in a friend's home: a metal staircase, on which the figure of a voluptuously pear-shaped woman is walking up, while the man – hanging upside down – climbs up the underside of the stairs. Or you can flip the staircase over to produce the reverse effect.
Using a combination of different metals, many of his pieces breath a joyful and liquid movement out of this o-so-solid medium. And every piece is individual. He has, for example, created a series of dancers, twirling and leaping in lacy dresses, yet no two are the same. They strike different poses, dance different dances, are not even shaped the same. One we saw atop his grand piano had the muscular bearing of a Spanish flamenco dancer, another, in the lobby at Raffles, had all the lithe and petite airiness of the White Swan. It seems no body shape stifles an innate desire to move to the music.
One weekend, long ago, in Makati, we came, unexpectedly, across an art exhibition at The Link. There we discovered much grim and blood-curdling Filipino art: paintings full of skulls and crucifixes, body parts and blood that seemed to inhabit all the darker corners of the Filipino mind: nightmarish images that mocked, with bleak, black despair, the much touted image of a race of ever-smiling Filipinos, reflecting instead, its grim Catholic past.
Feeling a little queasy, we rounded a corner into an alternative landscape. A quirky, whimsical, lyrical, fantastical, world full of childhood scenes from Alice in Wonderland in 3D, sculpted in a variety of metals. Here, de la Cruz had indulged in a joyful exploration of all things Alice. And with intricate detail, ingenuity and illusion, he had, magician-like, created an extra dimension.
I was completely smitten. And since then, my One & Only and I were agreed. If we took only one thing away with us from the Philippines, it would have to be a Daniel de la Cruz sculpture.
At last, with departure from Manila unexpectedly imminent, and feeling very much like Alice falling down the rabbit hole, we found the opportunity to meet Mr. de la Cruz and get a sneak preview of his latest exhibition that would open in December, days after we had left. The new pieces were a far cry from Alice, but nonetheless compelling. Far more masculine in content than previous shows, it was full of unfinished bridges and spiral staircases, adorned with almost Golum-like figures made from an unusual blend of metal and clear resin. Yet somehow, despite the solidity of such engineered images there was, as always, a sense of movement, of lightness, of spirituality, as bodies hung, in trance-like suspension, off the end of bridges, or climbed to the top of spiral staircases to gaze, longingly, towards the heavens.
We gazed upon each piece with awe and wonder, my fingers reaching out to touch the beautifully proportioned bodies, a wisp of metal hair caught in a breeze, a net curtain drifting across a window frame, a bare arm, a delicate hand.
We returned, too, to the catalogue from his Alice in Wonderland exhibition. In so many of the pieces, de la Cruz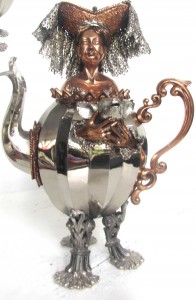 plays repeatedly with the puzzles and perplexities of the ever-so-eccentric Mad Hatter's house, where "it's always teatime." And, not surprisingly, the modest teapot plays a starring role. The Hatter's forlorn statement is illustrated in a tea table scenario of mixed metal and glass, in which Alice is trapped in perpetuity beneath a glass dome on the centre of the table, encircled by all the paraphernalia of a decadent afternoon tea. The title piece, 'Curiouser and Curiouser,' depicts Alice, in mixed metals, her lacy dress doubling as a lace table cloth over a round table covered in a higgledy-piggledy array of cakes and plates and cups and teapots.
So like the pieces in a doll's house, I found myself suppressing a childish urge to pick up the tiny teacups, rearrange the table setting, run my fingers over the lace tablecloth. Another piece, designed to hang on the wall like a three dimensional picture, shows the figure of Alice runs through the looking glass, her image reflected into infinity. And then, to return from whence we came, there is a mouthwatering series of teapots, each featuring a different character from the book. These included the cranky Queen of Hearts, the proud and particular Gryphon, the pernickety caterpillar, and the fierce Duchess clutching her pig-child to her breast, each embroidered with details pertaining to their characters.
In the end, we chose not from the Alice collection, but a lovely piece that also touches on dreams and reflected our own emotions, as we tried to imagine a different life beyond the Philippines, our home for over six years.  And at last she has arrived down the rabbit hole, into a world far removed from the warm air and chaotic colours of Manila to a more sedate world of skeletal trees and winter tones. Culture shock is paramount. But we have a glorious reminder of our life in Manila tucked securely into a small wooden crate. Now where to place her in our new home..?
*With thanks to Google images for the blue teapot and to Daniel de la Cruz for the Duchess from his catalogue.