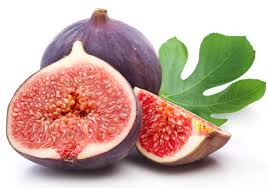 "A great source of fibre and full of vitamins and minerals, dried and fresh figs have a long and illustrious history. Known for being a healthy and versatile ingredient they can add a burst of sweetness to all kinds of dishes…"      ~ 'The health benefits of figs' by Jo Lewin.
I sit at the window and watch the dense river of red brake lights along EDSA and on the overpass to the Fort. Its Friday night. What to do? Where to go? Living in Manila, where traffic is invariably challenging, and often beggars belief on a Friday night, finding a good restaurant close to home is a real bonus. To actually be able to walk there wins a vote in my book every time. Add a fabulous frozen margarita or two and a plate of spicy kebabs and it's Lucy in the Sky with Diamonds!
Fig, just a skip and a jump past the Howzat! Sports Bar, opened two years ago. Like Stuart Little's house, it is squeezed between the Steps Dance Studio and the SJG building in a narrow two-storey building with a French style canopy over the entrance. The door swings open and you walk in, escaping instantly from the cloying humidity and the madness of motorbikes and tricycles on Kalayaan. The atmosphere is cool and cosy, the welcome friendly and warm.
"Figs are native to the Middle East and Mediterranean and were held in such high regard by the Greeks that laws were once created to prevent their export. " ~ Jo Lewin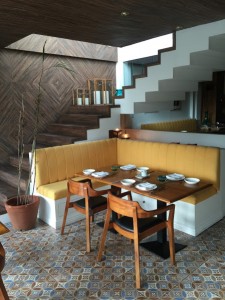 On ground level you will find seating for about twenty and a well-stocked bar that includes Aperol, a whole row of Angostura bitters in a variety of flavours, and a green bottle of Becherovka, that notoriously harsh, rocket fuel spirit from the Czech Republic, which makes me nostalgic for our years in Prague. At the rear is an open kitchen, and, happily, the tables have been allowed a little breathing space. A broad wooden staircase climbs to the next level, and it is only after multiple Margaritas that I remember there is no railing. I worry every time that I will end up descending like a toddler, on my bottom, or bump, bump, bump, like Winnie the Pooh, on my head.
"Figs are quickly perishable and delicate, and … when choosing figs, select those that are plump and tender, have a rich, deep colour and are free from bruising. Ripe figs have a sweet fragrance." ~Jo Lewin
The second level is equally spacious, with big windows, and some private nooks for a romantic dinner. Then venture up a second flight of stairs, and you will find yourself on a lovely rooftop terrace overlooking the church spire opposite, juxtaposed with the neon signs of Burgos and  the brightly lit high rises of Makati. Will you spread out on the broad outdoor sofas? Or grab a table near the balcony railing to catch the evening breezes while you sip on a dry, Spanish rosé?  The wine list is a bit limited, solely European and not wildly inspiring, but the rosé is excellent, and there is a good syrah.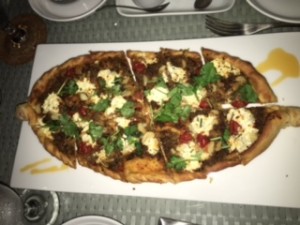 The menu is Mediterranean, with a hint of Filipino: from Moroccan tagines to Turkish flat bread pizzas, Andalusian fish stew to Greek mezze platters, and of course the ubiquitous pasta. The ingredients are largely locally sourced, pesticide free and reasonably priced. Certainly, everything I have tasted here has been fabulous, with the single exception of the fish platter which was far too heavily battered. Favourites? So far, the braised lamb shank which melts off the bone, served with a citrusy cous cous, the spicy chicken shashlik, and the vegetable tagine, a lightly spiced and slightly sweet vegetable stew thick with  zucchinis, chickpeas, peppers and beans, sweet potatoes, apricots and tomatoes.
"I am sure that in the story of Adam and Eve, the forbidden fruit was a fig and not an apple, pear or anything else." ~ Yotam Ottolenghi
The original French chef, Patrice Martelly, moved earlier this year to Lulus and has been replaced by Sri Lankan Chef, Ranuka Hettiarachchi, with a huge and engaging smile, who moved here from the Maldives, presumably as it started sinking! The food continues to be excellent, and I always like the wicker tray of freshly baked bread (walnut, brioche, sourdough, deep purple camote) with olive oil and balsamic, dukkah, that arrives while you are salivating through the menu.
I met a friend in the bar one evening and we decided to try the oysters to accompany our wine. We were served up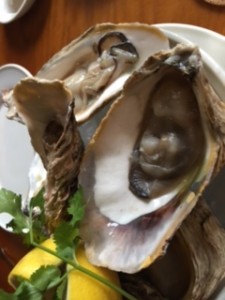 a dozen enormous oysters, so large that we almost needed a knife and fork to tackle them. I prefer mine simple with a pinch of sea salt and a splash of lemon juice, but they came with a rather tempting spicy dressing, and given that the oysters were so big, the flavour wasn't drowned by the sauce.
"Nothing great is created suddenly, any more than a bunch of grapes or a fig. If you tell me that you desire a fig. I answer you that there must be time. Let it first blossom, then bear fruit, then ripen." ~ Epictetus
Fig is a great place to catch up with friends: the food is made to be shared and the atmosphere is relaxed and comfortable. The staff are alert and welcoming, and I am never disappointed. It has become such a firm favourite, we even threw our despedida or farewell party there on Saturday night, and the set menu provided was such a 'superb' one, as one friend remarked, that 'it was hard to make a decision.' To my firm favourites of lamb shanks braised in Moroccan spices and the fruity vegetable tagine, Chef Ranuka added one of my new favourites: the delectable and meaty mahi mahi (a local fish) crusted with chia seeds and served with fennel, olives and slow roasted tomatoes.
We talked excessively, ate divinely, drank wantonly of Australian wines we had brought ourselves, and were superbly well looked after throughout the evening, by a team of smiling and indulgent waiters. Even the early evening downpour cleared away the clouds, so we could wander up to the rooftop terrace between courses. It was a thoroughly enchanting evening, brimming with fun, friendship and fine food. A fitting farewell to the Philippines!