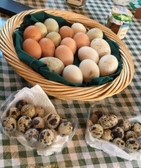 While everyone here has been complaining that the English summer has been grim, with endless pouring rain and much flooding, since I arrived two weeks ago, the weather has been sublime and, thanks to all that rain, the countryside is blooming and exuberantly, gloriously green.  I have wandered over heathland and through beechwoods, down country lanes and across wheat fields, up hills and down dales, and almost worn holes in my walking boots. Along the way I have passed many a country pub.  And let's face it, England is bursting at the seams with them, for the British public house has long been an ubiquitous part of the landscape. I even went looking for a couple of old favourites.
Since the 1970s my family have often, if intermittently, driven down to the tiny Kentish hamlet of Heaverham (pronounced hee-ver-um), past sunshine-yellow rape  that fills broad fields with gay abandon, past prim rows of strawberries at Stonepitts Farm, dodging walkers who wander merrily down the narrow, twisting lanes thickly bordered with hawthorn hedges. A small oast house (a Kentish barn in which to dry the hops for making beer) stood crumbling at the crossroads for years and we would risk our necks to clamber up the rickety wooden staircase on the outer wall. Since then it has been salvaged from rack and ruin and converted into a pretty and somewhat unorthodox home with its roundel and conical roof like an inverted ice-cream cone.
Around the bend is a large meadow dotted with tiny white daisies and wooden picnic tables, some stray rose bushes, a murky pond, a large carpark, and a small,  squat, sixteenth century pub, its doorstep flush with the edge of the road, its outer walls covered thickly in Virginia creeper.   A black and white sign depicts two men, in jackets and ties, playing

chequers. Inside, there is a small public bar to the left and a smaller bar overlooking a cosy dining room to the right. The ceilings are low and the thick wooden beams are decorated with copper pots and pans. Local artists bedeck the wattle and daub walls with paintings of country scenes and wildflowers, bronze oil lamps squat on the deep window sills and low beams clatter unwary heads. Little has changed since my childhood except the management, although the pond has been fenced off to save any small and adventurous paddlers from taking an unexpected swim. And the menu offers a solid selection of staunchly British pub fare such as steak and kidney pudding, haddock and chips, Eton Mess and bread and butter pudding, all of which we happily consume for a birthday lunch.
Heading five miles south, to Stumble Hill in Shipbourne – pronounced shih-bun – at the foot of a greensand ridge, I find another old favourite, bejewelled with brightly coloured hanging baskets. The Chasers Inn overlooks the road to Plaxtol and the broad village green. At the back of the beer garden  rises the square tower of the nineteenth century church of St Giles. Both church and pub were built by then owner of the local Fairlawne Estate, Edward Cazalet. I have been dropping in here since our oldest was tiny, so small that she could slip through the kissing gate and get lost amongst the corn in the field behind the churchyard. And it is good to see it is as popular as ever.
On a balmy summer evening, we find a table beneath a weeping willow in the beer garden, and watch small children potter round the lawn as we sip our G&Ts and nibble our way through two sharing platters, piled high with cheese and cornichons, garlic sausage and pastrami. The church clock behind us dongs dolefully on the hour, every hour and the sun sinks oh-so-slowly towards the ridge. Inside there are several eating areas, including a long dining room with a vaulted timber ceiling and a patio that once provided more open-air dining, but has now been elegantly roofed with frosted glass: a nod to England's unpredictable climate. In winter we have cuddled up beside roaring log fires, surrounded by book shelves and a busy central bar.
Should you be passing through Shipbourne on a Thursday morning there is a great little market at the church, with a selection of stalls lining the path to the double lychgate, where the vicar once greeted the coffins heading for the shady cemetery beside the church. The lychgate, like the church, is Victorian and both are grade II listed, which means that it may not be demolished, extended or altered without special permission from the local planning authority.  Some of the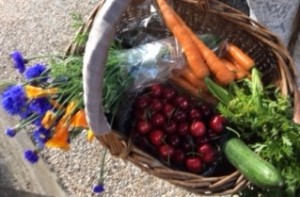 gravestones are much older, as the original church on this site was built in the 14th century, was completely rebuilt in 1722 and again  in 188o. Apparently one tomb, dated 1714, tells of the servant of a local parishioner who lost his life in a dismal manner to the grief of all his friends [said to have been shot]. 
Back at the market, we meander round the stalls. Boughton Alpaca sells hand knitted hats and jumpers, and the stall holder is still knitting as she chats to passers-by. Annabelle from Renhurst Farm sells my friend's favourite ham, as well as sausages, pies and quiches, beef, pork and lamb. There are fresh fish, fresh vegetables and fresh flowers. Our wicker basket is soon a positive bouquet of colour: rosy tomatoes, deep red cherries, and a delicious bunch of electric blue cornflowers and bright orange Californian poppies.
Inside the church, more stalls have been set up on boards that straddle the pews, displaying local honey and cheeses, duck eggs and cupcakes, homemade breads and pickles, jams and cobnut oil. I am packing up and moving on tomorrow, but can't resist carrying off a couple of pretty cupcakes sprinkled with edible glitter. We are heading home for a breakfast of scrambled eggs and Annabelle's ham, but we could have popped back to the Chasers who provide a full English breakfast and friendly service on market day.