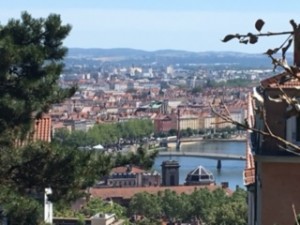 Lyon,  a city of churches and bridges, "trompe l'œil" and Roman ruins, sits cosily on the confluence of the Rhone and the Saone rivers in central France. Classified as a UNESCO World Heritage Site, it is also a city renowned for its cuisine and gastronomy.  Lyon was first pronounced the world capital of gastronomy in 1935, by a famous French food writer, Maurice Edmond Sailland (better known by his nom de plume 'Curnonsky') and the title has stuck.  But Lyon has long been connected with a love of quality food.
In the sixteenth century, the Florentine chefs of the new Italian Queen, Catherine de Medici, prepared dishes from fresh, regional produce, thus introducing many regional specialities to the Court. With its central location, Lyon soon became the culinary crossroads for food purveyors and regional cuisines. Working class cooks did not waste any part of the animals they butchered, and their fondness for offal is reflected in the local dishes that began to evolve. For a while, it also divided them from the more expensive tastes of the aristocracy and bourgeoisie, who could afford to be more finicky about their food.
Then, during the industrial revolution of the eighteenth century, a number of female cooks – les mères lyonnaises – started leaving the kitchens of the bourgeoisie to establish their own eating houses with an emphasis on simple home cooking – and of course, offal – where they provided meals for the growing working classes. Eventually, the bourgeoisie came to frequent these establishments too, and the reputation of les mères lyonnaises was spread further abroad.
Eugénie Brazier, the first female chef to earn three Michelin stars way back in 1933, and the first ever French chef to earn three Michelin stars for two restaurants simultaneously, was trained by one of the most renowned of these, Mère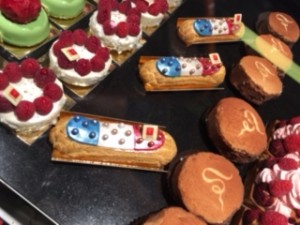 Filliou. She in her turn, would train local celebrity chef Paul Bocuse, currently considered the Ambassador of French cuisine thanks to his award winning development of nouvelle cuisine. Bocuse has several restaurants in and around Lyon: a chain of brasseries – Nord, Sud, Est and Ouest – and the prestigious L'Auberge du Pont de Collonges, which boasts three Michelin stars. L'Institut Paul Bocuse in Lyon is recognized as one of the country's top culinary and hospitality schools, and Bocuse also gave his name to the covered food market, Les Halles de Lyon, home to top quality, top priced gourmet food since 1971. The Bocuse d'Or has long been amongst the most prestigious culinary awards in the world.
The Lyonnaises, like the Filipinos, love to eat out and there are myriad restaurants across the city, including many bouchons that serve traditional Lyonnaise cuisine, and what I heard one food writer describe as 'nose-to-tail dishes'.
I knew none of this, the day we jumped from the tram to lunch at Brasserie Georges, a restaurant that has stood the test of time – one hundred and eighty years' worth – and is apparently one of the largest brasseries in Europe as well as the oldest. Originally located on the cross roads where the stage coaches passed, the Alsatian owner later persuaded town authorities to build the main railway station next door. Here, on a nineteenth century red leather banquette, we caught up on all the news over a carafe of Cote du Rhone and fois gras. Restyled in 1924 in Art Deco, with artwork using food related themes, Brasserie Georges it now a piece of Lyonnaise culinary and architectural heritage.
The next day we wandered through the lovely tree-lined streets of Haussmann's Presqu'île and along Rue de Marroniers or Road of the Chestnut Trees. Isn't that poetic? This narrow cobbled street is lined, not only with  trees but with an endless string of quaint little cafes and restaurants. We eventually came to a halt at 'Chabert and Fils,' where the menu was overflowing with such local delicacies as tripe sausages (andouilettes), black pudding and lambs' brains. I passed over a dish of veal head and tongue – tête de veau sauce gribiche – in favour of a set menu that included a dozen snails (escargots) heavily doused in garlic and parsley (persillage) and sizzling frogs' legs (grenouilles) that looked – and tasted – like mini buffalo wings, and were also swimming laps around the plate in a sea of garlic.
Trying to break into the snail shells proved to be a skill I had to learn on the spot or starve. Armed with a two-pronged cocktail fork and a pair of tongs that looked suspiciously like an eyelash curler, apparently I had to grip the shell firmly in the tongs while digging the fork down into the mouth of the shell to hook the snail, before twisting and tugging it out like a reluctant booger. Slick with garlic butter, the shells kept sliding out of my grip until I was shown how to pinch the tongs tightly at the neck. Some of the snails had buried themselves so deeply in their shells that it proved more efficient, if less sophisticated, to crack a hole in the shell and smuggle the snail out through the back door. It was a lot of effort for a morsel of rather rubbery gastropod that tasted primarily of garlic, and was swallowed down like an oyster.  Arriving in a sizzling hot dish, the frogs' legs proved equally as tricky I nibbled around tiny bones for a skerrick of meat while the butter cascaded down my fingers. While I was much amused by my own untidy efforts, I had overdosed on garlic long before I had finished eating the generous heap of Kermit's limbs. Luckily a carafe of the local wine helped to wash away the dominant taste of garlic.
There was an interesting tale behind these carafes or 'pots.' Still used to serve wine in the traditional Lyonnaise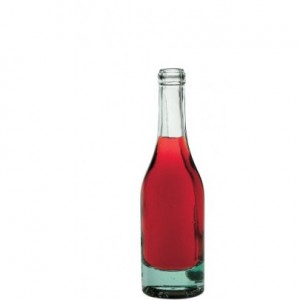 restaurants or 'bouchons,' the 'Pot Lyonnais' holds only 460ml instead of the standard half litre. In past centuries, local silk weavers received half a litre of wine daily (or weekly, depending on who is telling the story) as part of their wages, decanted from a large barrel into individual bottles. However, corrupt employers decided to claim a glass for themselves out of every 50cl they gave away by serving it up in a bottle 'trimmed' to 46cl by a thick glass base. Very cheeky!
On day three we caught the metro across town and walked up the hill through the old silk weavers district on the steep, staircase-ridden slopes of Croix-Rousse, where we discovered the historic passageways or traboules. These narrow passageways are public short-cuts through the middle of buildings that link streets on either side. We also found a number of pretty plazas, broad and leafy, edged with restaurants. Eventually we paused for lunch and I had my last chance to try some traditional Lyonnaise dishes. The starter was a moreish and meaty terrine de campagne, served with cornichons (those tiny pickled gherkins).
At cookery school I learned to make quenelles with teaspoons spoons, usually bite-sized, like gnocchi tossed into a bisque as a garnish. This quenelle was huge and heavy, and shaped like a small rugby ball, or, more traditionally, tétons de Vénus ('breasts of Venus').  Quenelles are made from fish forcemeat, poached and paddling in a shallow bath of lightly flavoured lobster bisque.  With the consistency and texture of polenta, the quenelle makes a hearty lunch, the word is apparently derived from the German word for dumpling: knödel.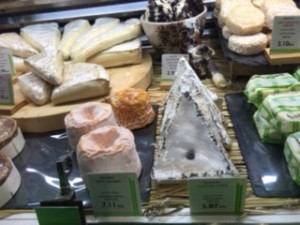 Deciding we would need to share as the best way to taste as much as possible, my friend chose the quenelle, while I ordered the saucissons pistache. These are fat, pink, pork sausages studded with pistachios and served with boiled potatoes, in this case, a popular local variety known as amandine. Personally, I would have liked a pot of mustard, an apple sauce or fruit chutney to accompany this rather dry sausage, but it was, nonetheless, very tasty. In the meantime, my vertically challenged gourmands (aged seven and nine) were hoeing into their favourite steak tartare, emboldening the raw beef with lashings of Tabasco sauce. By the time they were done, their plates had been licked clean.
Dessert was a choice of crème caramel or fromage blanc faiselle, a soft, local, fresh cheese like a firm natural yoghurt, sweetened with a strawberry sauce, (or perhaps honey). I chose the cheese, and it was just what I like: a savoury, slightly sour cheese splashed with a sweet, fruity sauce. And a coffee. Not to mention the last of the summer wine – red white and rosé.  After our liberal doses of Lyonnaise cuisine, we retired, ironically, to a good old English pub on the banks of the Rhone, to drink Aperol Spritz and play card games till closing time. The Elephant & Castle is at the foot of the old town (la vieille ville), and British expatriates gather here daily. At least until the EU boot them back behind their own borders…