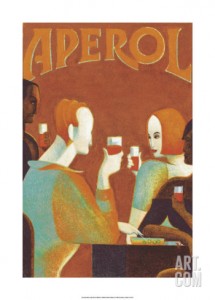 Last weekend, in a bustling café on a boulevard in the south of France, I watched two trays of Aperol Spritz heading to neighbouring tables, where diners were keen to kick off with a little splash of sunshine before brunch. As the sun glittered on the sea, and justified the moniker Côte d'Azur, I was more than a little tempted to join them.
Aperol. It sounds like a headache tablet or something to settle a queasy stomach. The latter is closer to the truth than you might imagine. It is, in fact, an inviting, bright orange alcoholic beverage, whose name comes from the French word apero, a slang term for apéritif, that pre-dinner drink to enhance the appetite.  This particular apéritif is made from a recipe that includes both orange, gentian, rhubarb and cinchona. (Cinchona is a South American flowering plant that is a source for quinine, in case you were wondering. I was!)
Aperol is a twentieth century addition to the collection of largely Italian herbal apéritifs  created in the 18th and 19th centuries, such as vermouth, Fernet Branca and Dubonnet, as well as such celebrated brand names as Martini, Cinzano and Campari. While some might prefer to start with a brut champagne, the French and Italians have long enjoyed more astringent, herbal curtain raisers. And the taste for them is apparently growing.
In 2009, Aperol joined the Campari stable, but it was originally invented by wine company Villa Barbieri in Padua in 1919, and the name is still on the label. Barbieri marketed it as  drink for the party-mad, post-war youth of the 1920s, and as such it became immensely popular in Italy.
The 1950s saw its reinvention as a fun and colourful cocktail: the 'Aperol Spritz.' Lacking the cloying sweetness of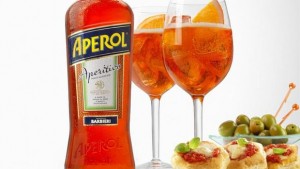 many cocktails, the Spritz is a joyous mix of sparkling wine and flamboyant orange Aperol: a bitter mimosa in fact, best served in a humongous wine glass with lots of ice. Just mix in three parts Prosecco, two parts Aperol, and one part soda water, trim it with a wedge of orange and you are away.
In the 1980s, Barbieri introduced the natural, spontaneous 'Aperol Girl'  to its advertising, and in the 1990s Italian artist Lorenzo Mattotti painted a series of retro posters to highlight Aperol's timelessness. Since 2009, in the hands of Campari, Aperol has gained international recognition as an alluring summer aperitif, perfect for inspiring a lively, carefree lifestyle, using the image of a series of vivacious, fun-loving, redheaded, Aperol girls. By the summer of 2014, the UKs Daily Mail considered it the flavour of the month in Europe, and word continues to spread.
I remember enrolling in Italian classes years ago – we were planning to visit my boyfriend's family in Northern Italy, and I felt I ought to know a few words in the host language for the sake of courtesy – and the teacher brought along a bottle of Fernet Branca. We were all encouraged to have a sip, to get the class rolling. It was distressingly, intensely, aggressively bitter. I did not become an instant fan. It put me off vermouth, Martinis, even dry sherry, for years.  The closest I could get to any herbal liquor was Benedictine, which I now fine tongue-curlingly sweet. It seems as we age, our taste buds, and therefore our food preferences, change. White chocolate to dark. Sweet white wines to dry reds. Carrots to kale. Sound familiar?
I unwittingly tasted my first Aperol Spritz earlier this year, and surprisingly, this refreshingly icy, slightly bitter, very bubbly apéritif has quickly become a firm favourite. Given my (now) lack of sweet tooth, Aperol Spritz is well on the way to becoming my latest craze. And given that orange is my favourite colour – and it is also, apparently, the perfect drink for redheads –  perhaps it is even set to become my own signature drink!
It also accommodates my preferred grazing habit, as, as we have discovered that Aperol is perfect with tapas. In fact, this is where we were first introduced: at Rambla, our local Spanish bar in Manila. It also goes very well, it turns out,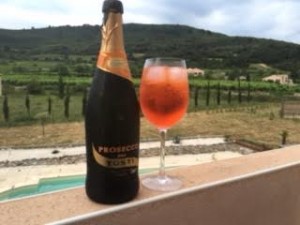 with a generous platter of antipasti at Zizzis, our favourite Italian chain in the UK. The same week, wandering along the Thames, we found a wonderful riverside pub in Kingston-on-Thames, the Boater's Inn, which was introducing the punters to Aperol with a two-for-one deal and a history lesson on the journey of the Aperol Spritz. As the sun set, turning the sky the colour of peaches,  we looked out on the river and the boats and the swans with their fluffy cygnets, and sipped our Spritzes gleefully, enjoying that zesty, slightly woody, herbal bitterness, with a background taste of Jaffas (like orange Smarties, only spherical), while a jazz band chortled away in the background. Brunch, lunch, dinner,before, during, after, take your pick. Any time seems to work for me.
This evening, I am happily imbibing on the balcony in the depths of Languedoc, trading the traditional Prosecco for a local sparkling wine, the customary antipasti for a plate of French cheeses served on fresh baguette from the local patisserie. "Happy hour, happy Aperol" as the advertising once quipped, and here's to "a bright, bright sunshiny day!" Life is good, especially in orange.
*With thanks to Google Images for Mattotti's poster and the Aperol bottle, and my trusty camera for the view.