"Every day is a fashion show and the world is your runway" ~ Chanel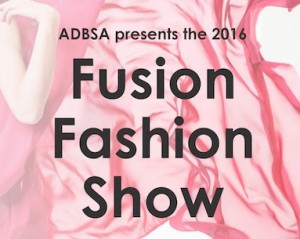 Last night I was a super model.
OK, well maybe not quite a "super" model, but I didn't fall off the catwalk, which I consider a major achievement, having had nightmares about tripping into the lap of the President as I wobbled down the runway.  As it turned out I had more to fear from a family friend who showed up unexpectedly and attempted to grab my attention – and my ankles – as I strolled past.
In case you are wondering, no, I have not actually had a mid-life crisis and a career change. I was, in fact, participating in a charity event at the Asian Development Bank here in Manila to raise funds for the various local charities supported by our ADB Spouses Association which include an orphanage; scholarships for underprivileged college students;  a home for street kids in Quezon City, and micro-financing for small businesses in the provinces.
The ADBSA Fashion Fusion Show had been in the pipe-line for months, instigated by an offer from Dianne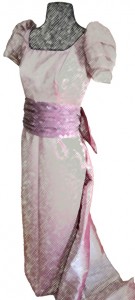 Andrysiak, an Australian expatriate and fashion designer, who was prepared to donate her time and talents to help raise funds for our charities. The Board then decided to add a second segment to the evening's entertainment, to showcase the traditional dress of ADB member countries.
The result was a fashion spectacular into which all the efforts of the Board, Dianne and the wannabe models were
poured with boundless enthusiasm. Embellished with elegantly upswept hair and alluring make up, thanks to the talented efforts of students from  Wella and mp maquillage professionnel, we donned our gorgeous outfits and lined up, ready for the red carpet.
The first half of the show was presented by our in-house Master of Ceremonies, Shubhra Chatterjee, who spoke with flamboyant finesse about each model, her outfit and its cultural significance. From India, Sri Lanka and the People's Republic of China, Cambodia, Malaysia, Korea, Indonesia and Japan, Bhutan, Nepal and Uzbekistan, the Philippines, Kiribati, Tonga and Samoa, our models came from all corners of Asia.

The show opened with a bang, as two lovely Filipina ladies made their way down the catwalk in eye-catching ternos, those formal Filipina dresses with the butterfly sleeves, made world famous by Imelda Marcos.  Leni's very original, and surprisingly glamorous version was made from coffee sacks, while Elise was more traditionally attired in a terno made from lime green piña, a fabric made from the fiber from pineapple leaves combined with silk, with Swarovski crystal detailing.
From there we travelled through Asia to see sumptuous Sri Lankan Kandyan sarees that can be folded, draped or pleated in myriad variations like those from neighbouring India; the hanbok, which is traditional Korean dress for festivals and celebrations; the Bhutanese goh for men, and kira for women; exquisite silk kimonos from Japan, and from China, the sensuous silk cheong sam or qípáo from Shanghai and the historically significant hanfu of the Han dynasty. We admired a shimmering Cambodian sampot paired with a detailed white lace blouse, a colourful kebaya encim worn by the Pernakan Chinese women of Malaysia, elegant Indonesian variation of the kebaya, and a heavy black cotton saree with a red border known as hāku patāsi worn by Nepalese women for the Newari Festival and other important celebrations.
From Asia to the Pacific, where, Beta added a practiced wiggle to a full Kiribati skirt made from layers of dried coconut leaves with accessories made from sea shells and pandanus leaves. Victoria, also from the Pacific, showed off the traditional Tongan tupenu and ta'ovala – a family heirloom that had belonged to her great great grandmother, and was a hundred years old. And we also enjoyed the appearance of two brave young lads from Samoa, Henry and William, who modelled their traditional lavalava skirts accessorized with red ulafalla necklaces that looked like large red chilies but were made from the fruit of the pandanus tree .
Red also played a large role in a sumptuous, full-length gown from Uzbekistan, embroidered with large, vibrant flowers, enhanced by a Scarlett O'Hara style hooped skirt beneath. Suzani is a intricately embroidered tribal textile made in Tajikistan, Uzbekistan, Kazakhstan and other Central Asian countries. Galiya, meanwhile, sported a dress and jacket made in a shorter, more casual style in a brightly coloured ikat, which would later play a significant role in the designs for the Fashion Fusion segment. Ikat is an ancient technique used to dye yarns before it is woven into patterned fabrics. It is a word of Indonesian origin, but it's a weaving method commonly used across Asia, Africa and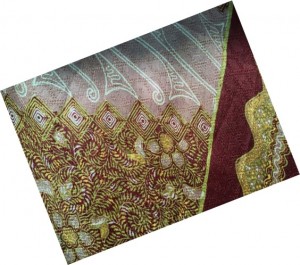 South America.
An interval was heralded by a raffle, in which prizes had been generously donated by restaurateur Paolo Nesi, Don Revy and Craggy Range wines, and a wonderful weekend in Vietnam thanks to GHM luxury resorts. And then it was time for part two: Fusion Fashion.
Dianne's designs were enchanting, and, as Shubhra astutely observed, she had displayed a real knack for dressing not only the body but the temperament and tastes of the models, creatively blending modern design with traditional fabrics. And, as our MC also noted, 'there is no better way to express yourself than through the clothes you wear.'
A Scandinavian nineteen fifties floral print, Japanese printed cottons, local linens, Laotian prints, hand painted Japanese kimonos, Indonesian batik, a glamorous sunflower-yellow, full-length satin and a heavy and sumptuous jacquard weave from Iran transformed into a wrap-around evening jacket worn over a silvery grey empire line silk gown with a metallic brocade neckline. As I watch the models sway along the catwalk, I start to understand Rosalie Ham's fetish with fabrics in her novel "The Dressmaker."
The ikat fabric we saw earlier reappeared again and again, displaying its variety and versatility in a number of stunning outfits, both casual and formal.  Mari began the parade in a simple biscuit and cream ikat print, perfect for the cool, calm 'Lady Who Lunches.' Later she re-appeared in a simple, elegant cocktail dress in which woven silk satin was overlaid with black chiffon. Another vibrant ikat fabric from Tajikistan was used to create a shimmering gold and ruby cocktail dress for Cindy, while Vida also wore an ikat print in black, red and beige, masterfully cut on the bias to create an asymmetrical, floor sweeping gown. The gown was accentuated with one, Philippine-style butterfly sleeve in silk organza. Elise, too, modelled a modern variation of those butterfly sleeves in a long gown of lilac satin and silk organza, belted with a silver, embroidered, obi-style Japanese fabric .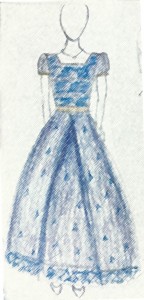 Not surprisingly, Thai silk also played a major role in the parade, appearing time and again in various styles of dress and in a rainbow of glorious colours. Cathrin's ball gown was created from an emerald green Thai silk ball gown with a cowl neckline, the skirt cut away at the front to display yet another brightly coloured ikat print from Tajikistan. Runa's gown combined a green and blue shot Thai silk overlaid with a stunning turquoise and midnight blue Jamdani  muslin from Bangladesh. My own ball gown was created from a blend of deep bottle green Thai silk overlaid with a gold and green Indian sari, in a design inspired by the Middle Ages. Heather's frock was artfully simple: a dark Thai silk skirt overlaid with an Aussie cotton sporting an aboriginal motif, the bodice made from thick strips of woven Thai silk. Even the President's wife, Mrs Nakao, took a stroll up the catwalk in a layered champagne-coloured Thai silk, cut away at the front to display a Japanese satin in a softly feminine cream, rose and green floral print.
Several more casual outfits included Sucheta's pink and white floral capri pants teamed with a white silk blouse which had been hand-painted in pink to team with a matching, waist length pink jacket with mandarin collar.  Sucheta, and several other ladies, also carried matching handbags created by France-Anne Van Peteghem.
And so we reached the end of the show with a bow. Flowers were presented to our magical designer, Dianne, as she appeared on the catwalk in one of her own eye-catching creations with the luminous Mrs. Nakao and her husband, ADB President Mr. Nakao, before we were ushered out to celebrate with sparkling wine in the foyer. I think the audience enjoyed the show – we certainly had fun playing at being super models – and we were also able to raise considerable funds for our charities, which was highly satisfying. Now I am off to practise posing in the mirror for the next time I am seconded for a fashion parade!