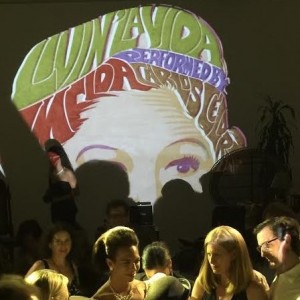 "Filipinos want beauty. I have to look beautiful so that the poor Filipinos will have a star to look at from their slums."  ~Imelda Marcos
Imelda Marcos, the iconic First Lady of the Philippines for twenty years, with her infamous penchant for shoes, handbags and butterfly sleeves. Imelda Marcos, renowned for ostentation and extravagant shopping, not to mention the misappropriation of government funds to support her habit.
'Living La Vida Imelda' is a a "gleefully gossipy" (New York Times), wickedly satirical perspective on the life and times of Imelda Marcos that goes well beyond these hackneyed clichés, created by performance artist Carlos Celdran and delivered with his inimitable slick humour and incorrigible irreverence.
I have been fortunate enough to see Celdran's production in its various incarnations. First, as a lengthy three-hour tour of the Cultural Centre of the Philippines. Then as a one man show with human props at Silverlens Galleries in Makati. Finally, earlier this year,  a well-oiled solo performance edited to an hour and a half of non-stop banter and brouhaha in the quaint and quirky Pineapple Lab in Poblacion. Exclusive to ANZA (the Australia New Zealand Association), the performance proved to be a highly successful charity fundraiser.
As always, Celdran's show was oversubscribed for the space, so we found ourselves pinned to the back wall and craning our necks for a view of the diminutive performer on the low stage at the front of the room. All was not lost, however. Celdran knows how to make his rich, expressive voice carry to every corner, so while we could only catch glimpses of his face, we could hear him perfectly clearly, and we could still see the hat rack bedecked in his 'costume changes,' the large historical and architectural images projected on the wall behind him, and the Vintage Peacock wicker chair.
Celdran weaves the myths of popular culture into a synopsis of Imelda's role in the Marcos regime: her use of Hollywood glamour to win the hearts of world leaders and the people of the Philippines, despite the infamy of her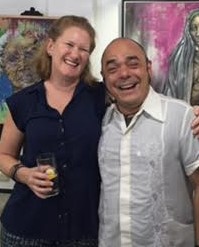 husband's dictatorship, her own incredible extravagances and their joint reputations as kleptocrats.
Celdran's wit is sharp, but it goes hand-in-hand with many unexpectedly poignant moments as we hear about her sad childhood, that notorious beauty pageant, her whirlwind romance with President-to-be, Ferdinand Marcos, and her increasing popularity with the masses, if not with the Establishment. 'Living La Vida Imelda' has become a much tighter show than it used to be, although I have a sneaking suspicion that Celdran reduces much of the time by simply talking faster.  But the cuts are effective, and the show has become much more polished.
And to kick-start the show, ANZA provided a generous bar and very tasty pica pica. It was a great – if noisy –  way to get the evening rolling. As a bonus, ticket prices included a donation to #vivamanila, a charity aimed at reviving arts and culture, community projects and collaborations in Intramuros, a project close to Celdran's heart. From start to finish, it was a highly entertaining evening.
*Adapted from an article written for ANZA News, May 2016, and with thanks to the One & Only for his photos.
!