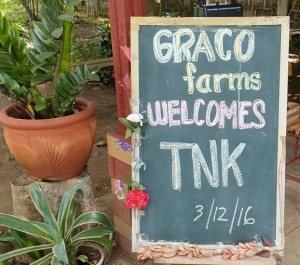 The sky was clear, with no hint of rain, and a beautiful breeze across the paddocks all day – perfect weather for a picnic…
Last weekend, a small group from the Social Welfare Committee of the Asian Development Bank Spouses Association paid a long overdue return visit to Graco Farm, in Pila, Laguna, with thirty-one children from Tulay Ng Kabataan (TNK) – boys and girls this time –and a clutch of TNK staff and families.
Our planned starting time went a little askew when Teacher Neil forgot to set his alarm, but our convoy eventually got underway and was hurtling south along the SLEX towards Calambra. Road works obliged us to re-route from the National Highway onto a convoluted and narrow road skirting the edge of the lake. It turned out to be a fascinating detour, as we wove through small, lakeside villages, dodging tricycles and children and chooks and trucks. We still managed to arrive in Pila in time for merienda in the welcome hut: puto, fried bananas wrapped in pandan leaves and fresh pandan juice.
The kids were initially a little subdued, but we quickly put that down to an early start and a long car trip, because half an hour later it was full steam ahead as they all tore around the field, stretching their legs and their lungs! When they had settled down, owner Grace and her side-kick Eric talked to them about the plans for their day, and then led them down to meet the animals.
They were instantly absorbed, goggle-eyed at the shy ostrich, Karra, and the showy peacocks. I demonstarted how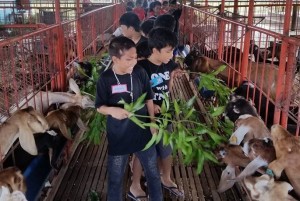 the peacocks tail worked, using my fan, and they were gobsmacked and giggling when I explained how he used his tail feathers to show off to the girls. When the ostrich had been fed, and the peacocks thoroughly admired, the children were rounded up and marched off to the raised goat shed in single file, where the excitement levels shot through the roof.
Staff provided leafy mango branches for the children to feed them with, and they fought hard as the hungry goats played tug-of-war with them. They noticed that some of the goats had long, soft ears like Jaja Binks, (Anglo-Nubian) while others had no ears, (Lamancha), but all looked glossy and soft.
The Anglo-Nubian goat is a cross-breed that originated in England: a blend of Old English milch goats and bucks from the Middle East and North Africa. The Anglo-Nubian adapts well to hot climates – hence its popularity in the Philippines, and also in Australia and South Africa. Its milk is high in butterfat content and the male makes good eating.
The Lamancha goat originated in Spain, but has been developed in America. It has distinctively small or nonexistent ears, known as 'elf' ears or 'gopher' ears. Grace does not cross-breed the Anglo-Nubian and the Lamancha, but they both feed on Napier grass, indigofera, madre de agua, madre de cacao, centosema, malunggay and mango leaves and they are also regularly provided with probiotics, calcium phosphate, and molasses with salt.
A few of the goats were shy of handling, but several came out of the pens to mix with their visitors. Most of the children took this in their stride, but some were frightened by their proximity, and there was a bit of squealing!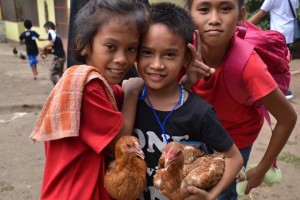 The staff then led the children to the back of the six-hectare property, where the ducks, geese, hens, roosters and turkeys wander around the edge of the tilapia pond. The pace picked up, however, when the children realized the hens, at least, could be taken captive and cuddled. At that point, I suddenly became very popular with my friend Colin's little four-year-old, John, who promptly decided he would far rather be up in my arms than at risk from vicious chickens! From a safe height, he was then happy to admire the beautiful breeding roosters and pose with the older children for photos.
A three wheeler tractor put in an appearance for ferrying the more geriatric amongst us across the paddocks, and we trundled in comfort to the tilapia lake before returning to base camp to fire up the pizza oven for lunch. As the children waited patiently to choose their toppings, Hema and I encouraged them to learn some new songs – old favourites we have used with the kids for several years, but ones this new batch didn't know. So we brought them out for an airing and had relative success with "Skinnamarinky dinky dink" and "Galumph said the little green frog."
After a delicious feast of home-made pizzas, the kids ran about playing Chasey before collapsing in the shade for a little time out. That was when Hema and I found the new green house, choc-a-block with herbs: lemon balm and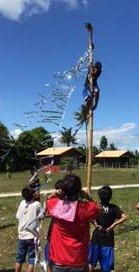 spearmint, curly kale and basil, rosemary, tarragon and oregano, as well as a couple of tomato plants and some chives.  Returning with scented fingers and a bag each of kale and basil, we discovered that Grace had arranged some party games.
To delighted and noisy encouragement from the girls, the boys competed for the coloured flags at the top of a ten-foot slippery pole, skinning up it like professional coconut pickers. Then the girls had a go at donning blindfolds and busting open the piñata with bamboo sticks while the rest yelled instructions and directions.  Some of us had to head home after that, but TNK staff and children stayed on for a couple more hours to make the most of their day out in the country. And Grace told me later that she was almost in tears when the kids told her that they wanted to stay and live at the farm to care for the animals. Maybe we have inspired some future farmers. Certainly, my One & Only was making plans for his future chicken farm… on the 38th floor?
*With thanks to Colin Campbell, and Gracos for the photos.