"Cooking is like love. It should be entered into with abandon or not at all."  – Harriet Van Horne,  journalist
Since the genesis of shows like Master Chef and the rise of Jamie, Nigella, Gordon and Curtis, who amongst you has never felt the urge to unleash the inner chef and work in a real restaurant kitchen – and of course gain instant celebrity status for your efforts? Well, last week I had the opportunity to do the former, although the latter still continues to elude me.
Last year, my One & Only won the raffle at the ANZA Wine and Cheese night. This year we finally availed of the prize. 'What did he win?' you ask. A five course dinner prepared by a professional chef in our own home.  What could be more decadent?
Philip Golding is a British chef who has been based in the Philippines for twenty years, and has a finger in so many pies it's impossible to keep count: teacher, chef, Breville ambassador, culinary consultant, President of the Disciples de Escoffier Philippines…
There was only one small problem. Last year we downsized to a great little duplex in Rockwell. We really love it, but the thought of anyone cooking a five course meal in our pint-sized kitchen is laughable. Luckily one dear friend  had already suggested he would like to be one of the guests, so we suggested in our turn that we might need to use his kitchen – somewhat larger than ours – for the event.
The Saturday before our dinner date, we held our first meeting with Chef Philip at Brera,  delicatessen and grill,  his latest venture, and a Taguig twin to his store in Yakal Street, Makati. Here we sat over coffee and concocted the bones of a five course menu which would, he promised, evolve over the week ahead. We then created a lengthy shopping list, so I could start to buy the ingredients. Also – and this we weren't expecting – Chef Philip invited us, if we so desired, to get involved in the process of creating the meal.
I spent the next few days dashing around the city gathering a boatload of ingredients with which we could have fed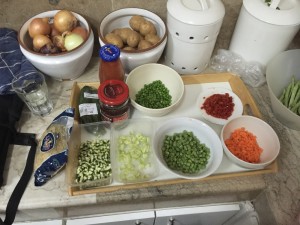 most of Metro Manila. We started by rummaging through the shelves at Brera, and then I went on to scour Rustan's and Säntis . The stars had aligned nicely, as good friends from South Australia turned up in time join us for dinner, accompanied by some amazing Australian cheeses and wines, they had ransacked from the Adelaide market. On Thursday I took them to Yakal Street, where we would finalize the menu with Chef Philip and visit The Butchery next door to choose the meat for our main course. Here we discovered a veritable goldmine of cheese wheels the size of coffee tables, and some fabulous looking lamb racks.
Finally, on Friday afternoon, armed with our menu, our aprons and boxes full of food and wine, we descended on our friends home in Forbes Park. Chef Golding and his tool box of cooking kit arrived too, in the wake of a team of assistants. The team was joined by our friends' two Helpers.
As food writers both, our Aussie mate and I were keen to add to the manpower in the kitchen. Now, I am generally the Head Cook at home. I have worked in Hospitality and even ventured into Hotel Management once upon a time. But this was the first time I had gone to work with a professional chef, and I instantly forgot everything I thought I knew and felt like a total novice. Luckily, as the chef assigned us our tasks, I found myself with a job I thought I could just about handle: I was put in charge of making the crepes for dessert. Chef Philip whipped up a batter, flavoured lightly with Grand Marnier, and then pointed me to the stove. As I slowly turned out a mountain of wafer thin pancakes, my confidence grew. Soon I was even feeling secure enough to help the trainees with some of their tasks.
It was a surprisingly long process to create this 'simple' dinner for six, particularly given the large team we had to pull it together. But once I got over my initial stage fright, it was great fun, and working on the team was a fascinating experience. Chef Philip went from one work station to the next, checking on progress, offering tips, encouragement and mild criticism when things weren't up to scratch. Apart from the odd sarcastic note, however, it was nothing like the kitchen scenes in the movie 'Burnt,' or 'Hell's Kitchen' with near-hysterical chefs throwing furniture and knives and entire dinners on the floor. Although, to be honest, I was still not tempted to test his patience!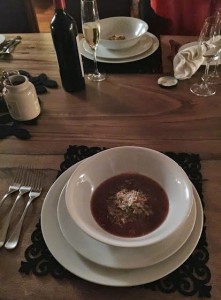 Eventually our job was done and we sat down to dinner, already gently lubricated with champagne and gin, and eager to enjoy the banquet. Our minestrone came to the table – shallow bowls containing a neat mound of finely diced and blanched vegetables. Chef Philip then poured the soup from a jug around the vegetables, creating a small island in the centre of a ruby red lake. The broth was surprisingly rich, largely thanks to a tablespoon of pimento paste, balanced by the fresh, crisp vegetable cubes.
Next came the tuna salad. Fluffy lettuce, dollops of burrata cheese and cherry tomatoes were prettily arranged on an entrée plate – although it took me a while to realize the fish was secreted beneath the shrubbery. The seared yellow fin tuna and smoked wahoo – a local, white-fleshed fish that has become very popular with gourmet diners –  were both superb. Like Oliver Twist, I wanted more.
Back in the kitchen, I had basted the lamb racks in whole grain mustard before coating them in breadcrumbs seasoned with fresh tarragon. The racks were accompanied by lamb sausage, surprisingly German in style, a deliciously cheesy potato gratin (thanks to the best Watsonia Vintage Cheddar), broccoli with a hint of hollandaise sauce and my favourite purple cabbage cooked with cranberries and sultanas. We had been having trouble boosting the heat in the oven, probably due to the fact we were using every available burner, so for me, the chops were a little underdone, but the vegetable dishes were perfect, despite what I had feared would be overkill in the sauces department.
Finally, the crepes, which were, of course, spectacular. Lightly flavoured with Grand Marnier, they were filled with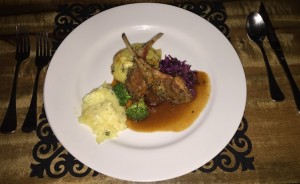 dried figs, orange segments and vanilla ice-cream, sprinkled with crushed macadamias, and topped with a fig and orange sauce. My only regret was that there just weren't enough – I should have made at least a dozen more.
We finished off with a cheese board, courtesy of our Australian guests, including a divine Onkaparinga Triple Cream Brie.The food faded out, the wine faded in as we sat and chatted with Chef Philip. There were lots of laughs, lots of wine… and towards the end of the evening, lots of Air Supply. (I probably shouldn't have mentioned that.)
So, I finally got my time in the kitchen, and while I enjoyed it, I now have even greater respect for the men and women who work daily under that level of stress and speed. It was like running a marathon, and I now remember why I veered sharply away from the challenge twenty-five years ago. It was fun for a night, but it totally validated my decision to stay out of the kitchen, and to choose a path whereby I could eat, admire and write about the amazing efforts of other more talented cooks from a sensible distance. So thanks to ANZA and whoever pulled out the winning ticket, to our dear friends in Forbes for providing a terrific venue, and especially to Chef Philip and his team, for a great night's entertainment. All hail the Chef.
*Adapted from an article that appeared first in ANZA News, April 2016.