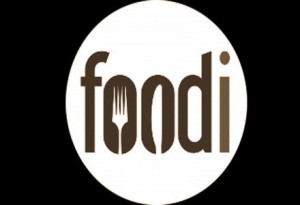 "A tasty beverage is an adult experience
It's a clear punctuation mark in life's daily round
Be it a full stop to a day's work done
A question mark on what's to come
Or an exclamation mark as the game's begun."
~ Patrick White, Sommelier
South Australia has long been renowned for its premium wines, and its wide variety of wine regions. Today, the Festival State boasts a grand total of eighteen wine regions – I know, because I bought the tea towel! Over the years, I have spent many wonderful, slightly inebriated days roaming though the vineyards of McLaren Vale and the Clare Valley, the Adelaide Hills and the Coonawarra. This summer I got to check out some great wines from a slightly different perspective, as I joined Foodi Tours to explore Adelaide's burgeoning world of wine bars behind which many of South Australia's best vintages are lurking.
Foodi provides walking tours through a number of Australian capital cities. If you have a fetish for foreign cuisines, or an infatuation with all things sweet, there is a tour for you. Do chocolate, ice-cream or cupcakes make you salivate? Or do you lust after exotic street food? Or do you simply have an urge to explore a new city from a different angle?
Each destination on the tour was a closely guarded secret, which I should probably not divulge, but that would make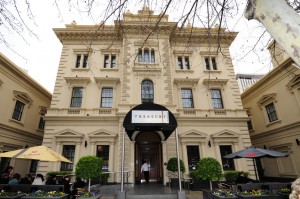 this a very short piece, so with apologies to Anna, off we go. (Despite my lack of conscience at spoiling the surprise, I highly recommend taking the tour anyway, as the guide provides a glass and a half of history with every glass of wine, which definitely adds interest to the afternoon. And how can you go wrong, joining a tour full of people who like to drink wine?)
Our starting point, then, was a wine bar and restaurant on Victoria Square, the epicenter of Adelaide. This handsome old building was once the Treasury, and one of Adelaide's most significant historical sites. It was here that the government stored the gold that came from the Victorian goldfields, escorted from Mount Alexander, Bendigo, and Ballarat by mounted Police. The Treasury was also the centre of South Australia's administrative and government affairs for over 130 years.  Now restored and redeveloped as the Medina Grand Hotel, it still houses the former Cabinet Room of the South Australian Government.
Unfortunately, I was running a bit late, so I missed the tour, but I was in time for the first glass of bubbles, a fresh sparkling white wine from a Fleurieu winery, Bay of Stones. (Obviously you will need to be over eighteen to get the most from this tour.)
As we stood in the lovely courtyard garden behind The Treasury,  Anna – our tour guide and a childhood friend – showed off an amazing memory for names, as she introduced me to the entire group without a second's hesitation. Most of whom, it turned out, were local Adelaideans, keen to uncover secrets about their own city.
Our bubbles having evaporated rather quickly, we wandered on, up Franklin Street, to a tall stone building opposite the bus station. Once the home of the South Australian Stock & Station Journal, it has since been converted into a beautiful bar and restaurant – and the perfect setting for some wedding photos. As we watched the glamorous bridal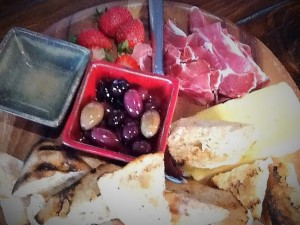 party gather round a long refectory table, we were offered some lovely platters of antipasti – olives, prosciutto, grilled bread – and sat back comfortably to watch the wedding show and sip the wines.
The Publishers Hotel boasts an extensive selection of boutique wines. The official wine list is international, but the wines we were offered were mostly South Australian barring one New Zealand Sauvignon Blanc. From a choice of four, I willingly paid for a meal in a glass: a rich, fruity, delightfully full-bodied Dolcetto from Heartland at Langhorne Creek.
Dolcetto is a dark-skinned wine grape from Piedmont in northwest Italy, where it is apparently considered of lesser consequence than the more popular Nebbiolo and Barbera. However, it has travelled well to Australia, where it is popular for making into wines that are intensely flavoured and oaky, high in alcohol and low in acidity. For me, it was a top choice.
I then wandered, glass in hand, past the long bar, past the bride and her clutch of bridesmaids, and up some steps at the back, to peek into the restaurant and sneak a look at a menu brimming with hearty, mouthwatering dishes, predominantly seafood and game (spatchcock and quail, venison and kangaroo). The whole place was rather quiet so early in the evening, despite a large bunch of wine tourists and a bridal party (no points for guessing who was louder), but I suspect it has a great atmosphere late in the day.
We eventually left the bride and groom to their somewhat subdued celebrations and headed onwards, ducking down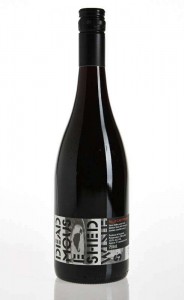 a side street filled with sleek bridal cars to Waymouth Street, where Anna turned right and led us down a narrow alleyway opposite the Adelaide Advertiser. Press* food & wine is a tall, thin building, with a wooden staircase leading up to a glorious little roof top patio, where I sat peacefully and sipped upon a rather perky rosé. Before we were allowed upstairs, however, the barman gathered us around a corner of his cozy little bar to talk us through a Cabernet Franc from the rather off-puttingly named Dead Mouse Shed – a special little number from a Yarra Valley winery called Denton View Hill.
Cabernet Franc is a black-skinned, cool climate French grape variety grown in many wine producing nations, and most commonly used in blended red wines, where it adds accents of tobacco and dark spice. Alone, this Victorian red it is a light to medium bodied wine, full of blueberries and lots of tannin, a fresh drink-me-now wine that someone described as 'a really short trip.' It has been reviewed favourably, and indeed was resoundingly approved by our group, despite its strange name. And apparently it is even better chilled.
We would happily have taken root on the rooftop on that warm summer evening, but Anna had other plans: we had one more bar to visit, and – apparently – it was one I would know. Despite the tip-off, my brain was now feeling pleasantly fuzzy, so it was not until we were standing outside the door of The Apothecary that the penny dropped. Anna and I had visited this unexpectedly classy bar at the bottom end of Hindley Street (literally and figuratively: Hindley Street has been notoriously insalubrious fro decades) on a previous visit.
The Apothecary 1878 Wine Bar & Restaurant opened in December 2002 in a heritage listed building and describes itself as "a true incarnation of a European-style wine bar." Unlike The Publishers, it has never actually housed an apothecary business, but has been named for the antique pharmacist's dispensary that graces the front bar of this elegant venue. The story goes that it was discovered at the back of an Adelaide antique shop, buried in dust. Originally imported from London, it is made from mahogany, with crystal drawer handles and gold leaf inscriptions. The whole venue has been recreated as something of a period piece, with marble floor tiles, solid marble and brass tables, antique chaise longues… and, in a cellar with arched ceilings and open brickwork reminiscent of the underground restaurants of Prague, there are hundreds of wines stored behind beautifully intricate wrought iron doors.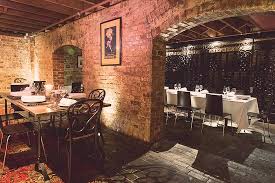 We gathered in an intimate little room above the bar for our last glass of wine together, no one keen to be the first to leave. I chose a Barossa version of my favourite red blend: a 2014 Grenache Shiraz Mourvedre from Sons of Eden. The KENNEDY is a classic blend of old vine Barossa Grenache, Shiraz and Mourvedre varieties, and is named in honour of the family who tended those old vines for decades. Its colour and aroma is black cherry with a hint of plum, spice and apparently even licorice (I didn't pick that one). The taste was more blackberry and spices, and soft tannins.
Anna and I had planned to join her husband for dinner, and we were delighted when three of our walking companions wanted to join us. So we hot-footed it down Hindley Street, armed with a couple of bottles of Rockford's delectable Alicante Bouchet Rosé (whose good idea was that?), to the Jerusalem, an old favourite from University days and  still there after all these years.  There we ate too much, while attempting to engage the very dry, very dour waiter, who may have seemed a little morose, but kept us happily eating for hours, and told me, sourly, not to leave it another thirty years to return.
All in all, it was a terrific afternoon's entertainment, and a great chance to discover new places in Adelaide. Anna's friendly, casual but knowledgeable approach – and her amazing memory for names – made this a really cohesive tour group. We all got to know each other, and had a fabulous evening. I could only wish the tour had been twice as long. But maybe, now I have spilled the beans, there will be plans afoot for a new secret tour I can try next time..?