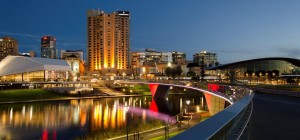 After two entertaining, fun-filled evenings with Foodi tours in Adelaide, in parts of town I barely knew, I was inspired to create one of my own, and take the kids on a progressive dinner before I left town. Given that it was a Sunday evening – usually an extremely quiet time in Li'l Ol' Adelaide –  I wasn't sure what we would find open, but there were enough, and the uncertainty made our discoveries all the more exciting.
We set out early, on this balmy summer evening, to meander along Hindley Street, before turning up Leigh and weaving our way back down Peel. Both these back lanes have been refurbished and gentrified in recent years, and both are looking much better for the facelift.  The first place we came across with an open door was "La Rambla," a converted, bluestone warehouse, with high, beamed ceilings, a mile-long bar and dark wooden floors.  It was a good spot to begin our moveable feast. We ordered a small selection of tapas, a beer and a couple of mocktails. The mocktail was, unsurprisingly, too sweet for me, but I had helpers at hand.
Our waiter was young, friendly and enthusiastic, and we wisely took his advice on the chorizo cooked in red wine. If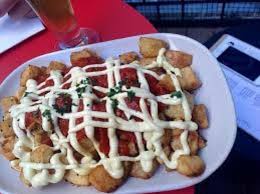 you remember, my last experience here included a thick wedge of decidedly dry fried sausage of which I was not enamoured. This was a different kettle of fish altogether, rich and moist and flavourful and absolutely delicious. We might have fought over the last two pieces, but two of us had moved at the speed of sound, and they were gone before the rest could blink. Ah well, there were other things to come. A flamboyant creation of brie and jamon on toast, with a dash of rocket went down chewily to mouth-filled mumbles of delight. The patatas bravas, however, was my favourite dish, and as good as anything I tasted in Madrid, if not better, generously doused in mayo and chilli sauce. And we were most grateful for the huge serve, as it proved popular with us all.
Across the road was an interesting looking place I had noticed the week before: a covered alley with café tables, and the tempting sign "Maybe Mae." Last week a bridal party had teetered out of gorgeous vintage cars, and disappeared, on wobblingly high heels, down that alley. This week it was out turn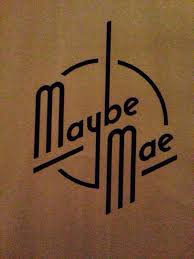 "Maybe Mae," once an RnB night club, is now an opulent, retro bar, hidden – like a Prohibition speakeasy – in the basement below "Bread & Bone", the door secreted in wooden paneling at the bottom of a broad staircase. Inside, we settled into an extremely comfortable, curved, deep green leather banquette. Mirrors on the walls have been framed to look like windows, so that I kept glancing out and being surprised to see my own reflection. We sipped on Hendricks and tonic with a long, curling strip of cool cucumber.
The subdued murmurs from other corners of the room were a far cry from the harsh rattle and clatter of those sparse modern restaurants of sharp corners and polished concrete, where every sound is multiplied a hundred fold until your head rings. Here is an old fashioned world of assignations and quiet, whispered conversations … and carpet!
A bar man wanders over to joke with the kids, as we nibble on nuts'n'bolts, a long-forgotten snack my grandmother discovered she could make from Nutri-Grain, curry powder and peanuts. As a recipe that didn't require her to boil the saucepan dry – always a bonus – it was also the perfect snack for her endless bridge parties of gilt edged cards and brimming ashtrays, colored glasses and those dainty wee pencils I wanted for my dolls. My daughter had never seen it before, and was delighted to discover it was actually 'a thing' and crunched away cheerfully on this glorified breakfast cereal.
Back up the stairs and along the tiled white tunnel between Leigh and Peel Steets, we passed "Casablabla" which I would love to have visited, if only for the name, but my daughter assured me that it is simply confused, with a random collection of memorabilia from Morocco, India and South East Asia that somehow doesn't quite gel. Anyway, it was closed, so we headed west down Waymouth Street in search of the "Grace Emily."
Waymouth street has smartened up a lot since I used to wander down to my husband's office on Light Square. The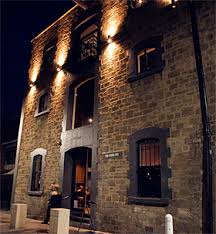 west end has become quite a happening locale, apparently, dedicated to the UniSA students who dwell on the West End campus. Cafes and noodle bars, refurbished pubs, a YHA that looks nothing like the cheap and dingy dives I would reluctantly rely on during my European adventure in the 80s. Light Square still sports the odd adult shop, but the park itself is kempt and cool, a nice spot to pause for breath. On a hot afternoon earlier in the week, I had passed a man who lay snoozing beneath a tree, his hat over his eyes, his sleek and shiny Alsatian stretched out beside him.
Eventually, we reached the Grace Emily, which I was surprised to discover was actually an old pub. And it is like stepping back to an earlier era, when pubs were all dim, gloomy, musty and dusty, smelling of stale beer and damp carpets. The Grace Emily has reputedly been a top hangout for musicians for years, and I think I was expecting something reeking of koolness and character rather than rising damp. But not so much on a Sunday night, it seems, when there is no music, very few customers, and a rather seedy vibe – although the boys thought it was fabulous, and promised themselves to come back another day. By which time, I was back out on the street…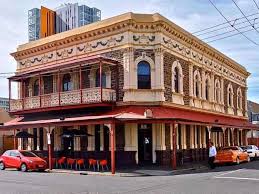 From the old-fashioned Grace Emily to the Cumberland Arms – the "Cumby" – an inn exhibiting an impressive blend of historic charm and modern makeover, and giving off a far more welcoming vibe than its neighbour. Wandering down the passage past dining rooms, bars and lounges, and a smattering of pokey machines, we found our way to the big bright beer garden. Here we could choose between tall stools at high benches or wooden banquettes against the back wall. Cushions might have added a touch of comfort to the general outdoor austerity, but we were happy enough, watching the last of the day's tennis in Melbourne on a large but surprisingly unobtrusive screen above the bar. The dull thud of tennis balls accompanied the soft, almost whispered voices of the commentators, as we ordered a mouth-watering marinated lamb pizza to share and a couple of pints. The stars in a velvet blue sky competed with strings of bright fairy lights…
And then a gentle stroll home: back across the river that was calmly reflecting the lights from the curved and stylish pedestrian bridge opened almost two years ago, designed to usher sports fans across the river from the railway station to the gleaming spaceship that is the new Adelaide Oval. Down along the river bank, the scent of eucalyptus was heavy in the air, while the final, sunset chirrups of birds coming home to roost held echoes of The Waltons "goodnight John-boy, goodnight Pa, goodnight Mary-Ellen…"  Goodnight Adelaide.\
*With thanks to Google Images for providing the photos