I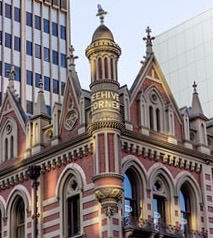 t is twenty-five years since I last lived in Adelaide for any length of time. So this summer, it was fun to head back for a couple of months and set up house near the city. From there, I set out on a voyage of rediscovery…
And what a change there has been in the city centre in the last few years. Restaurants and cafés abound, in an amazing range of culinary variation. I remember when the Phuket opened in Glenelg, one of the first Thai restaurants we had ever seen, and we didn't know how to pronounce it.
Now you can choose between Nepalese and Vietnamese, Indian and Italian, Abyssinian and Afghani, to name but a few. With so many options, it is hard to know where to start. Thus, on a random Saturday afternoon, when the summer heat had quietened down to a sedate 28'C and there was a cool breeze to dispel any latent humidity, I decided to take advice from the experts, and booked myself on a walking tour of Adelaide's hidden flavours.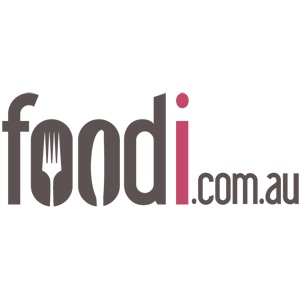 Foodi is running tasting tours in most capital cities – apart from Canberra and Hobart – that range from craft beer to wine, chocolate to high tea. Being more inclined to savoury options, I decided on the Night Safari, encouraged a friend to join me, and put on my walking shoes. It turned out to be an excellent plan.
We were invited to meet outside Haigh's chocolate shop on Beehive Corner, that historic landmark on the junction of Rundle Mall and King William Street, and a popular meeting spot for over a century. Here we were mustered by our tour guide, Anita. A passel of food enthusiasts, local and not-so-local, we followed her willingly, our own Pied Piper of Hamlin, through the back streets of Adelaide, eager to uncover some unknown eating places, to savour samples of their menus and possibly indulge in a cocktail or two.
So, ready, set, go, and we were off down Hindley Street, long infamous for its seedy night clubs, but quickly gaining ground on the foodie map of the city. It seems the city council has focused on giving the area a much needed facelift, and many of the narrow back lanes now house some alluring new watering holes and 'greasy spoon' cafés.
While an early-morning-after-the-night-before can still look fairly ordinary and uninviting on Hindley Street, the likes of Peel Street, Bank Street and Leigh Street have improved beyond recognition, and have acquired a really cool vibe, particularly on a Saturday night.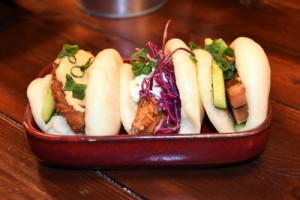 We joined the weekend crowds and headed west. As we turned down Bank Street, Anita explained seriously that our first stop was McDonalds. Thank goodness she was joking! Instead, we wandered a little further down to a great little Vietnamese café, "Sit Lo." Here we perched on leggy stools at a long bar that stretched down the centre of the café. The walls were decorated with bicycle wheels, while the counter top sported toy models of those quaint Vietnamese bicycle rickshaws. We waited eagerly to taste test some fresh bao, shorthand for bánh bao, which are similar to the Chinoy siao pao popular in both China and the Philippines. Bao are hand-sized pockets of freshly made, soft, squidgy steamed bun, with a choice of fillings. The "Sit Lo" chefs offer a sophisticated fusion version of this simple Chinese street food: fried chicken with coriander and chilli mayonnaise; pork belly with hoisin sauce and pickled cucumber; crumbed, soft-shell crab served with coleslaw and a dill mayonnaise. As we could only have one each, I chose the crab, which was fab. But I will to go back and try the rest. They all disappeared with alacrity, and barely a murmur of conversation could be heard.
A few steps away, we stopped again outside a Malaysian roti bar, "Mamak Corner". Mamak stalls are well known in Malaysia, where they are home to this highly popular Indian Malay street food. Outside the cafeteria, Bank street has been lined with outdoor seating (referred to as "parklets") which would have been a nice place to dine, but a stiff, cool wind sent us fleeing indoors, where we set up camp to share platters of freshly made, warm roti chanai, flakey and soft, dipped in a mildly spicy dhal or a sweet sauce, depending on your preference. This was accompanied by a cup of hot tea, strong, bright orange and frothy, from a hefty splash of aerated condensed milk that diluted the heavy tannin flavor to good effect. I am not normally a fan of this south Asian variety of black tea, but in fact it was surprisingly easy to swallow, lighter and far less saccharine than I would have imagined, And, as Anita promised, it actually made a good accompaniment to the dhal.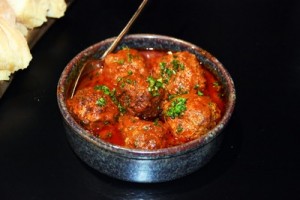 When the platters had been wiped clean, we moved on to Peel Street, where we located a Spanish tapas bar, "La Rambla", in an attractive, nineteenth century, three storey stone building. Here was our first opportunity to add alcohol to the mix, and some new friends from England we met on the tour were more than happy to share a carafe of white wine sangria with me. It was refreshing and fruity, but I have to say, for the price, the bar staff were hardly liberal with the wine – more orange juice with a hint of grape – which made me a little peevish for $30. Still, we managed to empty the carafe in short order, while we nibbled on Catalonian tapas – chunky wedges of fried chorizo and sautéed garlic prawns – dipping slices of soft fresh bread enthusiastically into the oil at the bottom of the dish.
Dodging a clutch of beautifully elegant bridesmaids and some glorious, beribboned, vintage cars the colour of clotted cream, we headed south to Waymouth street where Ragini Dey of the renowned Indian restaurant "The Spice Kitchen" has recently established "Naya," a dashing little Indian fusion tapas bar and restaurant, where the tables had been garnished with copies of Ragini's cookbook, the eponymous 'Spice Kitchen', and packets of her own spice mixes. Here we compared notes on our curry making skills and nibbled on some rather uninspiring fermented rice and lentil pancakes topped with sweet potato, known as rosti upatham. Rather more popular was a platter of tasty and a bit-bigger-than-bite-sized butter chicken samosas – as I discovered when I indelicately put a whole one in my mouth and then struggled to chew. Moreish and mildly spicy, I washed mine down with a glass of sparkling wine, and quickly recovered my equilibrium.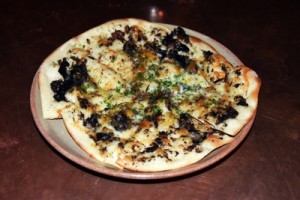 Our last savory stopover was a recently revamped corner café, the rather swanky "Delicatessen, Kitchen & Bar" directly opposite the Advertiser (our local newspaper), so presumably it's pulling in a reliable clientele of hungry journos. Despite the German name, apparently the menu is strongly influenced by French cuisine. Nonetheless, we were offered strips of hot, crunchy pork crackling (cholesterol free of course), served like cheese sticks in a glass, and another pizza-like arrangement of gruyere and truffle, seated at the long bar or at tiny round tables. Eventually, feeling a little tight around the tummy region, we were grateful for the opportunity to stretch our legs as we headed for the eastern side of town, to Rundle Street, where we landed up at "Steven ter Horst," a trendy little artisan chocolate shop, now more than ready for 'dessert'. There we perched at yet another high bench – like an altar – before a display cabinet full of luxurious looking chocolate morsels.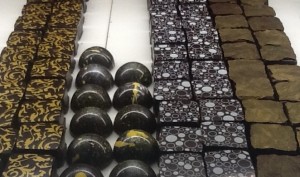 We, however, were served up a veritable slab of chocolate torte, a weighty and luscious ganache on a wafer thin base of almond praline. And it was superb. And it was gone. I may even have licked the plate.
Supercilious eastern states visitors might forever belittle Adelaide as an undersized, uneventful city, but they would be wrong. I went on a foodie tour of Adelaide. And I travelled the world…