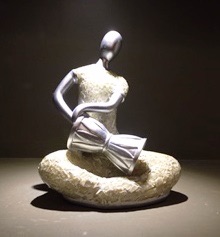 India has held a place in my heart since I was a child. My father returned from a business trip to Delhi when I was about seven with an Indian doll and a glorious picture book that would inspire my imagination for years with its images of dark eyed, dark haired Beauty clothed in gold and kohl and the vibrant, shimmering, swirling colours of tactile, fairy tale gossamer fabrics. It was a different world, lush and luscious as its cuisine, with its scented, resplendent, decadent, transendent culture. Years later, in my early twenties, I arrived in Delhi with a backpack, a boyfriend and a budget of about $5 a day. The reality proved daunting: the sheer volume of people, traffic, sounds, smells and images, with no way to turn it down.  And yet I will return…
In the meantime, on a whim and a tip from a friend, we decided to walk down to the northern end of Makati Avenue last weekend to try out a new neighbourhood curry house. The walk was not unlike my first impressions of India.
We trudged along Kalayaan Avenue in single file, dodging parked cars, pot holes, and threadbare dogs. Scaffolding often blocked the narrow footpaths and rubbish cluttered the gutters. Aromas, good and bad, lazed heavily on the humid air, barbecues and drains intermingling. Unlike the more hygenic but slightly sterile streets of Rockwell, these narrow, cracked lanes teamed with life. Pixie-sized children in second-hand sports kit and bare feet scuttled through the traffic to beg with woebegone faces from the tourists  who glugged beer at al fresco bars under flashing neon signs. Wealthy locals block the way with their monstrous funereal cars. Taxis catapult themselves up Burgos Street, playing dodgems with the pedestrians and any other vehicles that defy their desire to be first to the traffic lights.
Out on Makati Avenue, jeepneys drive haphazardly down the dotted lines, swerve across lanes, stop unexpectedly to disgorge passengers. Taxis weave round them, tooting fiercely, oblivious of how or why to use indicators, or even that they possess such a radical driving tool. Traffic wardens risk their lives in the centre of crossroads, flapping Mickey Mouse gloves at the traffic, almost invisible in the dusk in their dark uniforms. Pedestrians surge like a river along the narrow footpaths, flooding out across intersections, heedless of cars and trucks and buses, an undammed force, an irrepressible tide of bodies. Food stalls cling to the narrow strips of footpath, their owners touting enthusiastically for business with eager cries of "Ma'am-Sir" as we pass.
And then we turn the corner and step through the door of a brightly lit building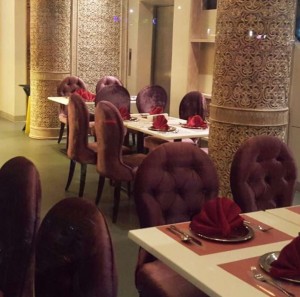 opposite a weekend market, and the world shifts. The noises dim, the air cools and the unquenchable, almost acrid odour of palm oil and smoky barbecue is replaced by the equally pungent scent of Indian spices.
Rich by name and rich by flavour, The Royal Indian Curry House on General Luna is the latest Indian experience in Manila, and it is magic. It has only been opened a few weeks, but it is already filling up with keen diners, including many Indians – always a good sign – and the chef is serving up some amazingly robust dishes, heavy with flavour and fragrant aromas.
The tall, narrow building consists of a restaurant on theground floor and mezzanine, a second floor sports bar and there is talk of a third floor lounge. Fresh, kempt, bright and well-groomed, the dining room emits a warm, welcoming atmosphere. The décor is light and modern:  trunk-like pillars cloaked with intricately carved wood that looks like soapstone; deep pluoôîm coloured upholstered chairs; an ancient, pitted wooden door hangs on the wall like a painting; three simple statues grace a small alcove above our table.
We are greeted by half a dozen staff members bearing big smiles, and ushered to a table in the window. Within moments we are joined by a basket of unexpectedly spicy pappadums curled into cones and a selection of dips: a mint chutney, a tamarind sauce and a killer chili dip. We have reduced them to a scattering of crumbs before our friends arrive. We order a re-fill and a square pan of deconstructed vegetable samosas (samosa chaats) topped with yoghurt, tamarind sauce and mint chutney. They are reminiscent of Mexican nachos, but taste much better. We also order a large platter of mixed vegetables to ward off starvation while we carefully study every page of the lengthy menu for more. If we were wise, we would stop here. We are not wise.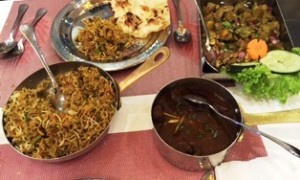 The vegetables are a mix of simplicity and surprise, whetting our appetites and delighting our already watering mouthstaste buds. Our vegetarian friend takes charge, and we are soon devouring creamy dahl and malai kofta with buttery naan.  The One & Only selects just one meat dish to indulge the carnivores, and our waiter recommends the chef's special chicken dish to good effect.
The menu is poetry, a litany of exotic names, some we know, many new to us: pakora, samosa and martabak; kolkote and mommos; sharaabi chana; pani puri; vindaloo and biryani; rogan jhosh and buttered naan. The culinary influences are multi-cultural: Northern Indian, South Indian, Nepalese and Rajasthani, Tibetan and Afghani – we even notice a smattering of street food. We savour only a small selection from this generous offering, but I am already anticipating many happy return visits to extend our repertoire.