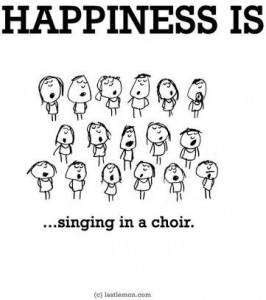 I love singing, particularly at Christmas. It lightens the heart and puts a smile on my face. So when I arrived in the Philippines and discovered there was a choir I could join, I jumped at the chance.
Asia Minors is a singing group that was established in Manila in 1973 by a handful of Canadian expatriates. Originally it was quite a difficult club to join. Highly disciplined, the list of rules and regulations included the ability to read music and the need to audition. There was also a strict expectation that members would attend every practice, twice a week. For over twenty years, Asia Members required their members to play the guitar as well, as the group had neither piano nor pianist. The first Asia Minors pianist was Lisa Hollins, who joined the group in the 1990s.
Today, with the comings and goings of the expatriate community, most of us have sung with the Asia Minors for only a handful of years. Three singers, however, can count their membership in decades. Carole Tagle, Jenny Wallum and Heather Price have sung with the group since the time they used hand-written song sheets, and devised their own harmonies. Last Friday morning, as we gathered to rehearse for the festive season, Carole, Jenny and Heather, reminisced about some of the highlights of their years of performing with Asia Minors.
Carole joined up about thirty-five years ago, about the same time as the American Women's Club of the Philippines was founded, when AWCP President, Joanne Kelly, led the Asia Minors as well. Carole was surprised she was allowed to join, as she couldn't actually play the guitar, but nonetheless her voice was obviously a welcome addition to the group.   Back in the day when expat spouses were not able to work in Manila, and there were far fewer social groups, the Asia Minors were able to practice twice a week, and would also perform regularly at private houses, embassies, ladies luncheons, even once for the celebrated Concerts in the Park at Paco.
Numbers did – and still do – fluctuate as singers come and go from Manila. And it has always been a truly cosmopolitan membership: English, Malaysian and German, Indonesian, Indian and Vietnamese, Canadian, Korean and American, Japanese and Filipina voices unite in the joy of singing.  This year we have been joined by a Slovakian singer. The music we choose to sing is also very cosmopolitan, representing song-writers from all over the globe.
For the past few years, Yvonne Parkes led the group with infectious enthusiasm from her home in Dasmarinas. Since Yvonne left Manila last year we have been joined by our first professional choir mistress, Phoebe Bitoon, a diminutive Filipina with a beautiful, unexpectedly imposing voice. (Her rendition of Autumn Leaves at our Christmas party was truly a joy to hear.) Asia Minors perform for friends and family twice a year: at a potluck dinner before the Summer break in May, and again in December when we join forces with the Manila Play Readers to double the entertainment value. And we also perform for a selection of festive lunches around the city.
Jenny and Heather remembered a time when the group sang at the Canadian Ambassador's house, only to discover that renowned Filipino singer-songwriter Jose Mari Chan was in the audience. Much to their delight, he later came over to chat with them. Carole described a rehearsal in an apartment on Roxas Boulevard when an earthquake began an unexpected accompaniment and had them all singing 'vibrato,' while one member was throwing up in terror.
And they all laughed about the time Asia Minors tried to record a tape of their performance, in a recording studio so heavy with damp and mildew that nobody could sing properly. The result was, apparently, quite dreadful. Heather's favorite memory was about the time they joined the Manila Hand Bell Society. Together, they performed a beautiful Robert Frost poem 'Stopping by the Woods' that had been set to music. She told us us that "it gave me goosebumps every time we sang it."
These days the group rehearse every Friday, and no one needs to play the guitar as we have our own talented pianist, Mio Ishida – although we occasionally add percussion as required. For the festive season this year we have been singing a wide range of songs including 'Walking in the Air,' that beautiful theme song from the animated film The Snowman; a locally inspired version of a 1930s American song 'A Winter Wonderland,'and a 16th century German carol 'Es ist ein Rose entsprungen.'
My own favourite moment? Persuading a reluctant choir to sing that much loved Australian Christmas Song 'Six White Boomers' for which some of us wore antler headbands and tried to persuade our audiences to join in.
Singing: it's more fun in the Philippines!
*First published in the ADBSA Newsflash