Tucked away down a dark alley off Federation Square prolific with graffiti, is Movida. This trendy tapas bar is the brain child of Spanish born Frank Camorra and his business partner Andy McMahon. It spent its first year in a pub on the city fringes before moving to its central location on Hosier Lane in 2003. For over a decade now it has been touted as one of the best dining experiences in Melbourne. And these days it is no longer an only child, but part of a growing family that includes its twin, Movida Next Door (quite literally), a small sister at Tullamarine airport, and a brother in Sydney's trendy Surry Hills.
Frank Camorra has also co-authored several cookbooks, with writing partner Richard Cornish.
I met Richard, clutching their latest addition to the Movida Library, 'Movida Solera,' last May at Madrid Fusion Manila. So when I was planning a night out with a girlfriend in Melbourne recently, I grabbed the opportunity to meet the food behind the recipes. I have also taken the opportunity to give Richard the Spanish Inquisition about his involvement in the cookbook process.
"I am good mates with David Mackintosh… one of the major driving forces behind Movida. He had a team who had a venue but no chef. He searched the newest and the best around Melbourne and around 15 years ago there was a young Spanish bloke who had worked with Guy Grossi and had returned to his home in Spain. That was Frank Camorra. David put Frank and the team with a venue together and Movida was born… In 2007, David suggested we do a Spanish book. I broke Frank's stories and recipes into chapters and we approached a publisher. Since then we have sold almost 100,000 books."
It was not an area Richard had worked in before; his back ground is TV and papers. He told me, however, that "I know how to reverse engineer a process."
'Did you get to travel to Spain with Frank Camorra to collect the recipes?' I asked him.
'God yeah. It's the reason you do the books. There's no money in books. To throw yourself into another culture and another language and learn it through the benign filter of food is a gift.'
Did he, I asked, have any good stories to share from that trip?
'Meeting the nuns. Meeting the cheesemakers. Meeting the Gypsy singer. All by chance. The best story was in Sierra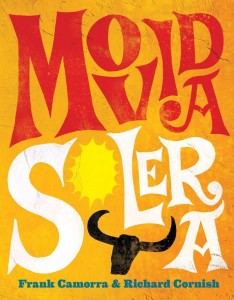 de la Franica about two hours west of Madrid. Traditionally [it's a] poor area. Frank was walking ahead down a cobbled street in a small village following his nose. He darted down a stairwell and ended up in the kitchen of a former Michelin starred chef. He [the chef] was preparing lunch and was braising leeks in butter. (Odd that there was no meat in this dish but this town had a long history of being very poor.) We were early, so we waited in the dining room cum household living room for lunch service. Another man in the room, an old man, came over. He had just a few teeth, ruffled hair and sagging trousers. "Are you the Swedish journalists," he asked. "No, we're the Australian food writers," we replied. He darted off and reappeared 15 minutes later with brushed hair, braces supporting his trousers and his false teeth in. "My name is Fausto," he said formally. "I am a food philosopher." For three days he took us under his wing and showed us the food of the region and told us the history of Spanish food. It was an amazing and serendipitous experience.'
Back in Melbourne, on an unusually warm September evening, Richard very kindly arranged a space for us at their long bar in the original Movida. (Not a simple exercise on a busy Saturday night with only a few days notice. I recommend a little less spontaneity to be sure of a seat.) The front door opened into a hive of happy diners, the enthusiastic buzz and bustle almost palpable. Divested of coats and bags, we settled at the bar, to be greeted enthusiastically, almost instantly, by the bar staff, who made us feel like old friends.  And even as my dining partner was voicing her wish to start the evening with bubbles, a glass each of icy cold sparkling wine was handed across the bar.
Anticipating our every need, the champagne was followed by an introductory plate of Cantabrian anchovies on toast, with a tomato sorbet (hand filleted artisan anchovies of course, and a sophisticated smoked tomato sorbet). Starting to feel like movie stars, we perused the rest of the menu, bubbles in hand.
La Movida Madriena was a cultural revolution that began in Madrid in the 1970s and spread across the Iberian Peninsula. Based on freedom of expression, it gave birth to a new permissive, hedonistic Spanish society, a far cry from centuries of gothic Catholic oppression.  Movida, this welcoming, winsome bar of the same name reflects that sensuous, self-indulgent liberality in every mouthful.
Unversed in Spanish wines, we were more than happy to be guided by our well-informed waitress, who confidently recommended an excellent red, as well as suggesting a couple of tapas dishes we had initially overlooked, and introducing us to the specials.
Grazing on tapas is always my favourite way to eat, and the dishes just keep piling up on the bar in front of us. It was a stunning array of culinary creativity, distracting us from our conversation: lightly fried, quietly crisp Jerusalem artichoke croquettes; delicately flavoured quince paste and goats cheese 'cigars' or quesos; alcachofas (a mouthwatering confit of baby globe artichokes), and caballa ahumada, Spanish mackerel with a pine nut Gazpacho sorbet that literally smoked as Renee took off the lid. There was plenty of conversation to attend to between glorying over each item on the menu, so we sadly missed out on the last serve of duck, but as you can see, we were not otherwise deprived.
At any other restaurant, the food may have passed us by unobserved, while we talked nineteen to the dozen and caught up on five years of news. Movida dishes, however, are no wallflowers willing to be overlooked, and rightly so. Refusing to be marginalized by girly gossip, be it ever so juicy, every platter elbowed itself into the conversation, determined to override the torrent of chatter and be noticed. We willingly obliged, and drew a halt to proceedings as we savoured each delectable, unusual, innovative mouthful.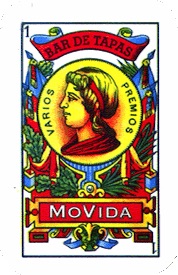 Here is a rare restaurant that makes you, the diner, feel really special.  The staff obviously cares about the customers, and enjoys looking after them, keen to ensure they are given the best possible experience.  This is a restaurant that seems to go from strength to strength and never flags. The reason? Richard believes, simply, that "Movida over-delivers on expectations." Or as the website says: "Our aim is to capture the vitality and spirit and Spanish dining culture but making it suit the place where we are. We avoid pastiche and stereotype and embrace authenticity. Ultimately we love to make people happy with really delicious food, good drinks served by staff who are good at their job and know how to have fun.  "
And with a fabulous menu that has already earned a chef's hat in the 2016 Sydney Morning Herald Good Food Guide Awards how can you go wrong? And now, I think, I am off to write a cook book…
*First published in ANZA News, November 2015. Photos care of Google Images.