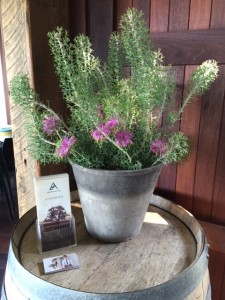 Adelaide, South Australia, where the Adelaide plains stretch like starched sheets north and south along the eastern edge of the Gulf of St Vincent. Fifteen kilometers inland they start to wrinkle into the foothills of the Mount Lofty Ranges, which rise up to their highest point at Mount Lofty, two and a half thousand feet above sea level. From this not-so-mighty peak, the ranges reach out across South Australia for almost two hundred miles, from the southern tip of the Fleurieu Peninsula all the way to Peterborough in the north. They also clamber east towards the Murray River where they are ironed out again to roll smoothly, unhindered by more than a mild bump, to the Victorian border.
Mount Lofty is encompassed by a bountiful, beautiful region commonly known as the Adelaide Hills, which has become renowned for its wineries, microbreweries, cheese makers and craftsmen. Apart from the freeway, which cuts a broad swathe, west to east, to touch down at Murray Bridge, the Hills region is an often perplexing maze of narrow, winding roads through valleys and hills, dipping and twisting round eucalypts and wattle trees, vineyards and orchards, through deep cleft gullies covered in thick bushland, round cow paddocks and conservation parks that are home to many native animals, including koalas, kangaroos and the blue-tongued lizard.
It is also home to a rather gorgeous new restaurant.
The Mount Lofty Ranges Vineyard is a boutique winery in Lenswood, just five miles shy of Lobethal, a Hills town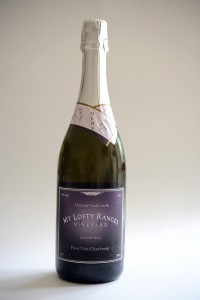 famous for its Christmas lights and cottage industries. Originally an apple orchard, this steep, rural 25-acre property was reborn as a vineyard in 1992. Too high in the hills to accommodate the more common South Australian Shiraz, the vineyard's range of cool climate wines includes Sauvignon Blanc, Riesling, Chardonnay, Pinot Noir Rose, Pinot Noir and a Methode Traditionelle sparkling wine – heaven and the French forbid we should call it champagne. In good hands, MLR Vineyards have recently begun to acquire a generous collection of awards, including a gold medal last year for the 2014 Riesling at the 2015 Australian & NZ Boutique Wine Awards and a number of James Halliday stars – accolades indeed from a highly respected source.
After a long and winding drive up through Uraidla and Forest Range, we finally pulled up on the side of a quiet back road, thickly lined with gum trees, uncertain whether we had hit the right spot. An unobtrusive sandwich board assured us we had arrived, and we wandered down the drive towards a modern, barn-like building of corrugated iron and recycled timber, attached to an old stone cottage.
Partners Sharon Pearson and Garry Sweeney discovered this hidden treasure of a winery half a dozen years ago, finally completing their own long and winding journey to find the perfect property on which to realize their dream of creating premium cool climate wines. It is a far cry from the media career in which Sharon immersed herself in Sydney for thirty years, but it is only a stone's throw – in Australian terms – from her roots in Murray Bridge. Both owners welcomed us warmly to their new restaurant and paused intermittently throughout the afternoon to chat with us about their experiences.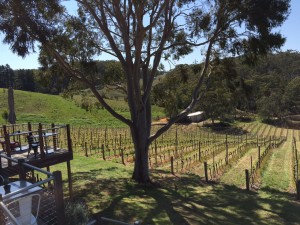 The bar and restaurant area is light and airy, yet intimate. Local art graces the walls. An open fireplace – an unnecessary accoutrement on this first hot day of spring – squats cheerfully in the middle of the dining room. Glass doors are peeled back to reveal  layers of wooden decks, where wooden tables overlook steep hills, the foremost strung with row upon row of neat green grape vines like fairy lights. Centre stage looms an enormous silver gum tree, standing guard over the vineyard and the rolling, rumpled hills.
Until recently, the MLR Vineyard used to serve simple cheese platters and gourmet pies to wine tasting enthusiasts who had found their way to this secret little nook. One such visitor was so delighted with the winery and it's glorious location that he asked to join the team. Local chef, Matt Fitton, until lately sous-chef at The Playford, felt the winery would be enhanced by a fine dining restaurant. He shared his ideas with Sharon and Garry, and within months they had succumbed to his enthusiasm and opened the restaurant.
Matt is a johnny-come-lately to the culinary world, but he followed his dream and has already made a big impression. He won Restaurant and Catering's Apprentice of the Year for 2013 and followed up as a finalist in the 2015 Electrolux Appetite for Excellence Young Chef Award. Not bad for a young man who used to work in the bottle shop of a busy pub in Kensington. Matt's menu for the MLR Winery combines both artistic talent and culinary skill. Making elaborate use of seasonal, local produce, Matt creates eye-catching dishes full of flavour, texture and colour.
Seated out on a broad wooden deck that hangs precariously out over the crest of the hill, we soaked up the scenery and a first glass of wine before turning to the menu. The menu is short but sweet, and the limited choices meant we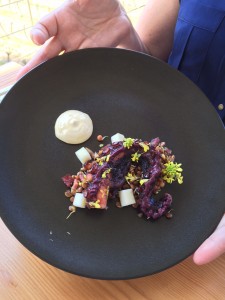 could order everything on offer. We divided the entrees and the main courses without any arguments, claiming one each, but agreeing to share.
My octopus, both braised and charred, was a delight: a fat, luscious tentacle, curled artistically across a bed of sprouted lentils and diced olives and perfectly cooked – al dente with not a whiff of rubber, and lightly blessed with delicate yellow flowers.
Our guide – and my oldest friend (OF) – chose a slow-cooked duck egg, which boasted a yolk like a golden orb to thrill the eye and the taste buds. It was served with tender diced asparagus and a smattering of nuts and grains to add a lovely touch of grittiness to each mouthful. It was garnished with 'floss' which I later discovered was not related to dental hygiene, but is a popular dried pork product – rousong – used in Chinese cuisine as both a topping and a filling, and is textured like coarse cotton candy (fairy floss).
Our older son (OS) and budding connoisseur of all things edible settled on the raw beef – carpaccio Australian style, the plate splashed with raindrops of green rocket purée and wild garlic that caused a wasabi-like gasp. Cured egg yolk was, oddly, crumbled over the top, looking like wattle blossom had fallen on the plate. I don't know that it added to the flavour, but it certainly added glamour.
The One & Only gallantly took on the charcuterie board: a generous spread of his favourite salamis, a rich and delicious homemade pâté and a quenelle of seeded mustard, which we were more than happy to help him with.
The menu kindly provided recommendations for matching wines, but having discovered the winery's 2013 Chardonnay, we looked no further, especially as it came highly recommended by both Sharon and her smiley assistant. With its light but not lingering hint of wood and a delicate note of citrus, it was perfect on a warm, summery afternoon.
Our main courses proved equally satisfactory. Artfully presented, each dish was a joy to the eye even before the food reached our taste buds, where it was also well received. And Matt, had amused himself – and us – playing around with some traditional dining options.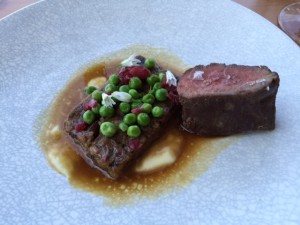 Roast pork was exchanged for a sous-vide pork loin. Sous-vide is a French term for steaming food in airtight bags, low and slow, so the meat is cooked evenly throughout, while remaining amazingly moist. It was served with fried sprouts and braised chard (that leafy green vegetable long popular in the Mediterranean), and enhanced by quandong, a small, uniquely Australian stone fruit with a rhubarb-like tartness, which usurped the more traditional pork-and-apple-sauce combination with glee. This dish was a firm favourite with the OF and the OS.
'Tatiara" proved to be the name of the meat purveyors rather than the name of the sacrificial lamb, and Australia's largest exporter of meat. Luckily for us, some of it had found its way to lunch. Cooked to a tender, melt-in-the-mouth medium rare, this shoulder and back strap of lamb was embellished with wild garlic flowers and a scoop of leprechaun green peas and diced beetroot, fresh and dainty, scattered like confetti, with which the One & Only was particularly delighted.
Now, I don't usually bother with chicken when dining out, as it's one of those bog standard ingredients I often cook at home in various formats, but this time, unexpectedly, I was tempted to alter the habit of a life time. Somehow the description of moist chicken breast dressed simply in macadamia nuts and those small, squashy Swiss mushrooms (sautéed lightly to the colour of dark chocolate) and scented with a whisper of tarragon proved irresistible. And I wasn't disappointed.
Finally, our son chose the goat's cheese tortellini. It was served with a theatrical flourish, a white bean velouté poured over the bowl of pasta and spring veggies at the table. Yet somehow it failed to impress. The pasta was stodgy and heavy, and the goat's cheese filling had been used too sparingly to lift this rather bland and flavourless vegetarian option, despite the colourful addition of  those amazing fresh peas.
Luckily, the side dishes made up for it. The blanched asparagus was sprinkled in toasted almonds and highlighted by a simple splash of lemon juice; an accompaniment to this favourite vegetable that I will use for ever more. The beetroot was a little undercooked, but it was accompanied by a soft, zesty feta and a bitter twinge of rocket that distracted and delighted.
At this point of the proceedings we would have felt guilty to ignore the desserts, so we didn't. Two ice cream based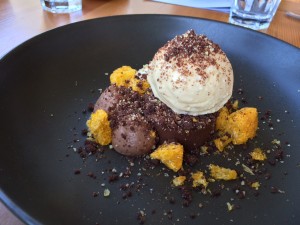 desserts and a cheese platter were brought to the table with a clutch of spoons. The "Cake and Camomile" (tea flavoured ice cream) sounded interesting, but was not as inspiring as the "Textures of Chocolate" with its ball of brown butter ice cream atop a scoop of chocolate mousse and a thick, heavy chocolate ganache 'tile', decorated with freeze dried mandarin that crunched – and tasted – like honeycomb.
The cheeses were all created in the Adelaide Hills, the olives and apples likewise, all espousing the excellence of the local produce. I particularly loved the dish of biscotti-sized croutons, crisp and crunchy, a perfect accompaniment for the soft and creamy triple brie and the blue cheeses. (The Mount Jagged cheddar didn't mind them either.)
Finally, at the point of post-prandial collapse, we were offered a small scoop of claret-coloured sorbet made from the 2015 Shiraz and blackberries. It was a sophisticated finishing touch to a sublime afternoon.
*With thanks, yet again, to my One & Only for the lovely photos.