Once upon a time, in a country far, far away – a country as wet as the Philippines but colder – a tall, dark, handsome prince arrived with his fair princess in the land of the leprechauns in search of adventure. They had climbed mountains and crossed seas from an island as dusty and red as this one was mossy and green.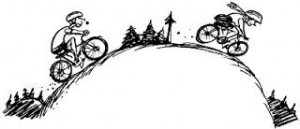 Their steeds were a couple of mountain bikes packed high with panniers, their castle was a two man tent shaped like an armadillo, and the knight in shining armour was actually in shiny black cycling shorts and a bright blue Gore-Tex raincoat, but he was very heroic about cooking in the rain and encouraging his fair lady to pedal the length and breadth of the Emerald Isle.
The idea for this particular adventure had been decidedly spontaneous for my Prince Charming, who usually likes to plan well in advance. But a fellow traveler in Kathmandu had told a tale of cycling around Ireland, and it had caught his fancy.  And abracadabra, there we were, dodging raindrops and pedalling furiously up the steepest hills outside the Himalayas  – well that's what they felt like  –  along winding country roads hedged in by huge rhododendron bushes, over boggy peatlands and down into mossy valleys.
It was, in fact, a familiar way to travel. I had always had a bike. It was my only mode of transport through school and university. But Adelaide is flat. And dry. Ireland is not.
For this rocky outcrop in the far western reaches of Europe is called the Emerald Isle for a good reason. Some say o-so-poetically, that it is because of the sparkle of dew on the grass, but those of us who have spent any time there know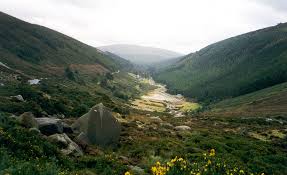 that it is simply due to the copious amounts of rain it experiences. Rain? It barely drew breath. 'Pouring, pouring, boring,' as my father-in-law would say. OK, yes, I am exaggerating a tad, but it did feel like we rode through gallons of rain and over countless mountains. Fortunately, there was also a profusion of pubs and plenty of apple pie. Well, good heavens, I needed some incentive to get up all those hills!
Reading through my diary of impossibly steep roads (how is it we were always riding up?)  loose crank shafts, stiff knees and pulled muscles, it's hard to imagine what there was to enjoy. The satisfaction of getting over those blasted mountains perhaps, heads down, bottoms up, pedaling furiously, employing the same method as the Little Engine that Could, panting 'I-think-I-can-I-think-I-can-I-think-I-can' over the Knockmealdown Mountains, the Wicklow Mountains and down around Sugar Loaf Mountain to the sea. (Please note the number of mountains I have mentioned in just one sentence.) I acquired overdeveloped calf-muscles and several pounds of extra weight – thanks to all the apple pie – along with the much touted Irish gift of the gab after snogging the Blarney Stone.
Unfortunately my plan to write the world's best travel tale on cycling around Ireland was scuppered by two other writers who beat me to it. As it turned out, my fairytale adventure on a mountain bike had been published only five years earlier by Eric Newby, who rode and wrote 'Round Ireland in Low Gear.' Then Tony Hawks penned 'Around Ireland with a Fridge' while I was still contemplating my navel.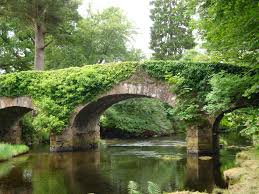 Nonetheless, even without a publisher's success story, it was a wonderful way to see Eire. Once out of the confines of Dublin we found the winding country lanes, scented hedgerows, castle ruins and white washed cottages that I had been anticipating. The verges were dotted with cow parsley – or the more poetically named Queen Anne's Lace – and the fields with shiny yellow buttercups. And the Irish delighted us. They were friendly and garrulous and fascinated by our unusual adventure. As promised by a nineteenth century touring guide of Ireland 'nothing can exceed their civility and courtesy.' We chatted over fences, in bars and bakeries, at bus stops and under bridges.
We found lots of friends, but hardly any camp sites, which was hardly surprising given the climate. So we resorted to knocking on the doors of  B&Bs, which were much more prolific, and asking if we could pitch a tent in their back yard and pay them a fiver for a shower. Our hosts proved unbelievably accommodating. Several even brought cooked breakfasts to the tent door, worried about us cycling on our meager rations of warm milk and stale cornflakes. In the evenings, the local kids would gather round to watch us put up the tent, captivated by our mobile home, keen to peek inside. I still remember one little boy squatting down on the lawn to show us how his friend ate grass.
And it was not only the year of our first cycling trip, but also the year Ireland first made it into the FIFA world cup. I didn't have a clue about soccer. I had grown up with Aussie Rules Football. But we were soon following the drama as fanatically as any Irishman, from pub to pub, through Arklow and Wicklow, Waterford and Wexford , Portlaoise and Bunclody, Cappoquin and Clough, basking in the warm euphoria of the Irish fans. It was in the days before smoking was banned in pubs and you couldn't see the TV screen for the smoke haze, but the Irish patriotism was addictive, and we cheerfully joined in with the locals singing 'Olé Olé Olé Olé' as Ireland won game after game and made it to the quarter finals. If moral support and sheer volume could be measured in goals, the Irish team would surely have won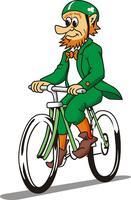 that cup.
By the time we got back to Dublin, I felt that we had also earned some kind of commemorative prize. It had been a wonderful, if slightly damp adventure, full of lovely memories and picture post card moments, although Prince Charming learned that it was best not to bribe his reluctant Princess Fiona with apple pie to goad her over mountains, as it tends to stick, and she becomes the shape of an ogre faster than you can say "clotted cream". We did find a four leaf clover and a rainbow, but sadly we didn't find the pot of gold and we never did see a leprechaun. However, we did return to Ireland, where would find our own little Thumbelina under a gooseberry bush in Cork and live happily ever after.
*With thanks to Google Images for the pretty pics!