"If I just keep putting one foot in front of the other, it stands to reason that I'm going to get there. I've begun to think we sit far more than we're supposed to." He smiled. "Why else would we have feet?" ~ Rachel Joyce, The Unlikely Pilgrimage of Harold Fry.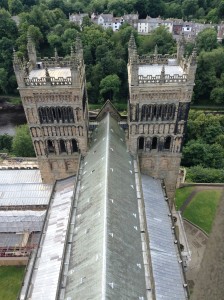 If you haven't yet read "The Unlikely Pilgrimage of Harold Fry" by Rachel Joyce – a strangely compelling tale – it should go on your bucket list of books. Then follow up with the 'companion' book, "The Love Song of Miss Queenie Hennessey." It is about Harold Fry's journey of discovery – both literal and metaphysical – in the style of John Bunyan's Pilgrim's Progress, although Harold Fry himself abstains from religion. In the course of this tale of penance and self-discovery, Harold walks over 600 miles from Kingsbridge in South Devon to Berwick-upon-Tweed, Northumberland to see an old work colleague dying of cancer, in the hope that his pilgrimage will keep her alive.
We are on a trip through England, too, my younger son and I. Like Harold, we began in the South of Devon and headed north east through the Midlands to County Durham, but distinct from that unlikely pilgrim, we are not on foot. Instead, we are in a zippy red Ford Focus. And this is no pilgrimage, but a treasure hunt for universities. In the process we create a trail of quaint stone-clad villages and black-and-white Tudor towns, country lanes and frenetic motorways, quirky bed-and-breakfasts and soulless motels,  Tesco's breakfasts and sublime dinners from Dartmouth to Exeter, Warwick to Leeds, and up, up, up to Durham, to climb 325 steps to the top of the tower of Durham Cathedral. Then we veer from the path of Harold Fry and head west through the Yorkshire Dales, falling in love with high green moorland, black faced Swaledale sheep, and Yorkshire's distinctive dry stone walls, before dipping south past Manchester to Bristol and Bath.
Did we have a favourite town? A favourite meal? Despite a wide range of picturesque towns and gastronomic adventures up and down the country, there is no real competition. Our most favoured town was Thirsk, in North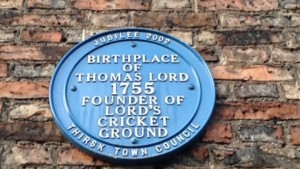 Yorkshire, whose odd name comes from an Old Norse, or Viking word meaning fen or lake. Here we found cobbled streets and a hump-backed stone bridge; a twelfth century church swamped in gravestones and a passel of ancient pubs; a mirror-like stream flush with ducks and their quite tiny, fluffy ducklings; a capacious market place sporting the kind of dislocated cobble-stones that whisper 'death to high heels;' a warm and chatty Yorkshire welcome from Mark at our B&B, and an old friend I hadn't seen in a decade. Thirsk is also home to James Herriot, author of All Creatures Great & Small, and the birthplace – especially noted for my One and Only – of Thomas Lord, the Founder of Lord's Cricket Ground.
Our most fabulous dinner was also in Thirsk, at the Black Lion, which crouches on the periphery of a mediaeval market place, and has been recently refurbished by owner Richard Bainbridge. On the evening we arrived, our host Mark recommended what we understood to be three local pubs. As it turns out, The Back Lion is more restaurant than pub: a smart and stylish bistro and wine bar, once a night club complete with pole dancer, now boasting elegant décor and a mouth-watering menu full of locally sourced ingredients.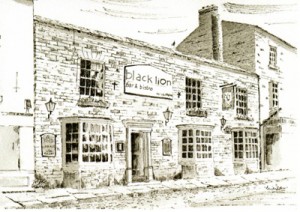 Our host greeted us cheerily with the offer of great food and terrible service. He provided plenty of the first and none of the latter. Both food and service were unexpectedly, joyfully, deliciously wonderful.
We started with an appetizer from the "Special" board: potato skins with sour cream and cheese, a long-missed treat that I suddenly hankered after. Sadly the crunch was created by al dente potato – more potatoes au gratin than potato skins, but we were hungry enough not to complain too loudly, and they were certainly tastily embellished with cheese. We were later rewarded for our courtesy with an amuse bouche between courses: a quite superb spoonful of fresh pea risotto.
The main menu offered, amongst other things, the strangely named 'black sheep battered east coast catch with triple cooked chips and tartar sauce.' Baa baa black sheep chops from the coastal fields of Whitby, fried in batter? Wrong. In fact it turns out to be beer battered fish – "black sheep" is a local ale as opposed to a local lamb!
One ravenous son went straight for the barbecue grilled flat iron steak, served with warm tomato relish and chunky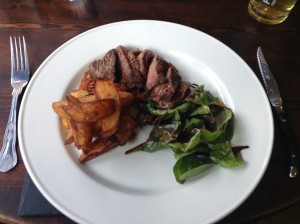 chips, despite an anxious warning from our waiter that flat iron steak comes from the shoulder and can be tough. The caution proved unnecessary. Slow-cooked and medium rare, it was dreamily tender and tasty, almost dissolving on the tongue. (I was generously allowed one solitary mouthful.)
My choice? Luckily, just as wondrous as the steak: Yorkshire chicken supreme doused in pan juices, accompanied by parmesan risotto, tender long-stemmed broccoli, and delicate goats' cheese bon bon (to avoid having to say "goats' balls" I guess). The chicken was mouth-wateringly moist, the flavour enhanced by the jus. From an avid creator of risotto, this risotto got top marks and a gold star. I would willingly have gone back for seconds. Finally, I loved the light crunch of the crumbed cheese balls followed by the rich ooze of the cheese running over our tongues. There was little conversation at the table that night.
Against one replete son's better judgement, I opted to order a dish of sticky toffee pudding. Despite His Lordship's cries of 'enough,' I ended up in a spoon duel as we grappled for the last mouthful of the rock salt caramel sauce and vanilla pod ice cream.
Later I learned from our B&B host that Harrison Barraclough is one of the UK's youngest chefs to have earned a coveted AA rosette. I am not surprised – every fork full was worth a rosette. It was well worth the pilgrimage.