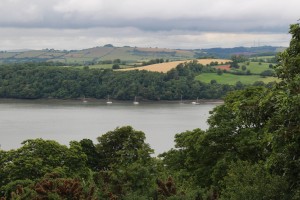 The Dart. A picturesque and tidal river that rises on Dartmoor and meanders down through voluptuous hills and green leafy valleys to Dartmouth on the South Devon coast. Here the estuary is guarded by a pair of stone forts, somewhat ostentatiously known as the Dartmouth and Kingswear castles. We have just spent a wonderful week exploring along this fecund river, from Dartmouth to Dittisham, up to Totnes and Dartington and north to Buckfastleigh. Walking paths skimmed the edge of the river through water meadows knee deep in wild grasses or clambered up over the steep hills that rise from the water's edge, and weave through dense woodland.
We discovered a small troop of musicians playing Maroon Five on guitar and saxophone on a lonely river bank near Dartington. We tottered down miles of narrow, steeply cobbled steps into Dartmouth. We sat on a balcony overlooking the mud flats at Dittisham at low tide, eating tender, succulent moules marinières
while children went crabbing off the jetty below us. We clambered up onto the top deck of a passenger ferry from Kingswear that dodged and ducked its way across the river to Darmouth through a barrage of sailing boats, dinghies and motor boats. We stood on a railway bridge to watch the passing of the old but shiny steam train to Paignton. We wandered through wheat fields embroidered in red and apricot poppies. We conversed with wide-eyed cows who raised their heads to acknowledge our passing, while sleepy sheep dusted with red earth attempted to ignore our existence by shutting their eyes and pretending they hadn't seen us. We trudged up steep, wooded slopes to find spectacular views from the top in which to soak ourselves, and took a short ferry ride in a little wooden boat from Greenway to Dittisham,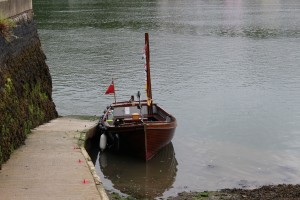 which required us to ring a large brass bell for the ferryman.
One day, walking along the Dart from the ancient market town of Totnes, we found a lovely, lazy cycling path that took us over the hills and around sluggish river bends to Sharpham Winery. Beer and cider may be commonplace in England, but wineries can still raise eyebrows, especially from Aussies who think grapes could not possibly grow with any enthusiasm this far north of the equator.
Yet there has long been a tradition, albeit a small one, for making wine in Britain. The Romans introduced the Celts to wine back in the year dot, and Catholic monks were soon making their own communion wines, particularly in the south of England. Viticulture died out with the dissolution of the monasteries in the 16th century, but has unexpectedly been revived in the last fifty years. Apparently there are now over 400 small wineries in Britain.
As we arrived in the farm yard, the overcast skies that had provided gentle shade shaded since Totnes suddenly began to leak. So we were more than happy to find a table beneath a canvas canopy on a broad deck and trawl through the blackboard menu for something tasty for lunch. The restaurant is run as a concession by staff from Anchorstone, a renowned seafood restaurant a couple of miles downstream at Dittisham. (Anchorstone of the delectable moules marinieres.) An array of blackboards described the many local food producers they source on their menu. While the seafood dishes looked tempting, we had eaten crisply delicious fish and chips at the Floating Inn at Dartmouth only the day before, so we opted to share a steak sandwich and a cheese platter, the cheeses all products of the Sharpham Estate Dairy. We also indulged in a glass of bubbles each – one pink and tasting of strawberries and cream, the other, a sparkling blanc with light biscuity notes, both made with the champagne method of natural fermentation, not with CO2.
The steak sandwich was speedily devoured, dripping with caramelized onions and lettuce. The cheese platter proved a more than generous serving: five Sharpham cheeses served with a gratifying mix of biscuits, wafers and heavily seeded breads. We nibble through a wonderfully sharp and creamy washed goat's cheese, a Brie like clotted cream, and a zippy 'Rustic' flavoured with chives and garlic. The plain Rustic was less favoured: we found it bland and rather lifeless of flavour and chalky in texture, with little to differentiate between that and the strangely named Cremet.
After lunch, and sadly unable to find the room to indulge in a gooseberry pavlova – quite tragic really, as it is years since I last tasted gooseberries – we headed down to the wine tasting arena to join about five other couples waiting eagerly for their first taste of English wines.
Sharpham's wine making history goes back only thirty years, but it appears to be thriving. Leasing land from the Sharpham Trust, Sharpham vineyard consists of 10 acres of grapes and a further 90 acres for the beautiful Jersey cows who produce the milk for Sharpham's unpasteurized cheeses. As the river loops around the steeply sloping estate, the breezes off the river keep insects and damp at bay.
Our hostess came down the ramp clutching six bottles, a carafe and a wine cooler. We would be introduced to all six, and permitted to choose three each to taste, she told us as she introduced herself as Yolanda. She explained that the cow's milk for the Sharpham cheeses comes from their own cows, but the goat's milk comes from Ashburton, and the ewe's milk from Somerset, the closest supplier they could find, but as we started on the lighter white wines, she recommended we save the cheeses for the red wines, a beer match for the 'runaway' Brie and another semi-soft cheese flavoured with caraway seeds.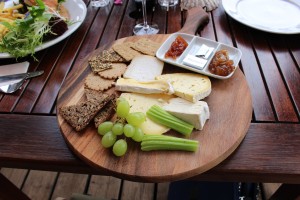 Sharpham uses grape varieties that are generally popular in Northern Europe and therefore more effective in the cooler English climate. Flavours are more subtle than I am used to, growing up in South Australia, where sunshine and gutsy reds are at a premium. But for a light, bright summer barbecue wine I like this fresh rose with hints of strawberries.
The two white wines we met were the Sharpham New Release and the Bacchus. The New Release takes only four weeks to travel from the vine to bottle, like Beaujolais Nouveau, and is made from 100% Madeleine Angevine. Those who tried it commented that it was smoother than expected for such a young wine.

I preferred to try the Bacchus. The Bacchus is a big, sugary grape often used for those sweet Alsace style wines. Sharpham's version is a more subtle mouthful of tropical flavours: a hint of lychees and a strong dash of pineapple. Others suggested they could taste melon.
We finished up on red wine and cheese. The simply named Sharpham Estate Red or the Pinot Noir? There was no competition for me, I wanted to try the Pinot. Yolanda told us that their winemaker describes Pinot Noir as a difficult, fussy, grape, a bit of a moody teenager apparently, that grows in close clusters. The Sharpham Pinot had been aged in French oak and had a dry, musty aroma and an earthiness that went perfectly with the caraway cheese made from a third goat's milk, two thirds Jersey.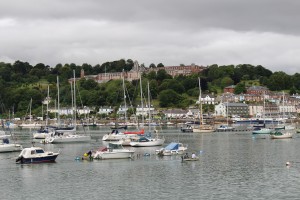 It's a fun tasting session, but expensive for what you get, even in English terms. And in the end, my favourite was still the glass of pink sparkling wine I had enjoyed with my lunch. And of course, as is always the problem with small,bespoke vineyards, the cost of the wine inevitably far exceeds its excellence. But it was interesting to see that good quality wines can emerge from this often cloudy corner of a rather damp and sunless little island.
We trudged home through the fine drizzle which hadn't let up since lunchtime. No complaints though, it was perfect walking weather.
.