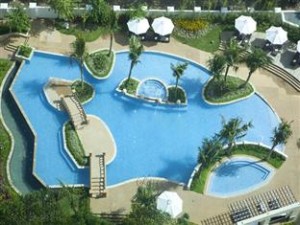 A large sign at Manila airport offers massages to relieve the stress. It was a timely suggestion after almost an hour in a queue going nowhere at a snail's pace, followed by a long trek through a barrage of security checks. Seriously, Manila has the most secure airport in the world!  I wasn't feeling so much stressed as defeated. We rashly succumbed to the temptation of coffee and a chocolate croissant on the final lap to the departure lounge. Of course they heated the croissant in the microwave.  I  hate that. Microwaves make the pastry soggy, and then, lo! the melted chocolate squirted all down my new blouse. The flight left almost on time, however, and we were on it. So, no real disaster, just resigned grubbiness…
The Radisson Blu, Cebu. The ubiquitous Filipino incongruity: luxurious, spacious five star hotel posing elegantly, hand on hip, between SM shopping mall, an expanse of tarmacked car park and acres of shipping containers. The view beyond the hotel was aesthetically appalling. Yet at night it was transformed into a showground, the main road suddenly looked like a fast flowing roller coaster through the city, while a storm breaking on the horizon provided a breath-taking fireworks display. The city is at your finger tips, and within the confines of our gilded cage, we were in heaven.
The hotel boasts 400 well-appointed guestrooms with all the mod cons.  A relaxing retreat on the edge of the port, it offers a shady landscaped garden, an attractive lagoon-style swimming pool and vast spaces of quiet, soothing marble interiors.  The entrance foyer alone is large enough to host a ball or a football match! A beautifully designed dining room serves an exquisite buffet breakfast and lunch. I have never really been a fan of the buffet. In its heyday in Australia in the 1980s, it so often forsook quality for quantity. The Radisson dining room was a completely different experience. Various stations exhibited attractive displays of Chinese, Filipino, Japanese and Mediterranean cuisine,  seafood, and desserts.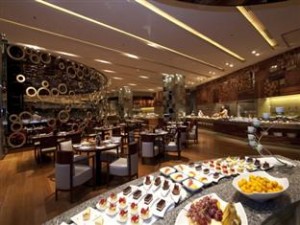 The chefs were wisely promoting the theory 'less is more': dainty tasting dishes, freshly arranged, rather than congealing unappealingly in huge luke-warm chafing dishes. My boys went through the buffet like the efficient eating machines they are, with barely a pause for breath. For them, the highlight was the chocolate orange ice cream, for me, it was the prawn and pomelo salad.
Our room – sorry rooms as we had been generously upgraded to an executive suite – was the epitome of elegance. Two bedrooms joined by a comfortable sitting room, a selection of bathrooms, a clutch of TVs and a view over the pool and gardens. The boys were thrilled with complementary access to the internet and I was equally thrilled with my state-of-the-art coffee machine. An added bonus was the executive lounge down the hall where there was always a drink and a snack on offer – or a quiet retreat from noisy computer games. All was right with the world, and a far cry from my childhood holidays. I grew up in a tent, camping across Europe or in the Australian outback. I loved it, but my idea of luxury was a B&B with a bath. I never thought of myself as a five star princess. But hell, a girl could get used to this!
After two days relaxing in air-conditioned splendor, the heat hit us like a heavy, wet blanket as we emerged from the hotel. The traffic was seething: bumper to bumper trucks and taxis. Horns. Heat. Help! But I was on a mission to get the boys outside and see something of our surroundings.
We found a taxi and pointed it in the direction of Mactan Island. We wanted a day at the beach, but apparently the only decent beaches were privately owned by the hotels. However, we had been told that some of them would allow us to use the facilities for a small fee.
'Small fee' be damned. Gob-smacked by the fees they were charging for a 'day package' we looked about for a taxi to escape. 'No taxi ma'am, but we have hotel car.' Sure – for three times the price of the taxi that had delivered us to their door. So we walked to the front gate (no mean feat), determined to find our own way home.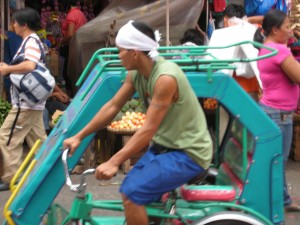 And here Alan found us. His pedicab had just pulled up and he was more than happy to take us into town for a taxi. Or if we preferred, he had a car, a boat, a beach, a brother with a jet-ski…
We greeted Alan with enthusiasm and wedged ourselves into his Polly-Pocket-sized-side-car, then found ourselves bouncing over potholes, through potholes and into potholes. Eventually we turned down a dusty lane to a public beach and the promise of a jet-ski. The public beach was nothing special: a short walk through shop houses and bamboo huts onto a tiny, sandless cove. But the water was crystal clear, there was shade, and eventually Alan's sister's husband's uncle's third cousin turned up with a jet-ski. I am sure we could almost have bought one for the price, but it kept the boys out of the hotel and happy for an hour or so, and I sat amongst the villagers, warding off the old women who wanted money for nothing, or to rent me a tyre, or to sell me an ice cream. Ducks and dogs mingled in the lane, the village kids were leaping from the jetty, and an elderly gentleman named Alfred bobbed about on his inflated inner tube, chatting with the boys as they waited in the shallows for their turn on the jet-ski. It was only a little adventure, but fun nonetheless, and we have Alan's number so he can take us out in his boat next time…
After one successful sortie beyond the confines of the Radisson, we attempted another. Remember those old movies in which deep sea divers dressed in space suits and wore brass goldfish bowls on their heads and then got attacked by giant octopi or the air tube snapped? Sea-walking was a bit like that – without the octopus or the snapping.
We drove out again to the far reaches of Mactan Island, to a rather run down hotel where a small speed boat took us out to a raft about 200m off the beach.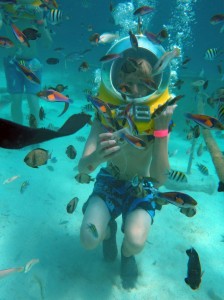 Now the boys and I have never been too keen on the idea of scuba diving. I am even a bit hopeless with a snorkel and goggles – I always get the ones that leak – but we thought sea walking might be an interesting compromise. There was momentary panic as I watched the boys disappear beneath the water in their goldfish bowls, and another anxious moment when I felt the weight of my goldfish bowl push me down the steps and under the water, but except for a slight wobbliness of the neck – think jiggling dogs on the dashboard – breathing was easy. The beveled edges of the bowl made it tricky to work out where your feet where going, but hidden beneath the surface was a maze of railings to guide you round the sea floor. Our guide and wildlife photographer gave us each a cup to wear around our wrist. Like a bird feeder, with tiny holes seeping culinary delights for fish, it brought those little fellas skibbling straight for us. I am not usually too thrilled to get close and personal with fish or chickens, but with the protection of my pudding bowl helmet, it was really good fun.
While it felt a little stage managed, I was soon bedazzled by the array of little Nemos dancing round my head: fluorescent turquoise; orange and electric blue stripes; salmon pink racing stripes on grey; a Tiger's football jersey of black and yellow; a sleek slim-lined silver speed boat of a fish the size of my little finger…
Their navigation skills were flawless, as they dipped and dived like swallows all around us. One or two accidentally swam into me, but they frightened themselves more than me,  apart from the one bully boy who spent two minutes dive bombing my elbow like a cranky mosquito.
In the meantime, we drifted along the railings, stopping every few feet to pose for our acrobatic photographer, who was leaping on and off rocks like a moonwalker. Just as I was finally getting the hang of balancing my goldfish bowl, it was over. We emerged gleefully onto the raft. And as they had promised, our hair was still dry!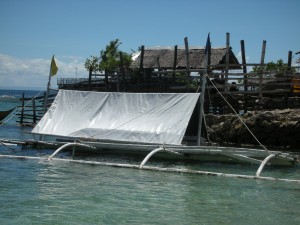 The next stage of the journey involved a banca, some more fish, an island picnic and snorkels. We were offered a huge wooden bowl of appetizers for lunch:  a couple of crab; orange and black spotted lobsters that looked like giant Moreton Bay Bugs, scallops and two large and beautiful shells that it seemed sacrilegious to crack open for the sake of the poor quivering sea creatures within.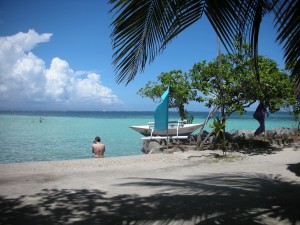 Anyway, the set menu was plenty: chicken satays, squid and prawns, tuna steaks and pork, all perfectly barbecued, and followed by a refreshing fruit platter. Two musicians wandered along the beach with a couple of honky-tonk guitars whose frayed strings badly needed tuning. So did the singers! Most Filipinos seem born to sing, but not these two. They cheerfully warbled their off-key way through the Beatles and Lionel Ritchie while I snoozed beneath the trees and the boys snorkeled in the shallows. We fed the fish off the jetty and admired a vast colony of hibiscus-coloured starfish on the reef, before sailing on to deeper water at the edge of a wildlife sanctuary. Here the water was all the shades of blue and green common to precious and semi-precious stones: sapphire and turquoise, jade, aquamarine and emerald. And here we anchored for the rest of the afternoon to dive into the clear blue water that glittered like a diva's dress with tropical fish. The sunburn was ridiculous, considering all the precautions I took, but it was worth it to get salt in my hair and seawater up my nose. Yes, of course my goggles leaked!