"You're only here for a short visit. Don't hurry, don't worry. And be sure to smell the flowers along the way."  ~ Walter Hagen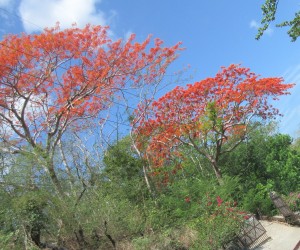 It has been unbelievably hot in Manila this past month or more. Every day for weeks all we can talk about is the heat, and Facebook has been choc-a-block with weather reports about record breaking temperatures. Tempers are fraying and it is obvious that the whole population is wilting. So we were delighted to get out of the city last weekend and trek down to the coast to stay with friends in their lovely little corner of Nasugbu, Batangas amongst the hardwood narra trees and the flirty, fitful sea breezes.
We left early on Saturday morning to maximize the weekend and drove up to Tagaytay and down the other side. All along the way we exclaimed at the glorious Flame trees that have acquired nicknames around the globe like 'Phoenix Tale,' 'Flamboyant' or 'Peacock' with their deep orange, sunset-coloured flowers and feather-like leaves that brighten the lush, tropical landscape and provide a parasol shade.
But beneath their branches, the hilltops were crying out for rain, the earth bare and dry, reminiscent of my own home state in summer, and dotted with grazing goats and their soft, sweet, hazel-coloured kids jumping up and down off the low stone walls.
As we descended to the sea, lush, vibrant colour returned to the landscape.
The road through Maya Maya winds down steeply to the water, somewhere between Tali beach and Terrazas de Punto Fuego. (Mayamaya is a Filipino fish, known elsewhere as snapper; a rare gem even here in a similar shade of sunset blood-orange to the flame trees.)
As we drove down the almost perpendicular road, we passed many houses clinging tenaciously to an often vertical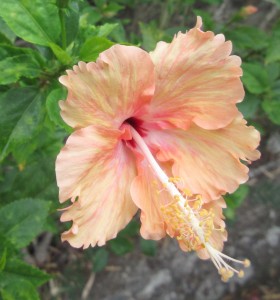 hillside, or balancing precariously on wooden or concrete stilts, and boasting breath-taking views from roof top terraces.  We were staying in a pretty, old-fashioned wooden beach house with a wide balcony and a newly created roof deck, in the middle of a green and shady garden, with glimpses of the sea through a curtain of leaves.
I love this time of year. Despite the suffocating heat and humidity, April and May are the most colourful months in the Philippines, and Maya Maya was boasting a veritable bouquet of bright and beautiful flowers. White frangipani with their egg-yolk yellow centres lay thick amongst the deep green leaves bursting forth from those awkward, knobbly branches, their dense, cloying scent drifting sluggishly past our noses. Around the corner, we found dark pink frangipani flowers with that now fashionably discordant orange core. The bougainvillea was flourishing, scrambling over every fence and garden wall like a paint palette: hot pink and pastel pink, orange and peach, red, pale yellow and white, magenta and even lilac  flowers. The brazen hibiscus poked out its long triffid-tongue, showing off its variety like a peacock: scarlet, apricot, pink and purple, its centre touched with a contrasting colour that spread like water colours up the almost transparent trumpet of papery petals, calling seductively to bees and birds and butterflies.
The air was heavy with humidity but unblemished by pollution, and full of the chirps and chirrups of nature: birds, lizards, crickets, bats blending harmoniously into the background or suddenly soaring into a deafening crescendo.
At the base of the hill was an old and rather jaded resort consisting of a handful of thatched cottages, a small pool, an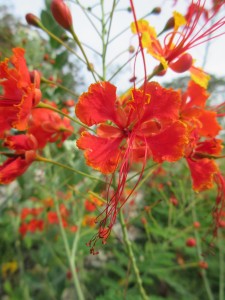 open-air restaurant, deserted and decaying gently around a run-down marina, yet obviously maintained by an invisible hand that swept up the leaves from the pool and placed flower arrangements on the centre of the tables. A large billboard announced that  soon it will all be demolished and replaced by a new, more polished holiday spot, with a gentrified marina, a landscaped garden and a small sandy cove. And yet, despite its faded glory and slowly deteriorating facade, the locals, who have visited here every holiday and long-weekend for decades, mourn the passing of this private wilderness beside the sea.
We meandered aimlessly up and up the fractured road to the lookout, or wandered drowsily across the dry and dusty park to clamber down to the rocky cove and wallow and bob in heavily salted waves. Or we lounged listlessly beneath the trees with beer and chips and chatter, as the clouds lit up with fierce and feisty splashes of lightening. Pushing the pause button on a busy life to relax; taking time out to appreciate the beauty of life; stopping to smell and enjoy the flowers.