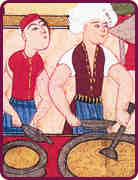 Turkey, like the Philippines, is located at a geographical and cultural crossroads between east and west, right on the cusp of Europe and Asia. Turkish cuisine is a synthesis of centuries of cultural and culinary fusion: a patchwork of Mediterranean and Middle Eastern influences that have created a mouth-watering menu. While spending a couple of weeks eating our way through Istanbul, I thought it might be fun to learn how to make some of the dishes in which we were so enthusiastically indulging.
Eveline Zoutendijk opened Istanbul's first Turkish cooking school in 2002. Cooking is her passion and it is her pleasure to introduce travelers to the tastes and textures of Turkish cuisine. Fow a while, Eveline told me, she held the only casual cooking class in Istanbul, but gradually the idea spread, and now a quick trip to Google will turn up any number of alternative classes across the city.
Tucked away down a cobbled street behind the Blue Mosque,  Cooking Alaturka consists of a dining room and a small but efficient kitchen. The restaurant is bright, colourful and cosy, with a maximum of eleven tables for guests.  Last week,  the kitchen contained seven excited students quite comfortably: our family of four; an American lady travelling solo from Africa, and a couple of young men from Taipei.  Head chef, Feyzi, assisted Eveline in teaching the class, his brand of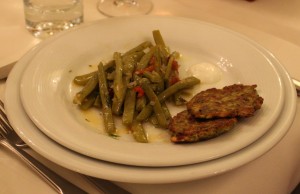 cheeky humour the perfect counterbalance for Eveline's attention to detail and firm control of the the kitchen. We washed our hands, wrapped ourselves in aprons, and set to work to create a four course dinner, orchestrated by Eveline and Feyzi, and featuring many local, seasonal ingredients.
Our first task was to prepare the eggplants for the main dish, Karniyarik or 'stuffed belly eggplant'. These were neither the long, pencil thin eggplants we know in the Philippines, not the fat-bellied Buddha-shaped Aussie ones, but an in-between size, glossy and gently curvaceous. We were shown how to trim the stalk and peel three strips of purple skin from the vegetable before basting them in oil and tucking them into the oven for 30-40 minutes.
Then we limbered up to chop and slice enormous volumes of onion and peppers, runner beans, tomatoes and garlic. We all had a go at wielding the two-handed curved kitchen knife – a ridiculously large mezzaluna – perfect for chopping up your worst enemy or mountain of onions a la Julia Childs. Later we would also use it to annihilate the herbs.
Once we had all our ingredients prepared, we began to assemble the dishes. First, Yayla corbasi, a 'meadow soup' favoured by the goatherds and shepherds when they head up to higher summer pastures with their flocks like Heidi and her grandfather. Eveline described 'layers of flavour' as we combined yoghurt and egg yolks with cumin and flour in a bowl. A freshly made lamb stock simmered on the stove, to which we added rice – al dente – 'for texture' and dried mint and chilli flakes for flavour. The liaison of dairy and flour was then blended slowly into the stock, the yoghurt providing a smooth finish, tangy and refreshing. Feyzi gave me the task of stirring the soup, curling the spoon slowly smoothly, seductively, through the liquid to prevent the rice sticking to the bottom.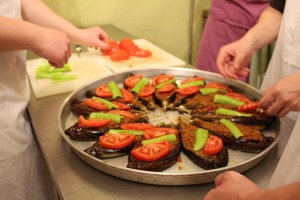 Imam bayildi is a traditional Ottoman dish of stuffed eggplant. The name means "the priest fainted" based on the tale of a newly married Turkish religious leader, whose wife's cooking caused him to swoon with pleasure. It is a variation of another popular Ottoman dish, Karnıyarık, which is eggplant stuffed to the gunnels with a mix of tomatoes and onions, minced beef and lamb. Rich and filling, it is a favoured winter comfort food. And, like adobo, every Turkish mother makes the best karniyarik.
To accompany the eggplant was a cracked wheat or bulgur pilaf. Bulgur is a native staple in Anatolia, the larger, eastern part of Turkey, once known as Asia Minor. Bulgur or burghul wheat is far more traditional and tastier than the imported rice of modern times, with a nutty flavour, popular in kisir (a Turkish version of tabouleh) and pilaf. Mixed with the last of the onions, peppers and tomato paste, the result is a traditional Turkish pilaf. Interesting as it was to taste, we found it rather a heavy accompaniment to an already hearty main course. An unadorned green salad, we felt, would have better balanced the red-blooded flavours of the karniyarik.
Kabak mueveri is a popular Turkish mezze, but as Eveline handed out the job of grating a pile of zucchini (courgette), I saw, from the corner of my eye, our sons' lips start to curl. Zucchini, the boys think, is great to grow in the veggie patch, but  not wildly popular on our dinner table, even when heavily disguised in a vegetable pasta sauce. I groaned inwardly.
Creating these small, bite-sized fritters involved a tutorial on the correct way to grate a courgette, before we mixed  in a local feta style cheese (beyaz peynir), eggs, flour, herbs and chilli. The mixture was then fried into patties in a heavy frying pan. The results were simply delicious and much to my joy, I may be able to reintroduce those infamous courgettes to our dinner table, albeit in a slightly different format. Eveline served it with a modest garlic yoghurt dip. Personally, I would probably embellish this with cucumber, dill and a splash of lemon juice to create a slightly more sophisticated tzatziki – but then I wanted to adorn every dish I tasted in Turkey with tzatziki, as it is definitely one of my favourites.
So, we had soup, an appetizer, and a main course ready to go. Dessert anyone?
The dessert Eveline had chosen was great fun to make: dried figs stuffed with walnuts and cooked in a light sugar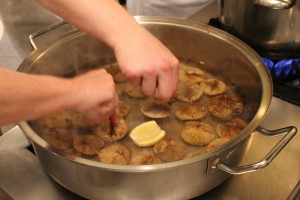 syrup, or incir tathsi. (Turkish can be hard enough to pronounce sober, imagine saying that after a bottle of wine!) Dried fruits and nuts are traditionally served at Turkish festivals and celebrations, and are now exported around the world.
Turkey has a reputation for terribly sweet and syrupy snacks, such as baklava. I was pleasantly surprised to find the local version of these popular pastries not nearly as sickly as their Filipino or Australian counterparts. Likewise, I expected these amuses bouches of fruit and nut to be too saccharine for my taste, and yet it was not so. The sugar syrup was neatly tempered with lemon juice, lemon zest and cloves, the scent of which hung enticingly in the air. (Eveline's notes suggested that the sweetness can be further subdued with the tannic addition of bay leaves or Turkish tea.) We all got childishly giggly as we attempted to stuff the walnut halves carefully through the small slits we had made in the bellies of the figs, desperate not to tear a broad gash through which the nuts could fall out. We then had to close the wound and gently massage the fig into the shape of a small spinning top.
Each fig was then placed carefully into a large, shallow pan of syrup, stems up, to spin gently like Whirling Dervishes around the pan. A couple of gentle flips and they were ready to be served, topped with grated coconut and ground pistachios. It was a fitting finale to a wonderful meal, although I would love to have tried the kaymak, or heavy Turkish cream that Eveline mentioned in the recipe.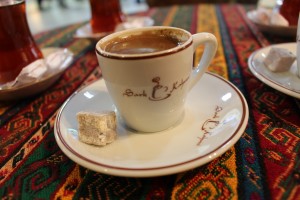 Our meal was accompanied by some interesting local wines, and finished off with a lesson on how to make Turkish coffee, which apparently, like those Whirling Dervishes, has been labelled an Intangible Cultural Heritage of Turkey by UNESCO. The result was milder than Italian espresso, but also quite gritty, and was served with a small cube of Turkish Delight, to which I am now totally addicted. Nothing like the rose-flavoured, chocolate coated Fry's Turkish Delight of our childhood, these Ottoman morsels of Bergamot jelly and nuts, dusted with icing sugar can be found in the Spice Market in endless variety. We were, finally, replete, and with all our newfound wisdom and a list of recipes, we wandered home.
* With thanks to Cooking Ataturka website for the picture of an Ottoman kitchen, and to my One & Only for managing to chop and take photograph at the same time!