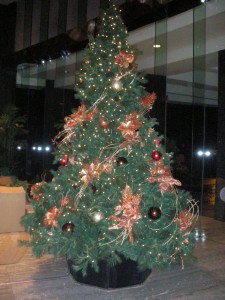 Is it a little early for Christmas tales? Not in Manila, where the scent of Christmas has been in the air since late September. My guidebook says Filipinos pride themselves on having the longest Christmas in the world, and so it would seem. The official Christmas season starting date is Advent, four weeks before Christmas. Yet in Rockwell, the palm trees are gift-wrapped in glorious orange lights in late October; enormous cone-shaped Christmas trees are erected inside and out of every mall as soon as Hallowe'en is over; the supermarkets have been filling the aisles with food baskets (gifts for staff) for weeks, and the pianist at St Luke's Hospital was playing carols in September.
A legacy of Spanish colonization, Christianity encompasses the vast majority of the population, and most of the Catholic churches date from that era. But American influence predominates in the malls. Despite the tropical heat, images of a northern hemisphere Christmas still abound in the Philippines, as snow is sprayed onto Christmas displays, and poor old Santa is clad in his traditional heavy red coat and huge black boots, melting away in his sleigh on Makati rooftops like Frosty the Snowman. Last year our mall had a display of life-sized Polar Bears, Snow Leopards and Siberian Tigers. This year it is white antlered deer and a small white bear nodding on a sleigh. As is perfectly acceptable in the Philippines, Santa sits cheerfully beside a solemn tableau of Christ's birth in the main foyer.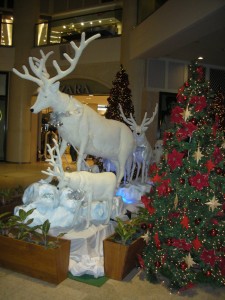 In Europe, Christ's birthday was arranged to coincide with the mid-winter solstice, bringing a heart-warming message of hope and new life during the bleakest days of the year. In the Philippines, Christmas coincides with the rice harvest so it is hardly surprising that pre-Christmas Festivals that begin in November and reach a crescendo on Christmas Eve, all  involve a frenzy of feasting. Celebrations finally culminate on January 6: Epiphany or Three King's Day. And then it's probably time to diet.
In Australia, Christmas coincides with summer holidays. In his poem A Child's Christmas in Wales, Welsh poet Dylan Thomas wrote 'one Christmas was so much like another' and so I remember my childhood Christmases in Australia. An amalgam of Victorian conventions crossed with hot Australian summers, Christmas always contained the same basic cast of grandparents, aunts, uncles and cousins and the incongruity of a 40'C day served up with a steaming roast turkey and platefuls of baked vegetables – heavy meals that left you bloated and sank like a stone to the pit of your stomach. Eventually the aunts rebelled at spending hours in a sauna-like kitchen, and Uncle Jack stepped in with cold seafood hors d'oeuvres and a barbecue.
The Christmas pudding, however, was the one tradition that could never be forestalled by adult rationale. Prepared months before and hung in its calico hammock in the cellar to age like a good wine, on Christmas day it was resurrected and set to steam in the vast marmalade pot. At the last minute, it was doused in brandy and set alight.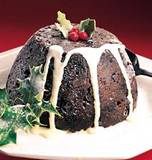 Blue flames licked greedily up the sides of that mountain of raisins and orange peel, finally setting on fire the holly that was perched on the peak. A sacrifice to the gods or a Christmas martyr?  This ritual was rapidly followed by another: the children's frantic search for the silver favours. Mum still finds a way to deliver a home-made plum pudding into whichever corner of the world we may have strayed.
My husband has similar memories, although the food culture was southern European. Food and plenty of it, seems to have been the underlying philosophy. It is one we have adopted with our own family, which makes us a perfect fit for the Philippines!
Here, the food culture is an extravagant mix of Filipino, Chinese, Spanish and American and the locals simply like to eat. As with religion, the Spanish have left a lasting impression on the lexicon of Filipino cooking: caldereta, adobo, lechon de leche, tamales and empinadas. Also, several Spanish cooking methods, such as sautéing onions and tomatoes, stewing meat in wine, and frying were adopted by the Filipinos.  Many Chinese and Filipino names were  translated into Spanish for the Spanish clientele, glamourizing the dishes in the same way we have used French to add a soupçon of sophistication. These included arroz caldo (rice and chicken soup) and morisqueta tostada (fried rice). Comida China (Chinese food) was cooked in a carajay or wok and served at panciterias (noodle cafés).
Yet on the whole, Spanish cuisine made little impact on the day-to-day culinary traditions of the indigenous Filipinos,, for whom it was too expensive to reproduce. Dishes that were common in Spain and Mexico, such as stews, paella and rellenos required expensive imported ingredients in the Philippines.  Thus they assumed a dignity they did not possess in Spain. Instead, they would gradually seep into Filipino kitchens to be adapted into 'fiesta fare' or food made only for festivals and special occasions. Spanish stews now combine everything from pork and beef, to chicken and chorizo, paella is filled with anything that can be caught in the sea, while Amy Besa, Filipina restaurateur and cookbook author, claims rellenos became 'anything that can conceivably be stuffed'.
Rich, elaborate desserts such as tortas imperiales (almond cake) and Brazo de Mercedes (a meringue roll filled with butter cream) are still popular today, and leche flan (crème caramel) remains forever number one on a list of top twenty desserts compiled by Filipino food blogger Market Man.
Unfortunately we won't be celebrating in tropical Manila this year. A family vote decided that we were overdue for a white Christmas so we are heading to New York. But I will get my taste of the Philippines – I am planning to book a pre-Christmas feast at Purple Yam with Amy Besa!