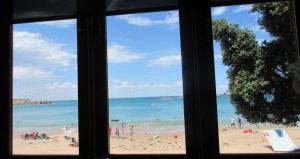 The Flying Fish Café at Port Elliot on the south eastern lip of the Fleurieu Peninsula. A 42 degree day in February. A jetty. Scalding sand. Basking children. A lapis lazuli sky reflected in a glittering sea. Norfolk pines march in single file along the shoreline. Swimmers shriek with glee as they get tossed about by an obstreperous surf. Heat haze off a carpark crammed with perspiring station wagons. Small kids dashing bare foot across the melting tarmac desperate to reach the grass. Picnics on the lawn by the playground. Huge tubs of sunscreen lying on toasting towels. Naked toddlers basted in sand, like schnitzels.
We watch, relaxed and just a little smug, from our air conditioned eerie above the beach. A foodie friend has often raved about this little gem of a restaurant on the foreshore overlooking the glorious Horseshoe Bay. At the beach for fish and chips, it no longer comes in butchers paper with the ubiquitous chicken salt and brown vinegar, the chips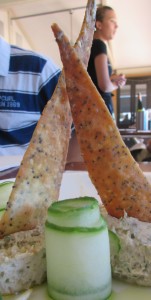 already slightly soggy, the heavy batter flaking off as you wrap it in a strip of paper to protect your fingers, then douse it in mayonnaise. And there is no risk here of sand getting kicked over your chips.
The name Flying Fish has lead us to believe it was seafood restaurant, but the fish choices were surprisingly limited. Apparently it is more about showcasing South Australian produce, and having made our decisions, there were no complaints about the quality. (Although pricewise, $36 for fish and chips seems a little intense.)
Flying Fish is a small but sunny venue, with barely half a dozen tables and maybe thirty diners. The wooden floors make it seem like twice that many, to the detriment of the older members of our group – those over forty – who struggle to hear. Still, our waitresses are charming: warm, friendly and happy to oblige. Once everyone has gathered, I order a bottle of my favourite Rockford's Alicante Bouchet rosé, and a couple of appetizers to share: a delicate, freshly made salmon dip bedecked in cucumber ribbons and triangles of crunchy lavosh and a salt and pepper squid with mango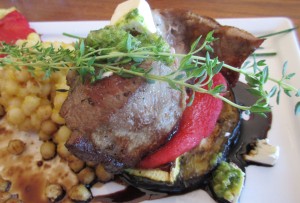 salad. We descend like a flock of seagulls.
For main course, Ben and I decide on King George Whiting from Streaky Bay, lightly dipped in a batter of Cooper's Ale, crispy and moist, served with a small, fresh salad and a solid serve of reasonably crispy chips. With the Alicante, it is utter perfection. Having given up on chips and chocolate for Lent, my daughter chooses the Wakefield lamb (rare) served with roasted Mediterranean vegetables, a fetta and rocket pesto and quinoa (well, if it was cous cous, as the menu suggested, it has serious obesity issues). Mum and The Aunt both go for a smoked chicken salad with paw paw and toasted almonds, and conversation is negligible until their plates are scraped clean. Dad decides more calamari is called for, so as the salt and pepper squid puts in a second appearance, I surmise it is good.
Dessert anyone? Well, I absolutely have to taste the honey and lavender parfait, accessorized in honeycomb sprinkles and something delicately designed in chocolate that would be fitting on a Melbourne cup hat. The lavender flavour is impressive, the parfait luxuriously creamy. With help from my neighbours, it doesn't last long enough to melt even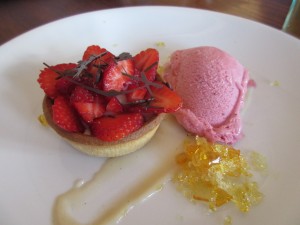 slightly.
My daughter delights in the strawberry tart, and pronounces the quenelle of strawberry ice cream especially delicious. We help her out on the honeycomb sprinkles. The Aunt chooses a rather sophisticated affogato (espresso coffee poured over ice cream) laced with Cointreau and garnished with whole coffee beans. The teaspoons fly across the table like hummingbirds for quick, surreptitious dips.
We finish our late lunch with a quick dip in the sea to cool off before driving back to the city. The sea is tousled and nippy, but we are flushed and overheated, after prancing like Lipizzaner stallions across the molten tarmac and fiery sand, and find the cold water wonderfully refreshing. Only briefly, however –  we have no desire to melt messily like parfait in the sun or end up like pork scratchings on this sizzling summer afternoon.