"Fair and full is your honest, jolly face, great chieftain of the sausage race!                                                                          Above them all you take your place, stomach, tripe, or intestines:                                                                                                Well are you worthy of a grace as long as my arm."                                                                                                                                 ~To a Haggis (translation), by Robbie Burns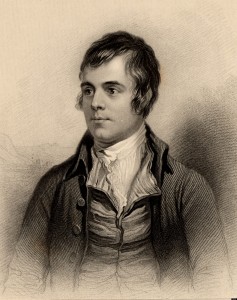 Burns Night. An evening in mid-winter dedicated to drinking, toasting and honoring a much loved and respected 18th century Scottish poet. A supper and a celebration in commemoration of  the man who wrote the remix of "Auld Lang Syne" that popular ballad with which to bid adieu to the past year on New Year's Eve – or Hogmanay in the local lingo.  Burns was a prolific writer of poetry and songs, such as: Address to the Haggis and another to the Toothache; to Scotch Drink, 'gud ale' and 'a peck o maut (malt whisky); a plethora of poems about women, such as The Red, Red, Rose and Kissing My Katie; To a Mouse, To a Louse, and To a Mountain Daisy. Then there is the oddly titled "Complimentary Versicles to Jessie Lewars."
Burns had a wicked sense of humour and an irreverent strain that has kept him popular for more than two hundred years. His poetry is both satirical and sentimental, and has been called 'a poet for all seasons' with a broad understanding of humanity, its imperfections and its virtues. He is highly regarded as a disciple of the eighteenth century Romantic Movement, which emphasized intense emotion and the beauty of nature. Burns was also a strong political proponent of both liberalism and socialism.
Burns Night, introduced after his death, was, and is, a night dedicated to drinking, toasting and honoring this much loved and respected poet.
Our evening's formalities began with a cheery welcome from the Chieftain, followed by a 17th century prayer, the Selkirk Grace, and the presentation of the haggis. For those unfamiliar with it, haggis is a savoury pudding containing lamb offal minced with onion, oatmeal, suet, spices, and salt, mixed with stock, and stuffed into a sausage casing, then simmered in boiling water for three hours. Larousse Gastronomique claims that "although its description is not immediately appealing, haggis has an excellent nutty texture and delicious savoury flavour".
The haggis duly appeared on a large silver platter, carried by the Chieftain's son and accompanied by a kilted piper. It
looked suspiciously like a super-sized Christmas pudding. As I watched and listened, I was amused to realize that the ceremony bore a startling resemblance to the Holy Communion service, as the speaker presented the haggis and the whisky, like bread and wine, before sharing it with his off-siders. The haggis was then ceremoniously hacked in twain with a large dagger, toasted with the whisky, and the banquet officially began.
Tonight, the tent on the rooftop at the Dusit Thani was a far cry from the lochs and mountains of Bonny Scotland, but it seems that Manila has quite a contingent of patriotic expatriate Scots prepared to celebrate the talents of their favoured son. Kilts abound, and accents are thick. The Scottish flag hangs aloft and the banquet table is heavy with traditional Scottish fare for the hungry supporters of Robbie Burns. Of course there was the haggis, and ours had been imported from a Scottish company called Macsween, which was given three gold stars at the Great Taste Awards in 2013, the only haggis, apparently, ever to have received this award.  Neeps and tatties (swedes and potatoes), bannock (a heavy, flat griddle bread) and cranachan, a Scottish dessert a little like trifle, made with whipped cream, toasted oatmeal, whisky, honey and fresh raspberries also put in an appearance.   Then there were Scotch Eggs: an egg wrapped in sausage meat, rolled in breadcrumbs and deep-fried. Our Chieftain tells me the Dusit Chef nailed it. Firstly…lastly… Cullen Skink is a traditional soup made from smoked haddock (tanigue locally), milk, potato and onion. It takes its strange name from a tiny village with the same strange name in Moray, on the north east coast of Scotland.
After we had eaten our fill, there was the traditional round-up of speeches. David Morrison began with the traditional speech to Robbie Burns' immortal memory. Originally from Banff and looking every inch the Scot in kilt and sporran with a glimpse of red hair, he spoke at length in a heavy accent – despite decades in Hong Kong –  that must have left the Filipinos reeling.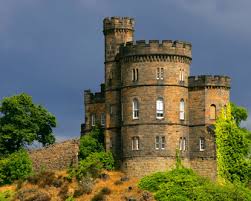 Traditionally, the Burns Supper was a purely masculine affair, full of heavy drinking, carousing and ribaldry, and the next toast to the Lassies was originally intended as a toast of thanks to the women responsible for the cooking. These days room has been made for the women to speak too, and has primarily become an opportunity to poke fun – albeit with great wit and ever-so-affectionately – at the flaws and frailties of the ladies, followed by a robust rebuttal from the Lassies for the final say on the shortcomings of the men. Often a husband and wife team, this can lead to highly entertaining banter – or marital abuse! This year Matthew and Janelle Squires took up the baton and ably mocked their counterparts before making a toast.
This year it was my privilege as a once-upon-a-Scot to stand up and toast our host country. And it was with the deepest gratitude that I was able to say thank you to a country that has so generously, warmly, and whole heartedly given so many of us a home away from home. You can talk of any country's accomplishments and inspirational efforts on the world stage, but for me the most inspirational thing about the Philippines is the Filipino attitude to newcomers, the kindness and the unjudgmental affection I have found here.
Many of us here tonight are Scots – or, like me, Scots-once-removed. Officially a sixth generation Aussie, I do have a Scottish maiden name and, apparently, a family tartan. I guess a few others were just as distantly related, but nonetheless hold a torch for their Scottish ancestry. Yet, despite a strong sense of patriotism that unites us under the Scottish flag for Burns Night and the St Andrews Day Ball, we find ourselves gathering together half a world away from Burns beloved homeland. No slate grey skies and icy winds here, but the deep blue skies and warm breezes of the tropics.
While there are some obvious physical differences between the Scots and the Filipinos – weather, a propensity for redheads – there are also, much to my surprise, many common threads, which may explain why so many Scots feel at home here. For example, and on this night in particular, we see a mutual delight in the written word. Look at the national heroes: Robbie Burns and Rizal!
There is also a common love of music, dancing, singing and story-telling, as we can see at every karaoke evening or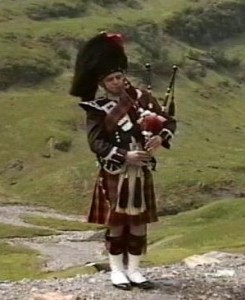 ceilidh. Then, looking into their respective cooking pots, it becomes obvious that both countries enjoy their comfort food, with a preference for red meat, sugar, and of course, offal. Sisig and haggis are surely kissing cousins?
And in the melting pot of history, both Filipinos and Scots have shown a similar acceptance of the different races and cultures that have landed on their shores during centuries of trade and colonization. The proof of the pudding? I actually have a Filipina friend with a red headed daughter. Finally, perhaps the best thing about living here is getting to know the people, their friendliness and their lack of pretension.
So I proposed a toast to our host country and its people, "for their ready smiles, their generosity of heart, and their party spirit…. thank you for having us." Filipino, David Guerrero, who I believe, is credited with the slogan "it's more fun in the Philippines" then responded on behalf of the host nation.
The evening then took on a lighter note, with musical entertainment from Australian Piper Ben Casey, and fiddler Emma Swinnerton who hails from Uig, a Hebridean parish on the Isle of Skye, currently teaching year 3 at the British School Manila . Two long established St Andrews members, Diane Ross and Heather Price stood to share the glories of Burns poetry, by reading aloud an edited version of the excessively lengthy "Scotch Drink" and "To  a Louse", a witty piece he wrote in church after watching a louse crawling over a lady's bonnet. They kindly alternated the original Scottish verses with an English translation for those of use less fluent in that hearty tongue. The night was wrapped up, as is right and proper, with a rollicking round of Auld Lang Syne.
*With thanks to Google Images