Black Sheep is the newest Single-Malt-Whisky-Bar-and-Modern-Gastronomy-Restaurant in town. Try saying that after a couple of drinks! Situated in the penthouse atop that eye-catching black, white and blue checkered building West Fifth in Bonifacio Global City, the kitchen is in the capable hands of Chef Jordy Navarra who has come to Manila via Bo Innovation in Hong Kong, and the Fat Duck in Bray. Both restaurants have been endowed with Michelin stars. This snippet of information sets expectations high.
Like all good restaurants in Manila, no expense has been spared on the décor. It has touches of a converted warehouse, with huge plate glass windows overlooking the city to north and west. Seating is eclectic. You can perch up in the sky room – tonight set for a romantic anniversary tete-a-tete, the walkway strewn in rose petals – a private dining area with 360'C outlook. Yet it's quite close to the roof and all the commotion below rises swiftly to the ceiling. There are booths for six opposite the windows, looking north to Ortigas or west to Rockwell. The views are terrific, but the banquette seating was a little awkward for clambering in and out. Around the central bar is the option of high tables and lanky bar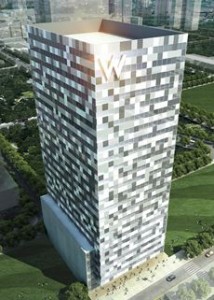 stools, possibly for a younger, lither crowd than us. The prime spot is a round table in the corner window, looking both north and west, hugged by deep leather armchairs. Sadly, it was already booked, but the booths were cozy, we survived a little clambering, and combined with carpets underfoot – a rare experience in restaurants these days – we discovered happily that we were sheltered from the intrusive noise of the kitchen and the chatter of other diners. Oddly the lighting is really poor, perhaps to ensure the perfect night view, but it does mean struggling to see the menu and the food.
Our waiters bent over backwards to make us welcome, turning down the music at our request and giving us informative explanations and, later, instructions on how to eat the food.  We were handed a short bar menu, or a choice of two set menus, either five or seven courses. The whisky list, on the other hand, contained over 100 choices of single malts, so it took some lengthy discussion for the gentlemen to make a decision about their drinks. In the meantime, the ladies perused the food menu, but it was giving away no secrets. There were no poetically detailed descriptions of the ingredients in every dish I have come to expect, but plain and simple: catch of the day, bahay kubo and, bizzarely, cigars under the desserts list. I found myself feeling skeptical, hungry and just a wee bit cranky. The message from Virginia Woolf on the table mat seemed to be directed straight at me: "One cannot think well, love well, sleep well, if one has not dined well." I was getting querulous and needed good, mood-altering food, but I had no idea what to expect. Nor, as it turned out, could I have imagined what was in store for us.
The waiter, with a wave of his magic wand, suddenly appeared at my side with a bowl of bread rolls that looked like muffins and tasted like bacon flavoured soufflés, soft and spongy and infinitely moreish. "Please sir, I want some more."  I breathed out happily. It was a good start.
Dinner was a set menu of artistry and innovative creativity. While I was not enamoured of everything we ate that night, that was, I think, immaterial. I don't believe the Chef was looking for our approbation. He just wanted to defy our expectations, alter our perceptions and watch our reactions.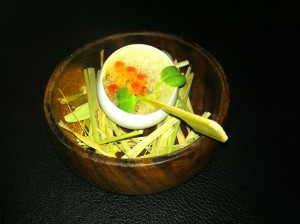 First up, a dish entitled 'Chicken-n-egg. Free range chicken. Mandarin. Beer.'  A ridiculous, amusing tease; a quirky take on the infamous Filipino street food, balut. Half an egg shell nestled in a bed of straw. A cube of lightly fried chicken. A dash of citrus. A beer broth. I chewed tentatively, but it was happily lacking a beak. And it was surprisingly tasty, the mandarin adding a pert zing as we tipped the shell and sipped the broth. Definitely, for me, better than the original!
The second dish was 'today's catch.' Prawns. One wrapped in a cocoon of batter, another in a ravioli or wonton casing, on a bed of spicy peanut sauce. We were advised to eat the wonton first, then dip the prawn in the sauce. I preferred to eat it with a spoon, childishly, enjoying the flavour of a hot, crunchy peanut paste. My only complaint is one I did not expect to make in such a quality establishment. The battered prawn had been fried in over-used palm oil, that tired, dirty flavour of shopping mall food stalls and street food, which sadly spoiled the effect of the fresh, meaty prawn.
Bahay kubo, for any non-Filipino readers, is a popular Filipino children's song. The English translation of the Tagalog reads as follows:
My Humble Nipa Hut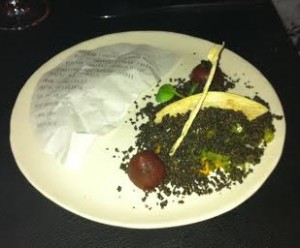 My humble nipa hut
may look tiny,
but the veggies around
it, sure are many.
Yam beans and eggplants,
wing'd beans and peanuts,
string, hyacinth and lima beans.
Winter melon and loofah,
bottl' gourd, squash, et cetera.
There is more, amiga,
radish, mustard, yeah!
Onions, tomatoes
garlic and ginger.
If you look all around,
sesame seeds abound!
On this note, the next dish arrived: a singular tribute to the nursery rhyme above. Apparently all sixteen vegetables listed in the song are incorporated into the scene on the plate of hut and garden. The loam consisted of crushed peanuts and minced eggplant, which tasted unexpectedly like haggis, earthy and rich. The little hut was made from strips of sweet ginger. Beneath the earth we dug out slices of bottle gourd and winter melon, a fruit that looks like a bloated zucchini. Loofah is not only for scrubbing backs, it seems, but is also a fibrous vegetable, second cousin to the cucumber. And there were several different beans: my favourite sygarilyas or winged bean; string beans and lima beans, and the pretty, purple-coated hyacinth bean, known more prosaically in Australia as Poor Man's bean. My One & Only was besotted, and was still raving about it at bedtime.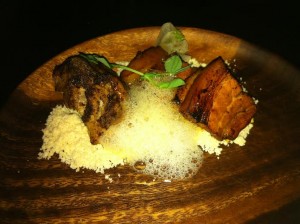 Our main course was a simple but immensely rich serving of slow-cooked pork and free-range chicken served on a bed of 'truffle sand' that looked like burghul wheat but tasted like… umm… sand. The chicken was wrapped in its skin, moist and perfectly cooked. The pork had the most divine flavour, a little too fatty for our leaner fancy, but rich and comforting.
And the desserts? Mine was a bit of flummery: mango in three different ways, layered on filo pastry, with cubes of honeycomb, like soft Violet Crumble, and wafer thin ginger slices. Like fairy floss it dissolved on the tongue and disappeared as quickly. My fellow diners chose more bravely – well, I had assumed they were ordering real cigars, but instead they were presented with the most extraordinary arrangement of breast shaped panacotta infused with cigar smoke and served on a bed of chocolate and whisky jelly. All a man's pleasures rolled into one? It tasted to me – who doesn't like whisky or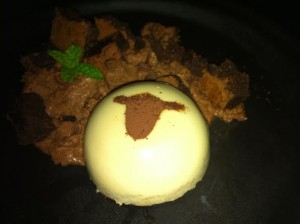 cigarettes – like licking out an ashtray, but the challenge to mind and taste buds was fascinating, and the textures were strangely alluring. Apparently eating it with a matching whisky makes all the difference.
The grand finale, after a coffee-making performance that rivalled any Japanese tea ceremony, was a letter to our host in a black envelope with a sheep's head seal, thanking us for visiting. A nice touch. Which reminds me, I must write back and thank them for having us.
PS The black sheep, I always understood to mean one who stands out, the troublesome one, the one that doesn't fit in. Although traditionally the expression had negative connotations, modern times have seen it turn around to mean the sheep – or person – who stands out in the flock, as one special and apart from the mob; the unique, exceptional one.